32 Gift Ideas for an Artist!
It's that time of year again! I love creating my annual guide to gifts for an artist. There are SO many art supplies out there that it actually is pretty easy to buy a gift for an artist. Every year I make my Christmas list and it's 95% art supplies or art-related gifts. What can I say? I love art! So, let's get into all these amazing artist gift ideas!
32 Gift Ideas For An Artist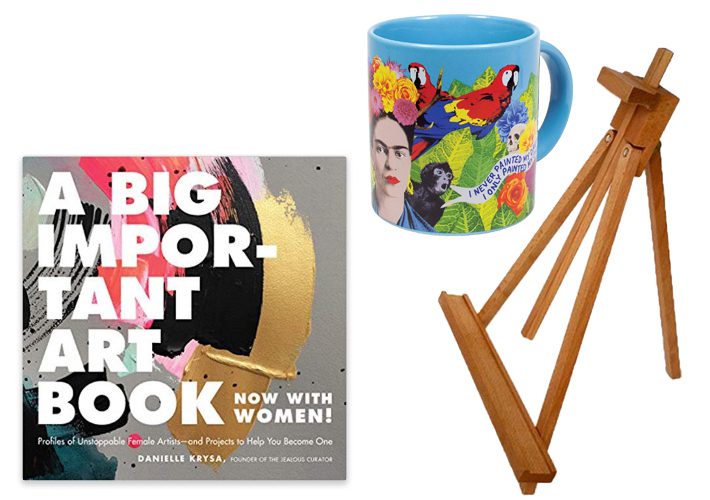 A Big Important Art Book (Now With Women!) by Danielle Krysa: I'm all about reading and learning more about modern artists, as well as art history. And I've been wanting to learn more about female artists, and this book seemed like a great place to start. It includes 45 contemporary female artists and creative prompts to help you. Must have for any female artist in your life!
Frida Kahlo Coffee Mug: It's an explosion of color and joy with Frida Kahlo on a coffee mug. Need I say more? This would be inspiring for any artist to keep on their workspace with their favourite beverage. I bet wine would taste pretty good in Frida Kahlo coffee mug.
Table Top Easel: A tabletop easel is such a great gift to give to an artist. Full-size easels take up quite a bit of room and are better suited to large works. This small table easel is perfect for creating in a smaller space and can accommodate a canvas up to 24″ tall!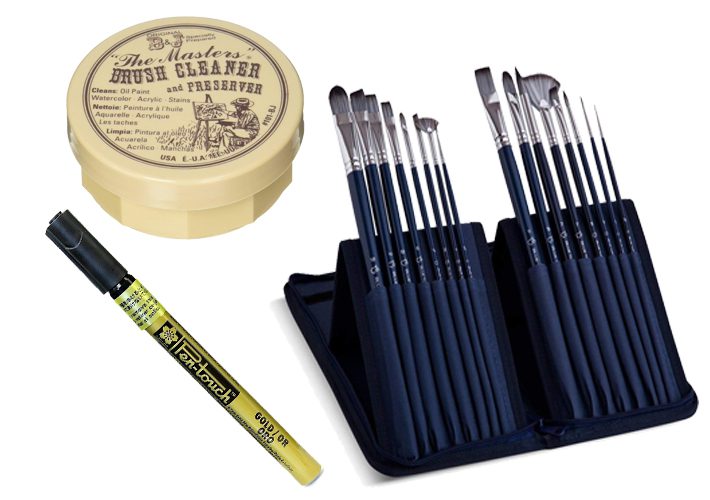 The Masters Brush Cleaner: Okay, I have recently been converted to using brush cleaner. And guys, it makes a difference! This brush cleaner gets out the tought acrylic paint and leaves the brush bristles feeling soft and shapeable. It would be an awesome stockin stuffer for any artist!
Sakura Pen-Touch Extra Fine: This pen is like magic. I didn't put many pens on this list of gifts for an artist, but the Pen Touch made the cut. It's a super extra fine tip (0.7 mm) and has the most luscious gold paint. There is also a silver version which is just as fantastic!
16 Piece Paintbrush Set: All artists go through paintbrushes and end up having to replace them. Or we're always buying more to find the exact right size we want. This 16 piece paintbrush set would be so great to receive, especially since I don't think any artist can have too many paintbrushes! And an added bonus is the sleek carrying case that has a popup stand.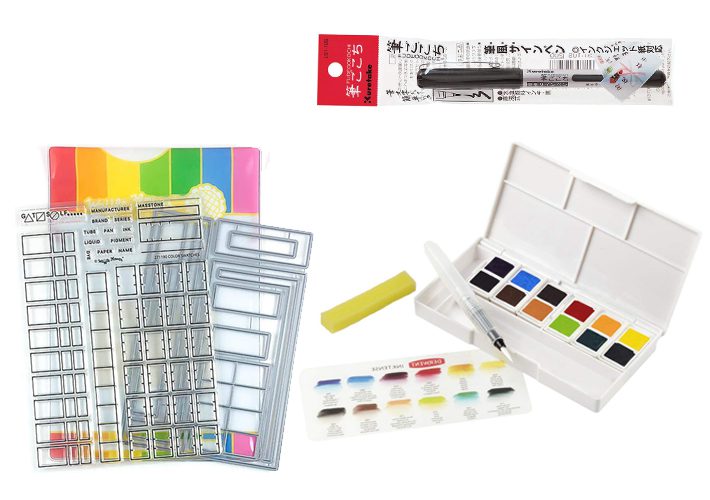 Waffle Flower Swatch Stamp and Die Set: I just recently found out about this swatch stamp and it looks amazing! If your artist is a watercolor or marker fanatic, this set is perfect for them. You can create the perfect swatches with this amazing stamp set!
Derwent Inktense Travel Pan Set: Inktense products are incredible intense beautiful water-soluble paints that dry permanently! They normally are in pencils or blocks, but this travel set makes it easy to take Inktense on the go. It also comes with a travel water brush and it's own palette to mix up the perfect shade.
Zig Kuretake Fudegokochi Brush Pen: This pen is perfect for any artist that loves to include hand lettering in their work. The beautiful brush tip makes adding your lettering a breeze, and great for signing all your masterpieces!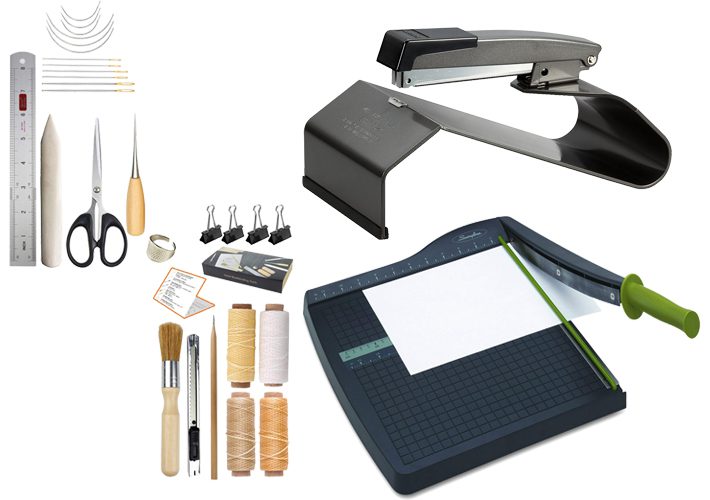 Saddle Stapler: This saddle stapler is a must have for any art journaler or zine maker! It's the perfect tool for stapling all your projects together without having to sewing the binding. It can also be used for so much more (pamphlets, school projects, etc) that it's a great addition to an artist's tool box!
Guillotine Paper Cutter: Any artist needs a great paper cutter in their studio, whether it's for making journals or for cutting up art prints to sell. A guillotine cutter is by far the best style of paper cutter you can get, and this one is so easy to use. Also a great item for art journalers and zine makers! (see the theme here?)
Book Binding Kit: Now, if you know an artist who is REALLY into making their own sketchbooks, art journals and such, then a book binding kit is what they need. This kit comes with everything you need to stitch your own book bindings. I'll be putting it on my own Christmas list this year!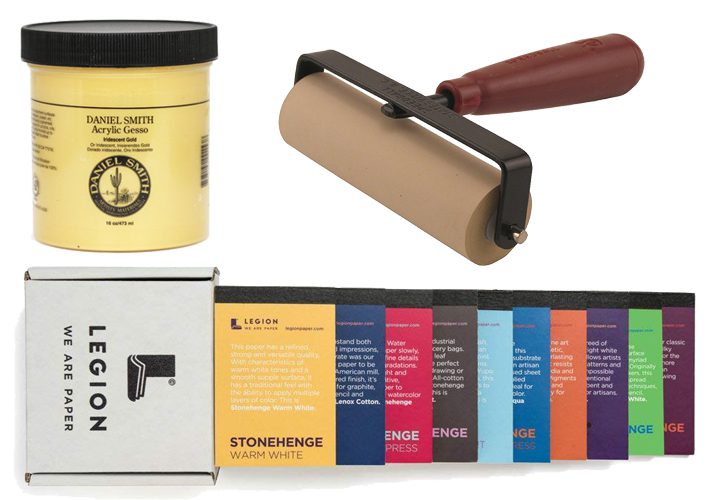 Daniel Smith Gold Gesso: This gold gesso is magic in a jar, I swear. No artist would turn down gold gesso. It's thick, opaque and has a fantastic pigmentation. It would be a really killer stocking stuffer gift idea for an artist!
Rubber Brayer: This another tool that seems ho-hum at first, but it's a workhorse for artists. It's used for linocut printing, stamping, creating texture on canvases, creating gelli prints and so much more. A great quality rubber brayer can be a super handy tool to have in the studio!
Legion Mini Pad Sampler: I am low-key obsessed with trying out different types of papers in my art journals, and this paper sampler from Legion is perfect for that. It comes with 11 different paper pads, ranging from hot press watercolor paper to drawing papers and three different types of Yupo paper. These mini pads are just 2.50″ x 3.75″ and cost under $20! Perfect for stockings! (P.S You can also buy this set in full sized 9″x 12″ pads as well.)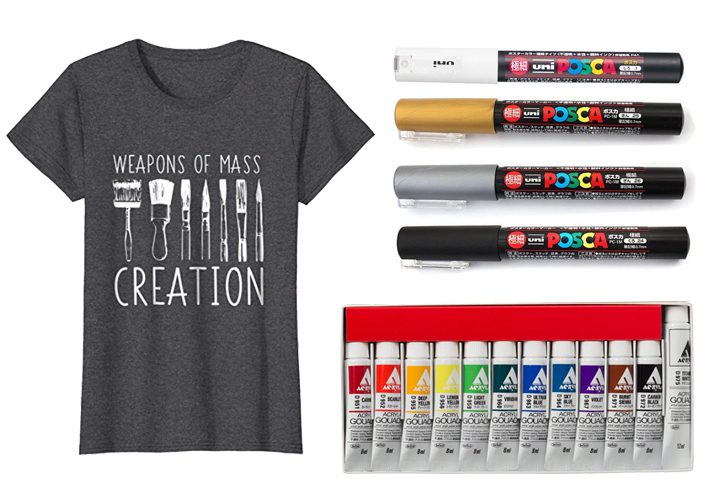 Weapons of Mass Creation Shirt: I'm a sucker for graphic t-shirts like this one!! I think any artsy person would be pleased to find it under the tree on Christmas morning! It comes in men & women's sizing and 5 different colors.
Posca Extra Fine Pen Set: If you've seen my other gift guides, you'll know I'm a Posca pen fanatic. I love these paint markers. Currently, I'm loving the extra fine tips (0.7 mm) for adding details to all my work. You'll find white, black, gold and silver in this set – all the basics are covered. Yes, gold is a basic in my books!
Holbein Acryla Gouache Set: Another product that I think is a must-have gift idea for an artist is a set of Holbein Acryla Gouache paints. They're really more like a very matte acrylic, and they are amazing! I love painting with them! This set is a great beginner's kit to start mixing and playing with these luscious paints.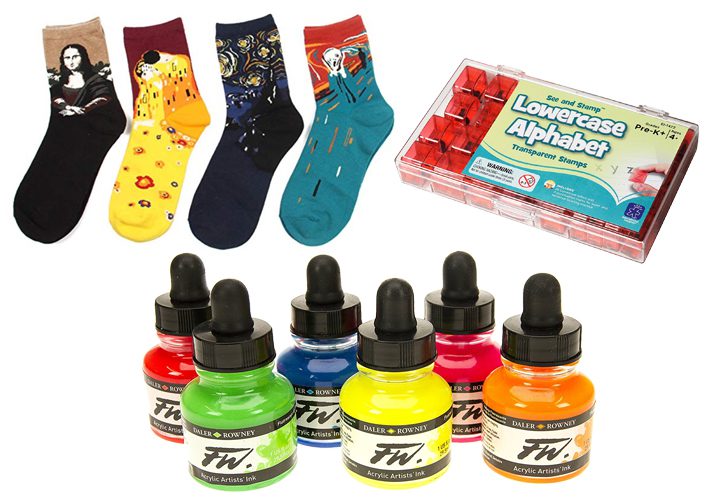 Famous Art Work Socks: Again, I am here for the sort of silly art-related products. I also wear a lot of crazy socks, because why wouldn't you? This set of socks featuring famous artworks would be such a fun gift to open! There are other sets with different artworks too, and at $10 a set, you could really go crazy with these!
Lowercase Alphabet Stamps: These seem a bit strange, but these are my absolute favourite letter stamps for art journaling. I also have the uppercase set and love them too. They make great blocky letters and are easy to hold on to. Bonus? My kids love them too!
Daler Rowney FW Artists Ink Fluorescent Set: Acrylic inks have quickly become my favourite medium to work with. I love the watery look of watercolors, but these inks dry permanent so I can continue to layer. This fluorescent set is especially fun to play with! I think this would be a really fun and valuable gift idea for an artist to receive!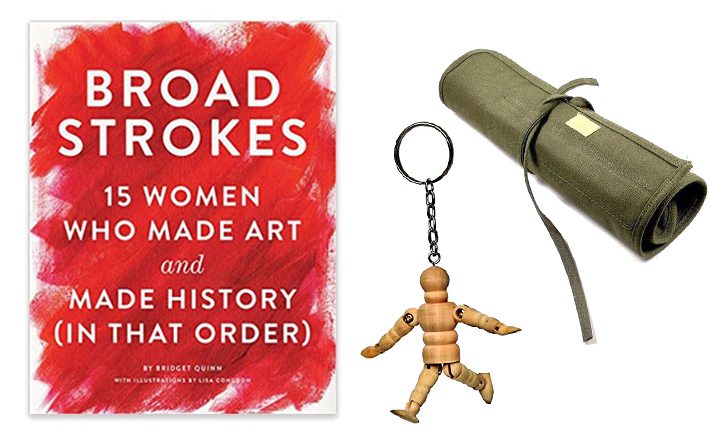 Broad Strokes: 15 Women Who Made Art and Made History by Bridget Quinn: You thought I would only include one book about female artist's?? In this book you'll read about 15 different female artist's who have been overlooked in art history. It's a fantastic read, educational and includes portraits of all the featured artist's done by the talented Lisa Congdon!
Art Mannequin Keychain: Everyone needs a miniature art mannequin for their keychain. Enough said!
Canvas Brush Roll: Traveling and storing art supplies is an entirely different aspect of art making. However, it can be a lot easier with practical storage/travel solutions like this canvas brush roll. Artist's have been using these for ages and can never have too many.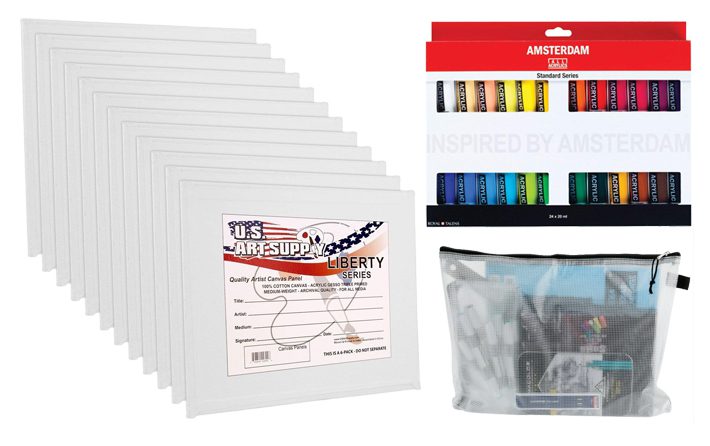 8×10 Canvas Boards: Canvas boards are perfect for practicing and experimenting on. This is a great gift idea for an artist because they're something that will always be used. This pack comes with 10 canvas boards, which should last at least a month for any artist haha.
Royal Talens Amsterdam Acrylic Paint Set: I personally love trying out new paint brands and shades. No two paints are ever truly alike. A sample set like this from Amsterdam Acrylic is a fun way to gift some new paint colors to experiment with. I really love this brand of paint because the color is fantastic and it dries matte!
Extra Large Clear Pencil Case 10″ x 14″: Recently I picked up one of these pencil cases while on a trip to Portland, and it is a game changer. This pencil case is 10″ x 14″ which means it is large enough to hold sketchbooks, multiple pencil cases and anything else you want to travel with. It's great for urban sketching, transporting art supplies for meetups and traveling abroad with. I cannot recommend it enough!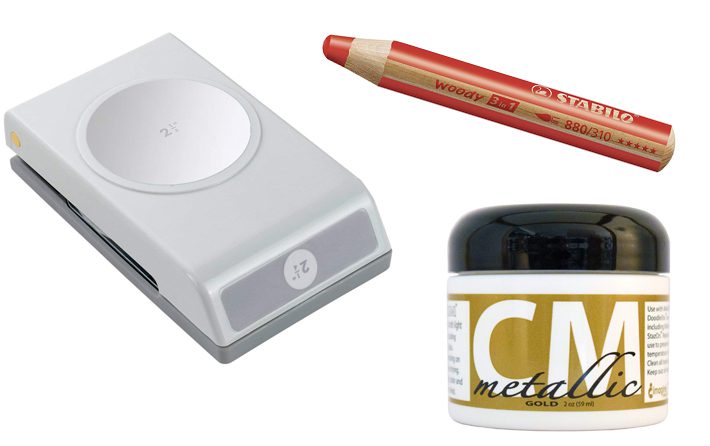 Eko Tools Large Circle Punch: Again, the circle punch might seem like an odd art supply. However, it's extremely handy for collage artists, art journalers and can even be used to create tags for artworks. It's versatile at 2 1/2 inches. Heck, you could create an entire series of circle paintings this small. I love thinking outside the box for uses for art supplies, and this circle punch can be used in so many ways.
Stabilo Woody 3-in-1 Colored Pencils: These Woody pencils by Stabilo seem to be marketed for children, but I love using them in my mixed media work. Because they are chunky and write on any surface (like on top of acrylic paint!) they create these lovely crayon-like marks. They're fun and a great gift idea for an artist!
Gold Texture Paste: Is this list complete without at least one more mention of gold? Nope! This gold texture paste is so fun to push through a stencil in art journal pages or mixed media works. It's brilliant and lovely!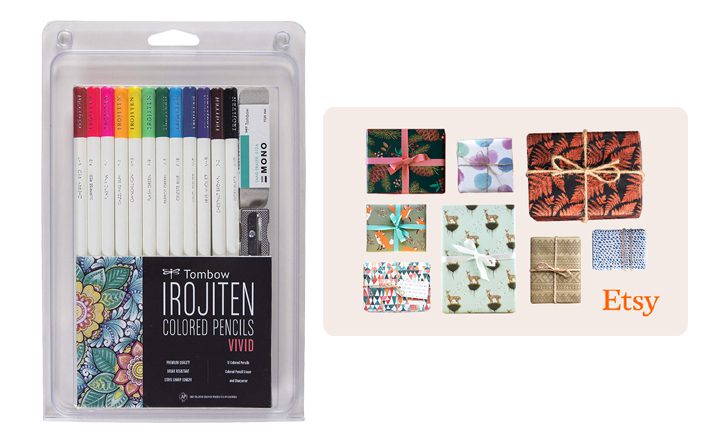 Tombow Irotijen Colored Pencils Vivid: This set of pencil crayons from Tombow are my absolute favourite! They're vivid, pigmented and draw beautifully. These would be a great gift for an artist who likes to draw or create in colored pencils, as well as mixed media artists. I love using pencil crayons in my pieces!
Etsy Gift Cards: Etsy is a goldmine for all kinds of art supplies. Not your typical ones like paintbrushes and canvas. Rather it is the place to get all kinds of vintage ephemera, collage fodder, and any extra bits of things you'd want to use in mixed media works. I've bought vintage microfilm on there before! A gift card to Etsy might be the best gift idea for an artist so they can treat themselves to a fun online shopping trip!
How many of these art gifts will be going on your Christmas list this year?? I've got a number of them on mine!
If you want more gift ideas for an artist, be sure to check out my previous years' gift guides at the end of this post!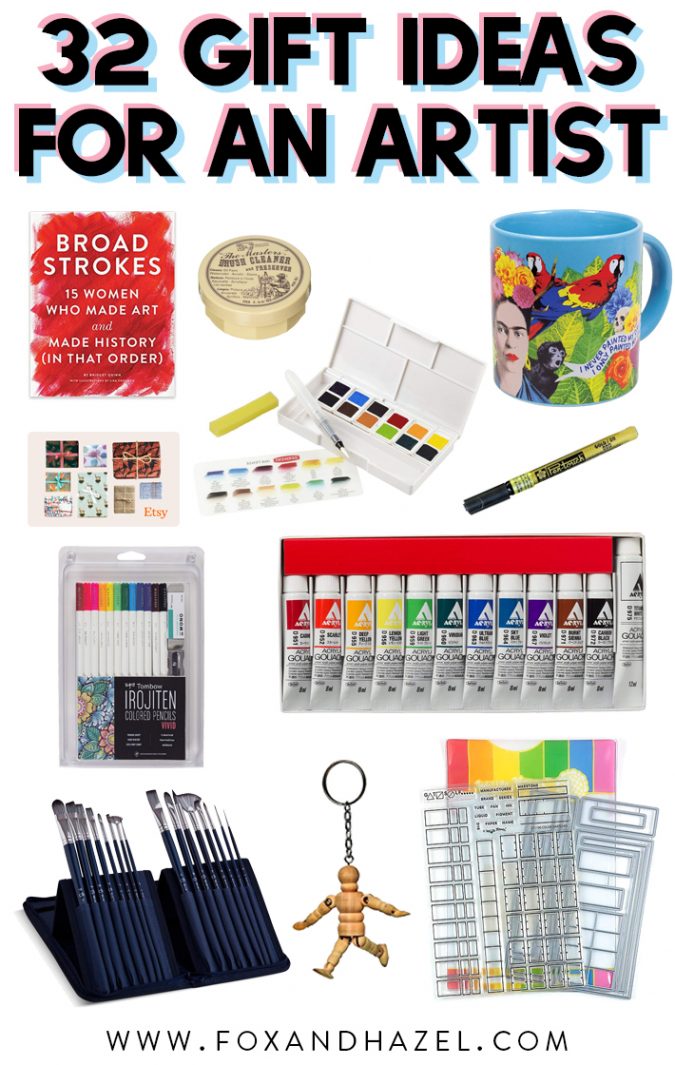 SCROLL DOWN FOR MORE GIFT IDEAS FOR AN ARTIST!