DIY Artsy Christmas Envelope Art
Some links in this post are affiliate links to products I love!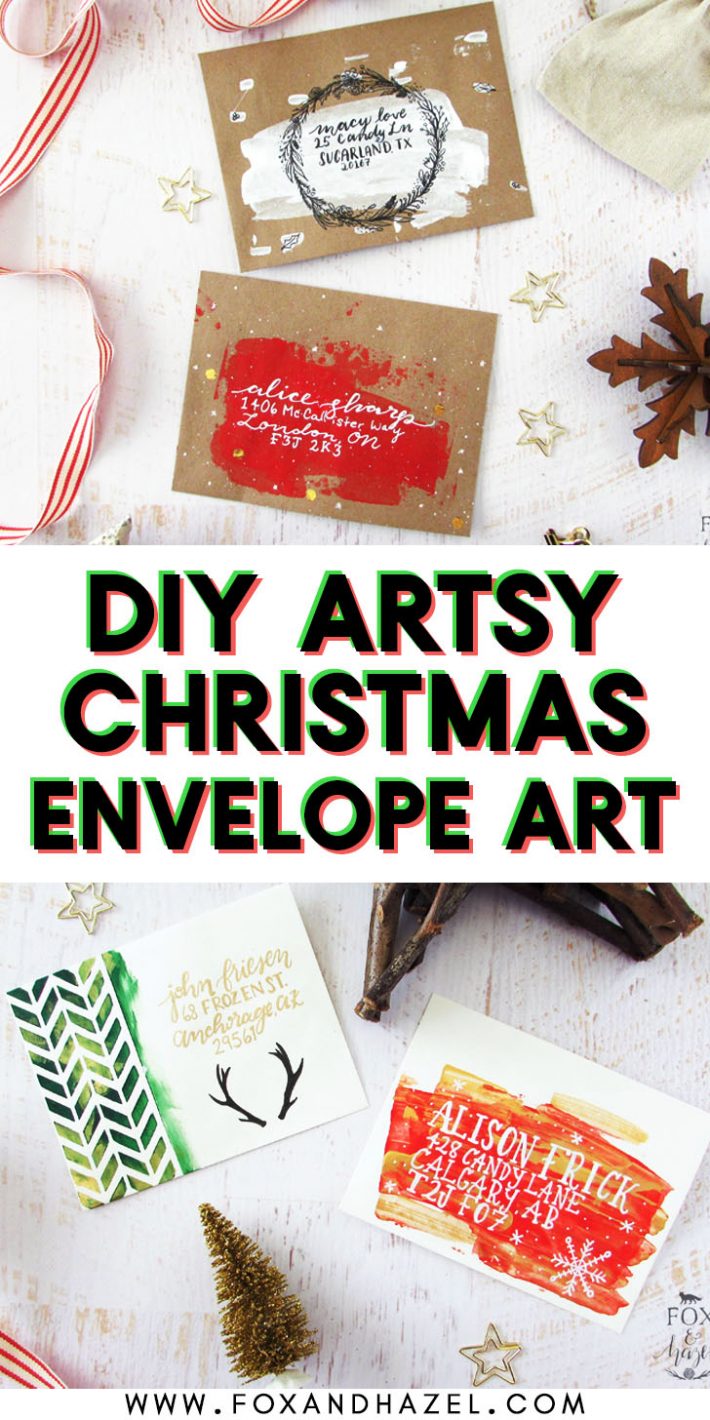 It's the season for sending out Christmas cards to everyone on your list to wish them Happy Holidays and provide your annual photo of the kids. I probably should be actually sending out my Christmas cards instead of sharing all these fun Christmas envelope art ideas, but I like to live on the edge!
Here are 4 super easy artsy ways dress up your Christmas cards envelopes! They are so quick that you can do several at a time and impress everyone on your mailing list with how creative you are!
First, using a credit card or palette knife, scrape some red paint across your envelope. Add as much or as little as you like!

Next, create your "snowflakes" by splattering white paint over top.

Then add some gold stickers or punch them out of gold tape with a hole puncher. Apply randomly!

Lastly, using a white paint pen, address the recipient over top of the red.
Lay down the stencil on the left side of the card, about 1/3 covered.

Using the makeup sponge, dab/spread the green paint to cover the stencil. Go over with gold in some areas to create variation. Remove the stencil

While the paint is drying, use the gold gel pen to address the recipient

Use the Fude Brush pen, or any felt pen, to draw a set of antlers below the address.
3. Frosty Foliage Wreath
Kraft paper envelope

White acrylic paint

Old credit/gift card

Tombow Fude Brush Pen
First use the old credit/gift card to scrape some white paint across the front of the envelope. Dab some smaller marks around the main swipe. Add an extra layer if the paint is not opaque enough.

Then, using a light pencil, trace a circular object in the size of the wreath you'd like to create.

Create leaves, branches, and other foliage around the traced circle to create a wintery wreath with the Tombow Fude Brush pen.

Add some extra leaves and berries in the smaller marks.

And last but not least, make sure you uddress the recipient within the wreath.
First, use the credit/gift card to scrape red paint across the envelope in a large rectangular-ish shape. Go over again with a little bit of gold paint to add contrast.

Next, use the white paint pen to create snowflakes over top of the red paint area

Lastly, address the envelope to your recipient! You may have to go over the lettering twice to get the white opaque enough.
See how easy those are? They're fast, foolproof, and add a little something extra to your Christmas cards this year. These probably aren't a great idea if you send out like 100 cards, however, if you send quite a bit less then this is a fun way to dress up your cards.
If you love this post, you can spread the love in one of these ways!