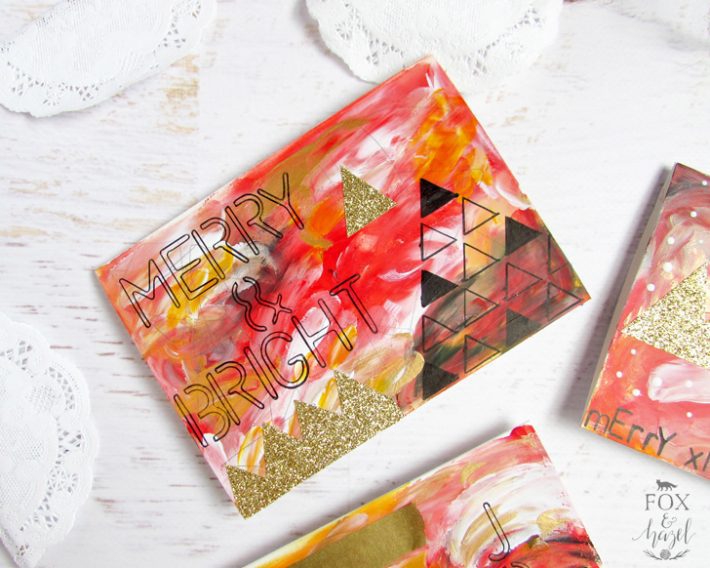 DIY Handmade Artsy Christmas Cards
Some links in this post are Amazon affiliate links to products I love!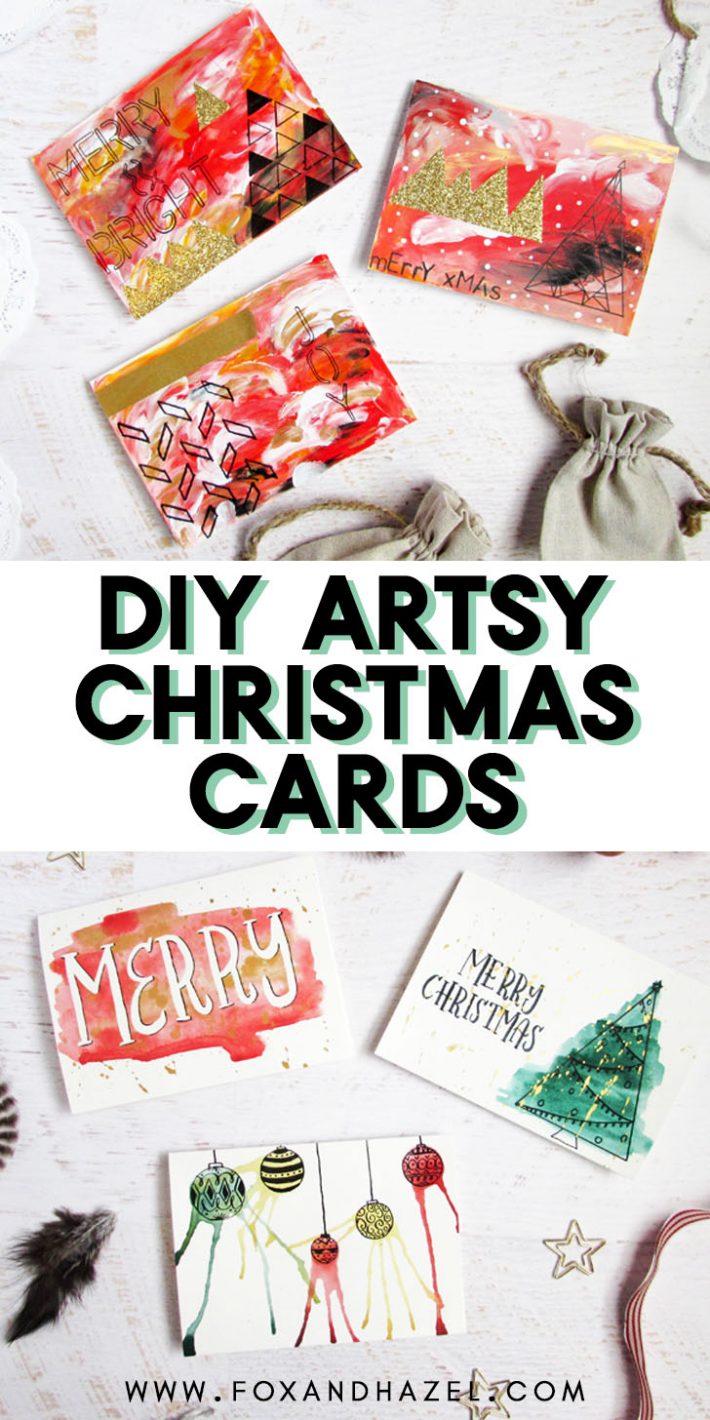 Okay, after putting it off for a few weeks, I have finally finished my Christmas cards and sent them out! This year we didn't do any formal family photos, but it was also my daughter's first year of preschool so she had school pictures done. And with just our luck, I happened to be volunteering on picture day and had little sis in tow! So I managed to get some pics of her done as well. PERFECT. Instead of doing my usual printed cards, I opted to go with some fun DIY artsy Christmas cards this year!
All of these were really easy to make, and luckily my Christmas card list is only about a dozen families. If it were more, I'd probably re-think making my cards by hand. But these DIY artsy Christmas cards are fun project to make when your recipient list is small.
I used
these blank notecards
for all of the cards to keep it simple. I love making cards, but sometimes using pre-made ones just makes the most sense!
To make these mixed-media inspired cards, I employed the most basic painting technique – finger painting! It was fun to get messy and smear some paint around. I don't typically use my hands when I paint, but I'd like to do more of it in my art journals.
Super easy right? I love how these ones turned out! They're crazy simple and I love how different they are from your typical Christmas card.
The next set I did was with watercolors and ink. All three of these were really easy to do as well, and I love watercolors DUH.
This card was actually
a tutorial I saw last year over on The Postman's Knock
and loved immediately. By the time I found it, Christmas was long gone, but I knew I had to give it a try this year. Lindsey's card is about 100x more beautiful and detailed, but I'm happy with how mine turned out too! I used my faithful Sakura Koi watercolors and a
calligraphy pen
&
nib
with
Sumi ink
to draw the ornaments.
For this card, I used the mighty and wonderful powers of
masking fluid
. I first traced out my words, then went over top with the masking fluid. Once it was dry, I added the watercolors (including some luscious gold from my
Finetec
palette!) over top. After I left everything to dry, I peeled away the masking fluid to leave behind some perfectly white letters! I used a
Micron pen
to add some details and that's it. Super simple, and makes for a really lovely card!
The last card was inspired by an Instagrammer,
honeydarko
, and
this short video
she shared last week. I'm forever finding inspiration and ideas in other people's work!
For this card, I laid down some green watercolors in a vague tree shape, then let it dry. I then splattered some Finetec gold over top and let dry. Next, I used my
Pentel Sign Pen
to draw in the Christmas tree and to hand letter the greeting. It's simple, sweet and probably took me less than 10 minutes to make start to finish. SO easy!
I hope all the recipients liked them (they should be there by now – I didn't want to ruin the surprise!) and enjoy having a little bit of art mixed in with the standard Christmas cards.
Do you make your cards, order printed ones, used boxed ones? Let me know in the comments!