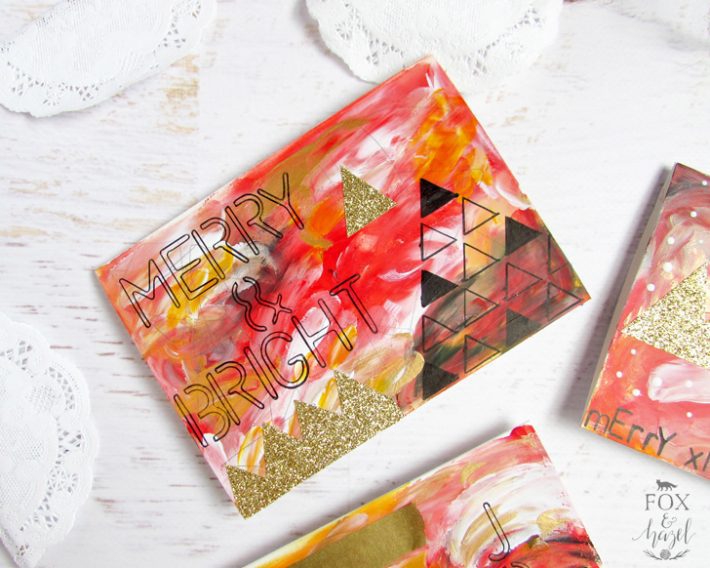 DIY Handmade Artsy Christmas Cards
Okay, after putting it off for a few weeks, I have finally finished my Christmas cards and sent them out! This year we didn't do any formal family photos, but it was also my daughter's first year of preschool so she had school pictures done. And with just our luck, I happened to be volunteering on picture day and had little sis in tow! So I managed to get some pics of her done as well. PERFECT. Instead of doing my usual printed cards, I opted to go with some fun DIY artsy Christmas cards this year!
All of these were really easy to make, and luckily my Christmas card list is only about a dozen families. If it were more, I'd probably re-think making my cards by hand. But these DIY artsy Christmas cards are fun project to make when your recipient list is small.
To make these mixed-media inspired cards, I employed the most basic painting technique – finger painting! It was fun to get messy and smear some paint around. I don't typically use my hands when I paint, but I'd like to do more of it in my art journals.
Super easy right? I love how these ones turned out! They're crazy simple and I love how different they are from your typical Christmas card.
The next set I did was with watercolors and ink. All three of these were really easy to do as well, and I love watercolors DUH.
I hope all the recipients liked them (they should be there by now – I didn't want to ruin the surprise!) and enjoy having a little bit of art mixed in with the standard Christmas cards.
Do you make your cards, order printed ones, used boxed ones? Let me know in the comments!