Mixed Media Inspiration Deck: Empowerment Edition from Kiala Givehand + StencilGirl
Some links in this post are affiliate links to products I love!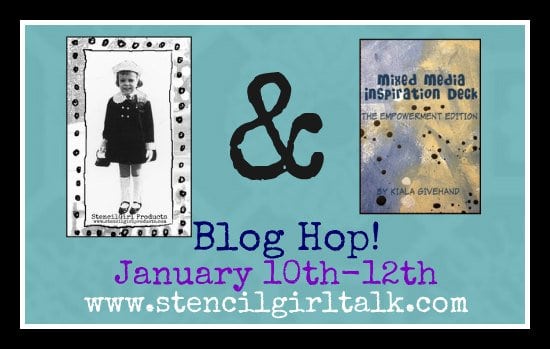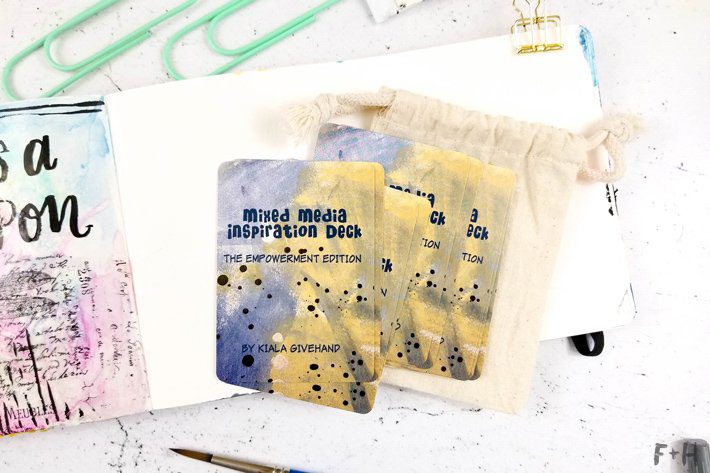 I'm excited to share this mixed media art journal page I've created using a really fun new product! This page was made using the Mixed Media Inspiration Deck: The Empowerment Edition by Kiala Givehand, a fellow creative team member on StencilGirl. Kiala is SO talented and loves to help others create (check out her online classes like Hacking The Color Wheel!) So when she sent me a sample from her newest art journaling deck, I was so happy! It was fun to have an immediate source of ideas to go to when I was feeling uninspired. The Mixed Media Inspiration Deck has 95 cards full of prompts to help you get creating!
I decided to create this mixed media art journal page by pulling 4 cards and letting them decide what I was going to create! You can use the cards this way, or work through the deck one card at a time, or create pages with friends! There are so many possibilities.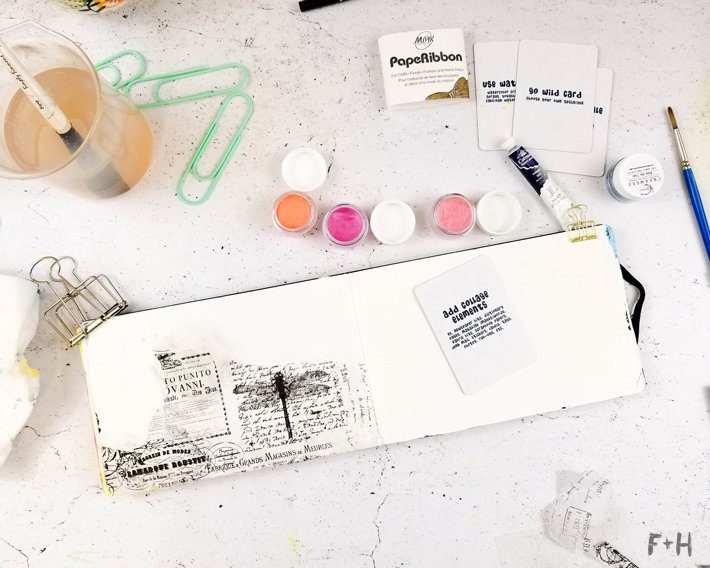 For this page, I'm working in my Moleskine Watercolor Album, which I love because the pages are thick and hold up to wet mediums fantastic. The first card I pulled said "Add Collage Elements", so I collaged this tissue paper from my stash down. It's been hiding in my stash for months, and it was the perfect starting point for this page!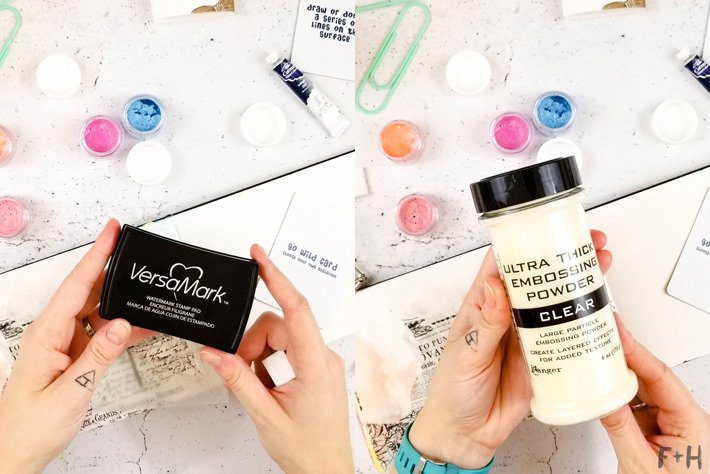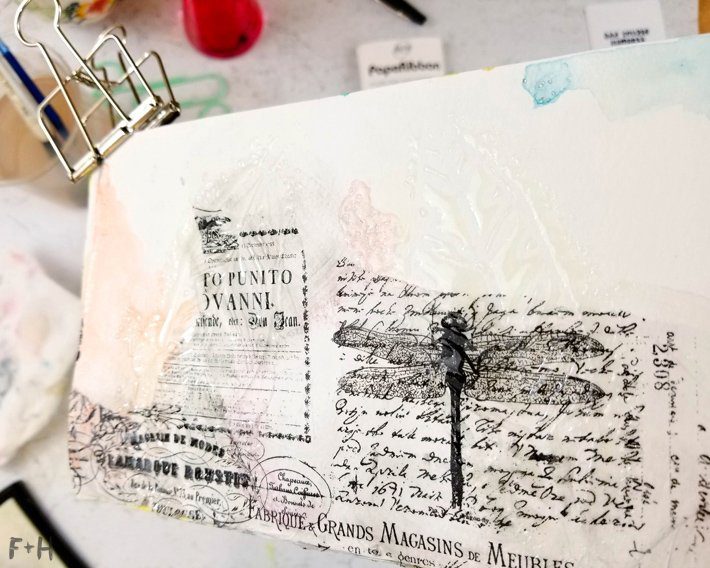 Next, I pulled a card that read "Go Wild!" which is a wildcard and you can do whatever you please! So I decided to do some embossing on this page. For this, I used the Ultra Thick Embossing Powder from Ranger and the Classic Feather Retake Stencil and Mask from StencilGirl. I tried to get a picture, but clear enamel on white paper is hard to photograph. Hopefully, you get the idea of what it looked like. To stencil the image, I used a cosmetic sponge to stencil the embossing ink onto the page.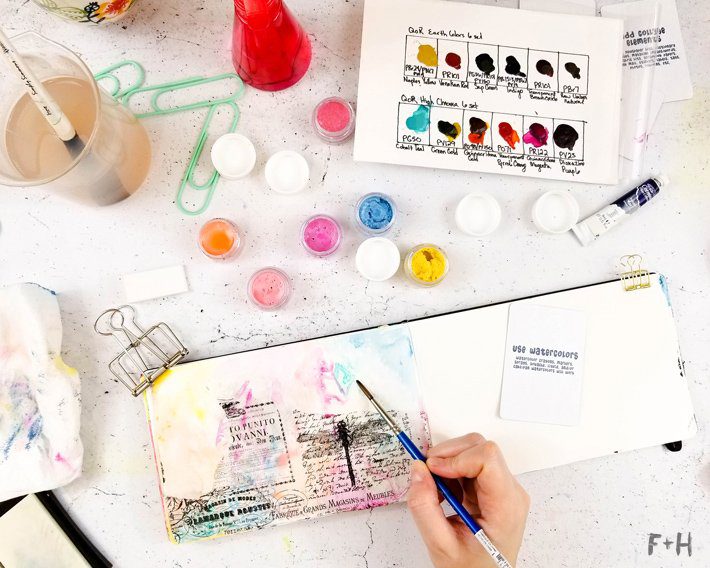 Next, I pulled this card that said "Use Watercolors." which I was happy to do! I had just received some new paints from Shimmerz Paints, which included a handful of their Creameez paints. These paints are a watercolour with shimmer added to them and they're a lot of fun to play with! (p.s if you get some Shimmerz paints, make sure to mention my name [Torrie] at the checkout for freebies in your order!) I also included some QoR Watercolors by Golden Paints which are so intense and pigmented and gorgeous. I also finished the paint with a spray of Shimmeringz spray in Goldie Lox.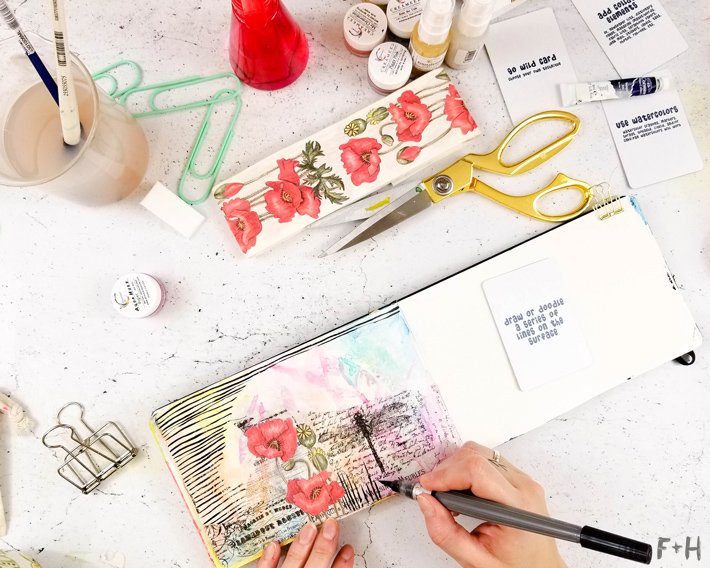 Lastly, I pulled a card that told me to "draw or doodle a series of lines on the surface." Which I was happy to do! Before that, I also decided to add another collage element with this vintage paper ribbon. It's it to die for?! Those poppies are giving me life. After that, I did my lines using a Pentel Art Brush Pen in Black. I didn't think too much about it and just let my pen and hand do what they wanted on the page.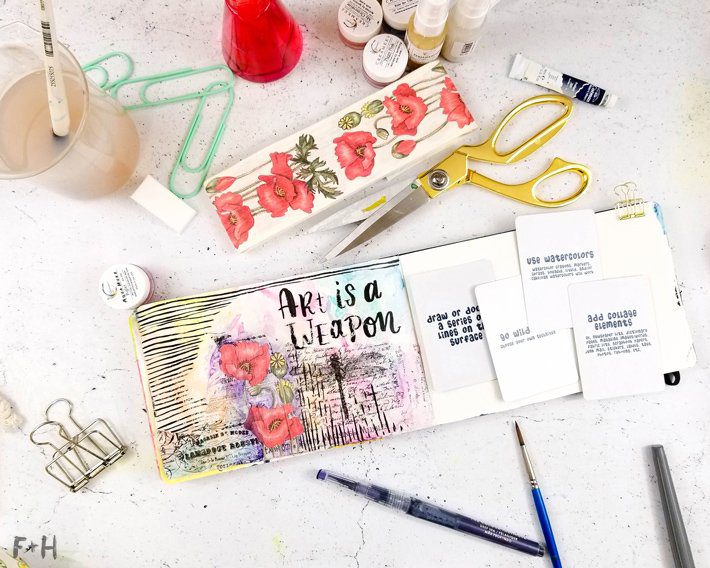 And finally, I decided to pen in this sentiment I've held close since I was a teenager. And that is my finished page! It was so easy to use the cards as inspiration points for this page. I loved using elements together that I normally wouldn't have, and new ideas for what to create. I hope this mixed media art journal page inspires you to give Kiala's Mixed Media Inspiration Deck a try!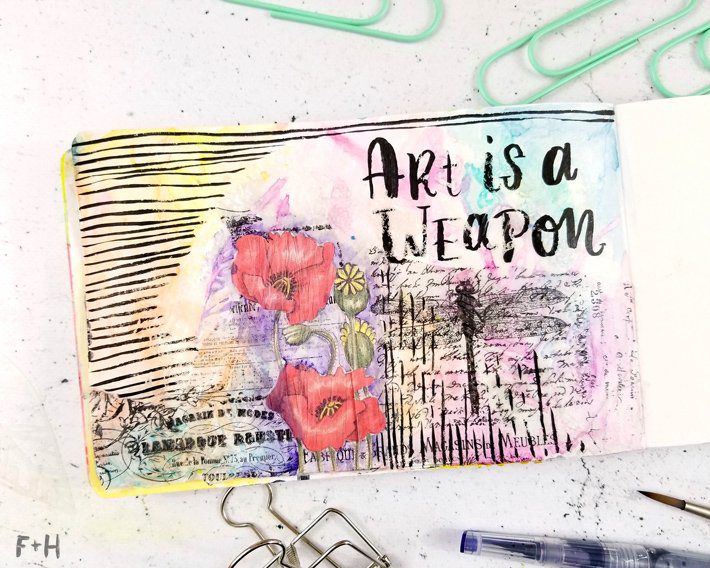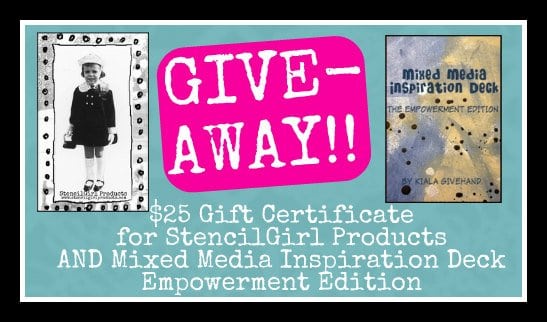 GIVEAWAY
One lucky winner will receive both a $25 Gift Certificate to StencilGirl Products
AND a Mixed Media Inspiration Deck™ Empowerment Edition!
Visit these amazing artists' blogs and comment there for your chance to win!
The more blogs you comment on, the more chances you have to WIN!
(One comment per blog please.)
You have until Sunday, January 14th at 11:59 PM Central Time to leave your comments.
StencilGirl's Facebook page will announce the winner on Monday, January 15th.
Be sure to check out all the more member's pages and tutorials below:
January 10
Mary Beth Shaw
January 11
Mary C. Nasser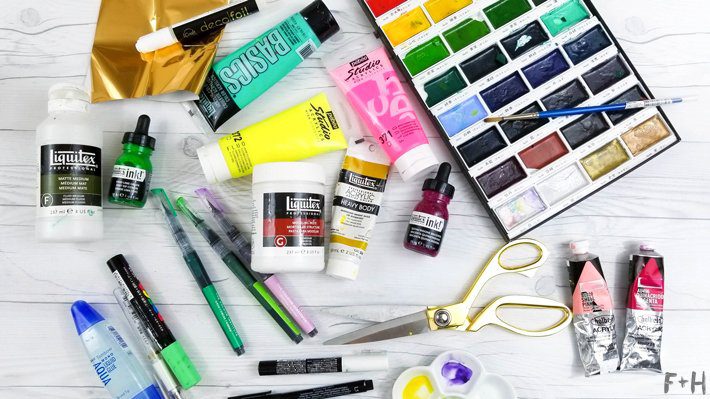 Do you love art supplies? Now you can shop all my favourite art supplies in one place! Check them all out HERE!