DIY Tea Party Favors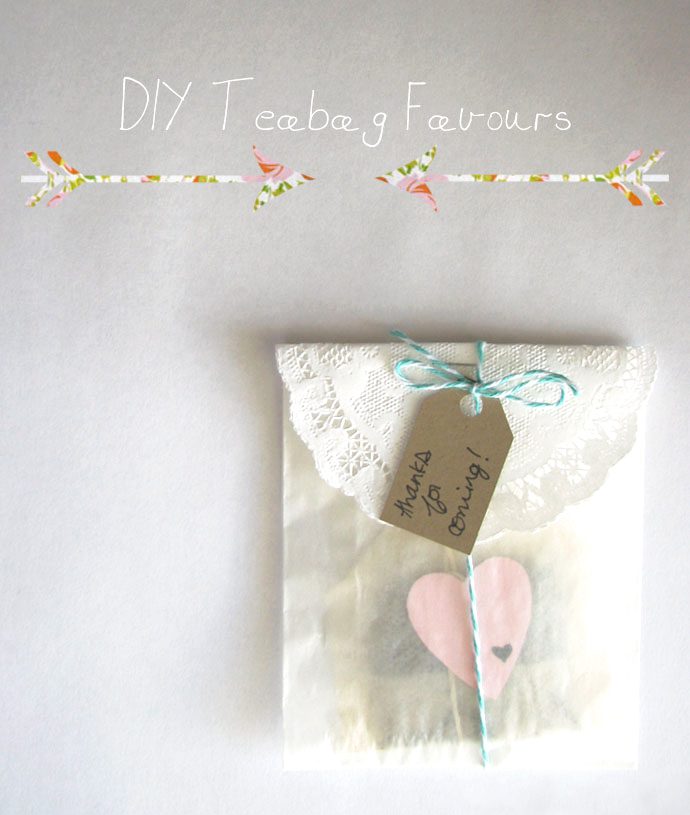 The reason for making these adorable tea party favors is a fun one! About a month ago I threw a bridal shower for my very lovely sister-in-law. The lucky gal had three bridal showers plus her stagette! I was in charge of throwing her a lingerie shower. Hey, hey, hey! However, my SIL is super sweet & innocent, so we decided against a racy theme for the shower. Instead, I opted for a tea party instead. Much more modest! We had a dessert bar, teacups as centerpieces, many (many) paper flowers and the color scheme was teal with baby pink & whites.
In keeping with the tea party theme, I created these adorable tea party favors for the guests. Custom made teabags were the perfect gift for our frilly tea party.
These were super simple to make and really are a great tea party favor. I found the tutorial for the teabags over at A Beautiful Mess. I slightly modified it as I used the supplies I had on hand. Instead of making a tea bag with a coffee filter, I had a box of tea filters for loose leaf tea and just used those instead. I used a pomegranate & hibiscus herbal tea inside the teabags. I'm a sucker for a good fruity herbal tea and this blend brewed up pink, which kept with the pink & teal theme for the day.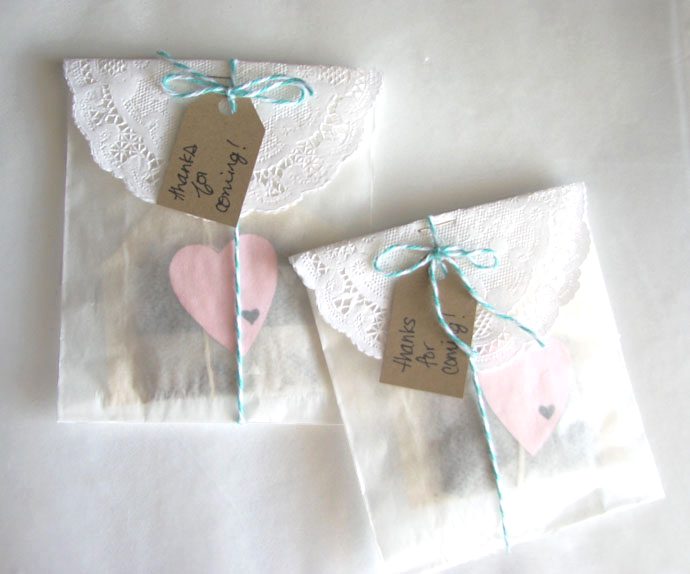 For the packaging, I used some medium glassine bags, 4″ paper doilies, baker's twine and some kraft brown cardstock. The method to wrap them is pretty self-explanatory – pop the teabags in, fold over the top, add a doily, staple it all together. After that, I wrapped them with the baker's twine and added a tag! These were easy to make and also super affordable. I ended up making about 25 of them and it really only took me a couple of hours. Plus I'm a sucker for DIY that involves doilies, so I wasn't really upset I had to make 25 of them.