DIY Abstract Painted Wood Bangle Bracelet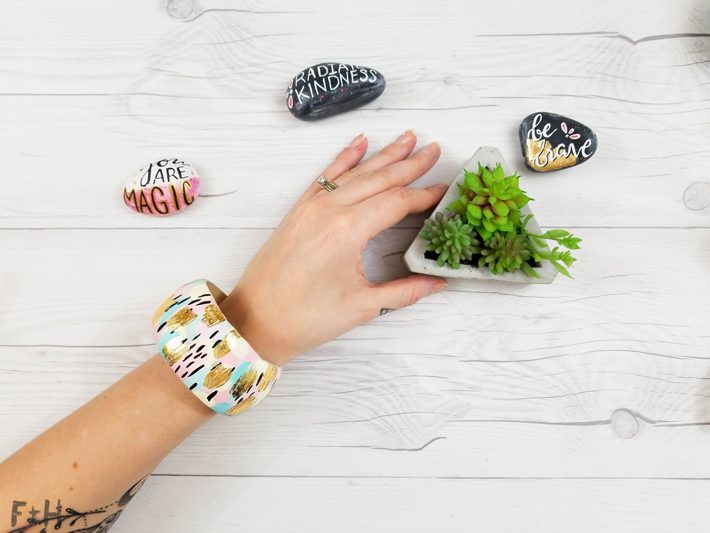 This fun painted wood bangle bracelet is so easy to make, and it's just screaming out for spring! I love a good piece of statement jewellery, and what better than a chunky bracelet to show off some art?! And I've made these even more fun using foil sheets from DecoFoil. It's simple, quick and these bracelets come together in no time. This wood bangle bracelet would be great as a gift too! Make a stack of three, tie them up and instant gift!
So, let's jump into it!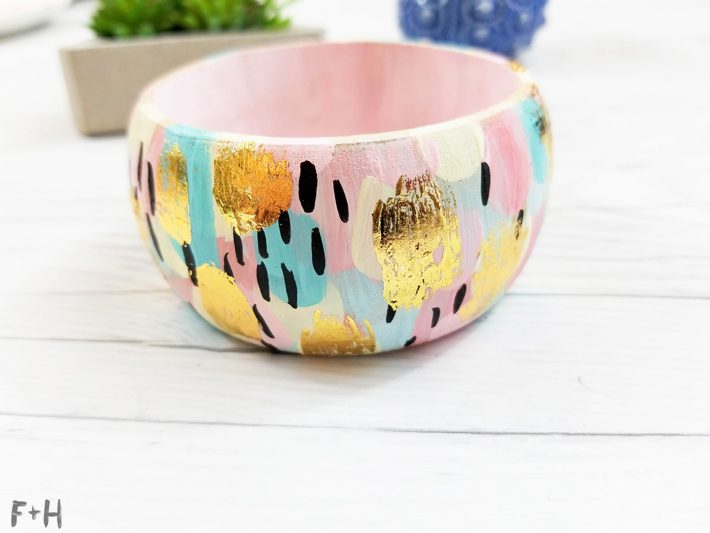 Supplies Needed For Your Abstract Painted Wooden Bangle Bracelet: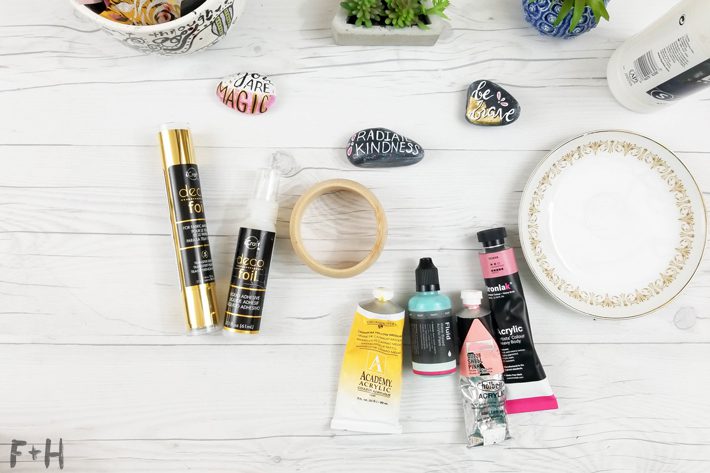 acrylic paints in:
White Gesso (or white acrylic paint)
paint palette or old plate
medium size Filbert paintbrush (the flat ones with the round tips!)
Step One: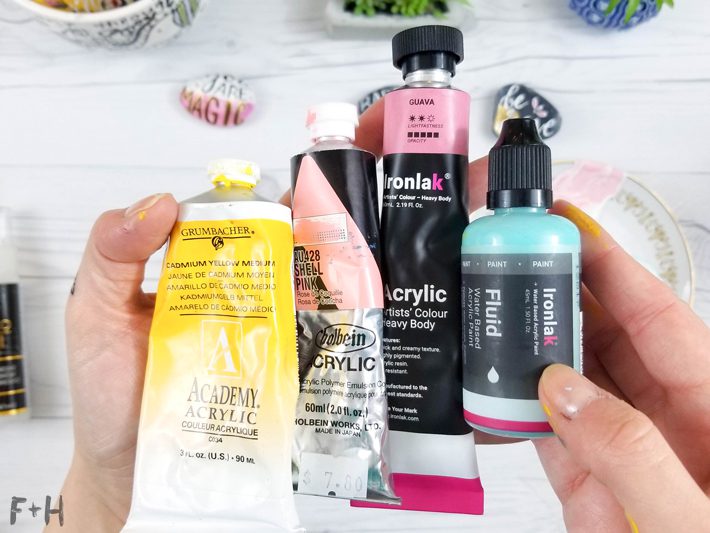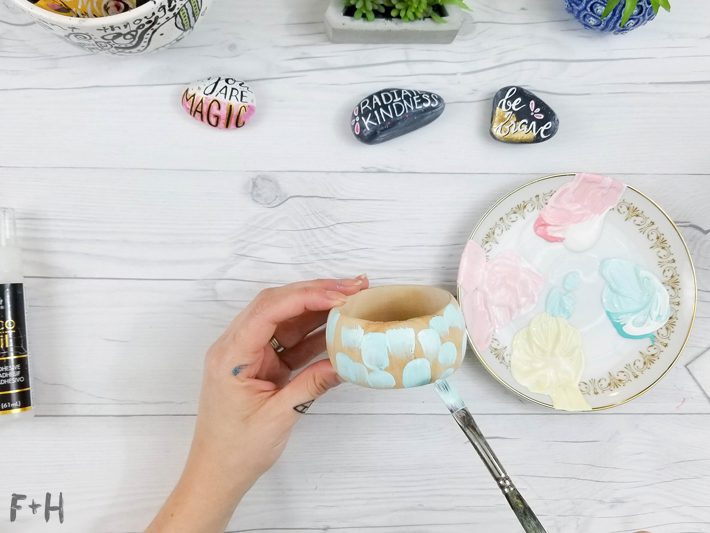 First, you'll mix all your colors with an equal amount of white gesso. This will create these lovely pastel hues rather than the bold ones. You can choose whichever color combination you like, these were just my preferences. The paints I'm using are also slightly different than the ones in the supplies list because these Ironlak paints are only available in Australia. If you're down under, then the hues I'm using art Guava and Electro!
Once all your paints are mixed, using the Filbert paintbrush, you'll choose your first color and randomly add brush strokes all around your bracelet. There's no rhyme or reason here – just start dabbing! You'll want to leave enough spaces for other colors. Let dry completely, either by air or using a heat gun to speed things up (here's the one I use and love!)
Step Two: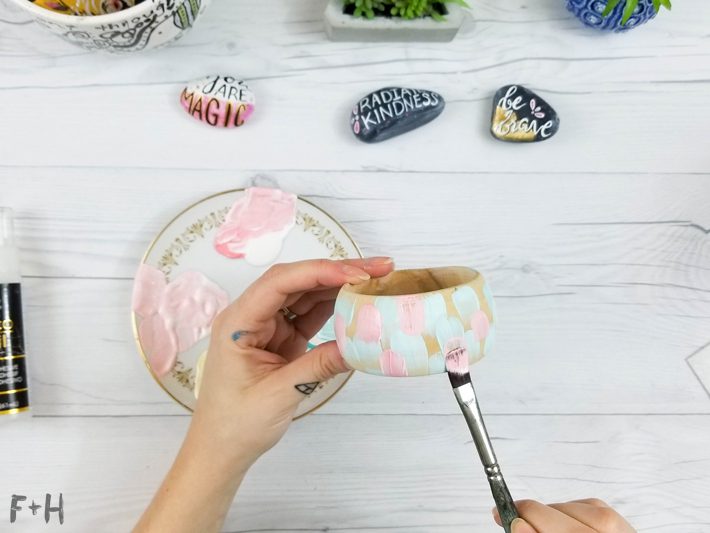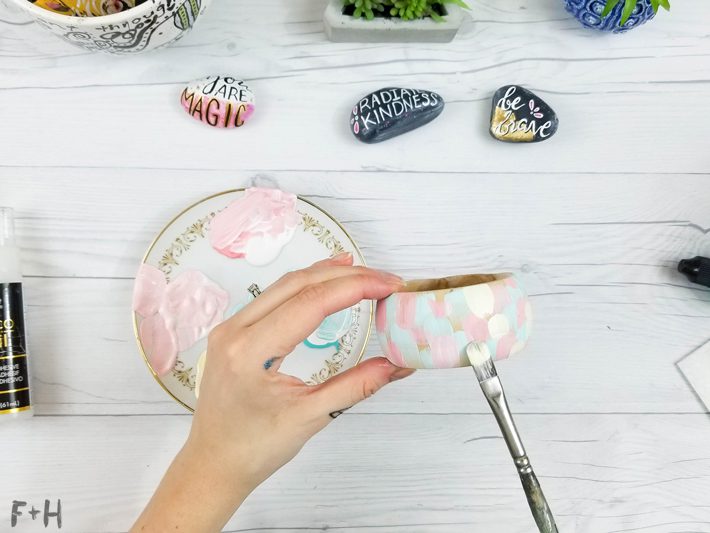 Repeat Step One with the remaining colors. You can decide how much or how little wood you want showing through the brushstrokes. Alternatively, you could also paint the entire bracelet white first, then there would be no wood showing. Whatever you like – you do you! Let dry completely. At this point you can also paint the inside of your bracelet if you want. I did mine a nice pastel pink!
Step Three: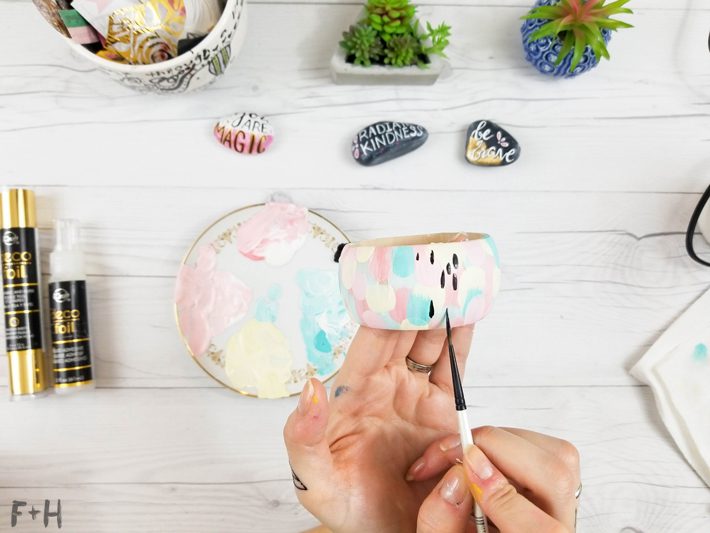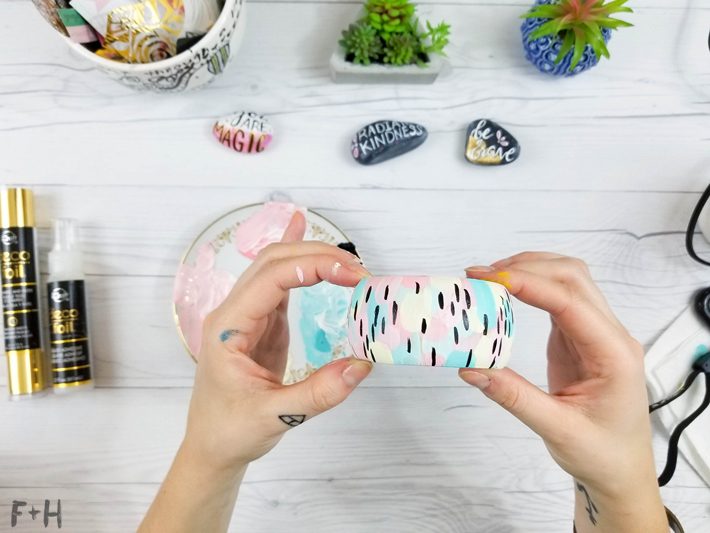 Using a liner brush, or any fine round brush, you can add some black marks with the carbon black paint all around the wood bangle bracelet. Again, this is random and you can put as many/as little marks as you like! Let dry completely.
Step Four: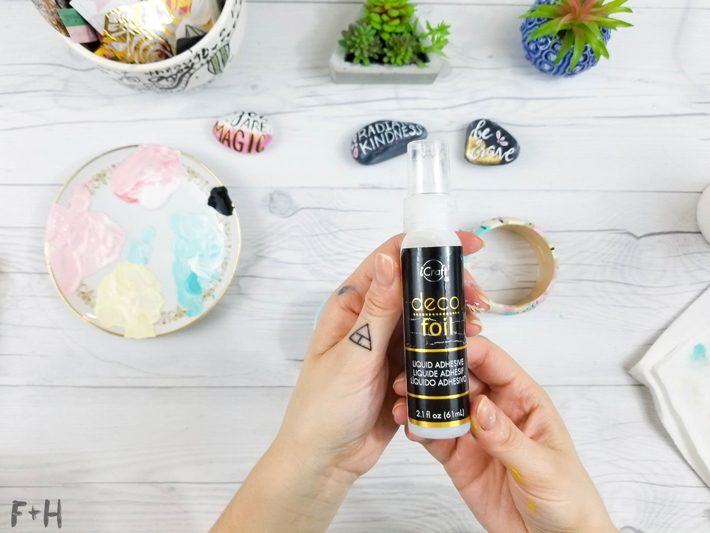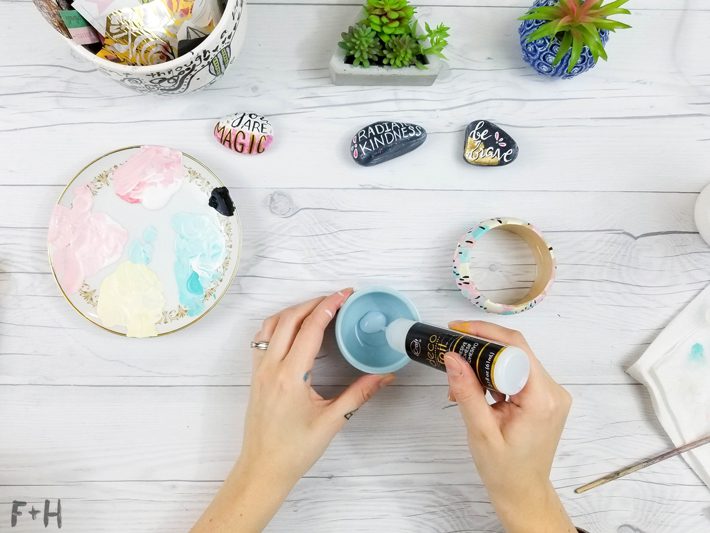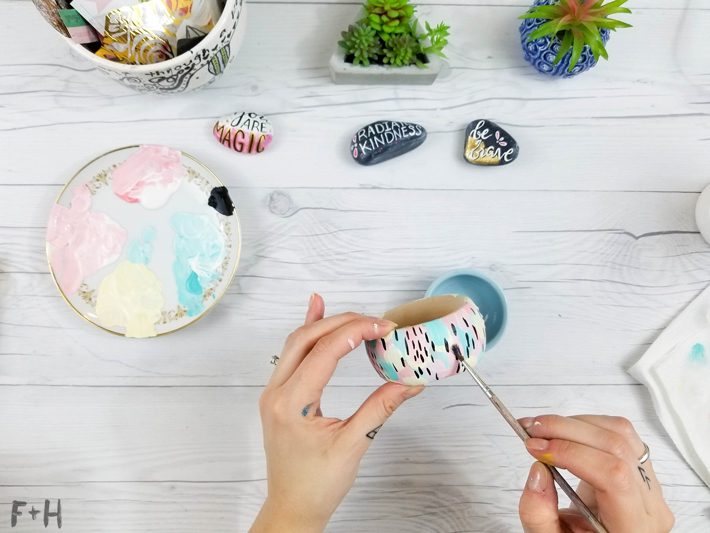 Now the fun part! First, squeeze some of the DecoFoil Liquid Adhesive into a small palette or container. Then using an old paint brush, add brush strokes using the liquid adhesive. The adhesive is clear, so it's helpful to hold the bracelet up to a light so you can see where've you already put brush strokes. Follow the bottle instructions, and let it dry for 1-2 hours until the adhesive is no longer wet, BUT is still tacky. Very important!! If it's too wet or too dry, the foil will not adhere. Speaking of foil…
Step Five: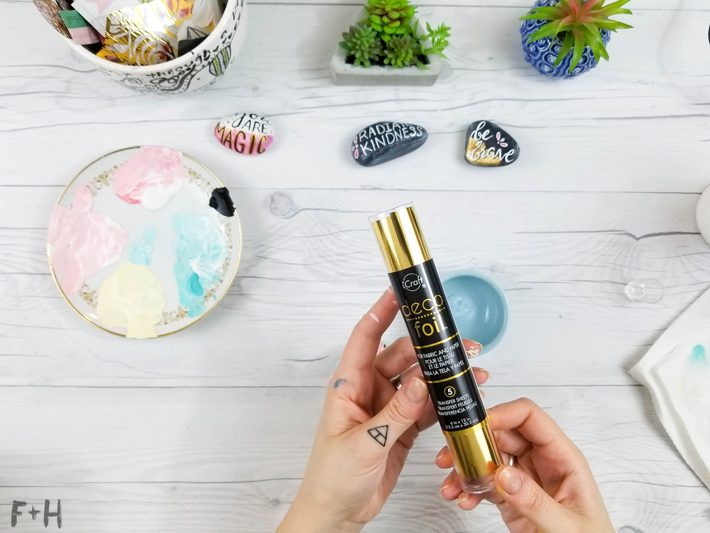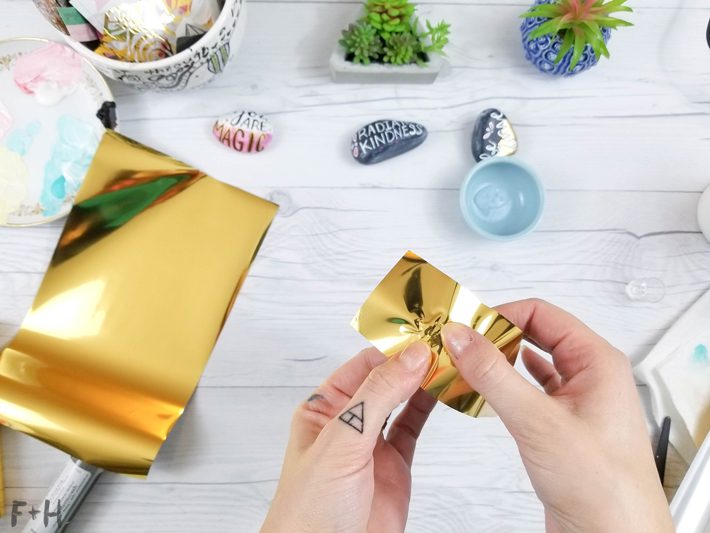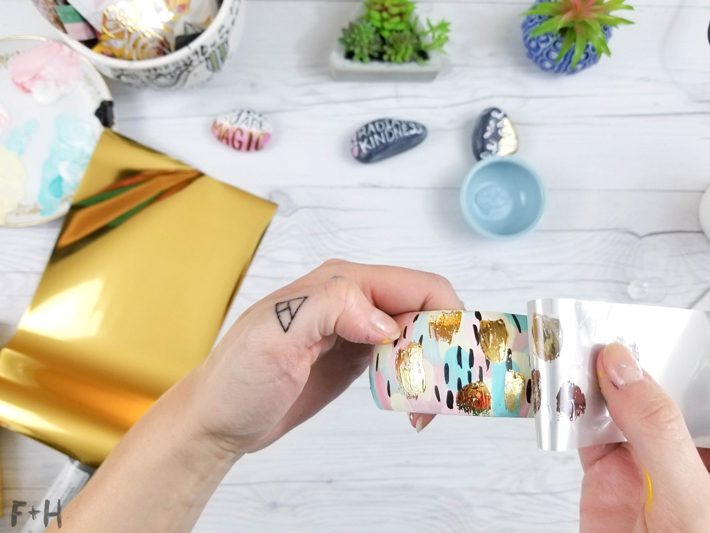 Once your adhesive is dry, but still tacky, you can apply the foil sheet. I've cut just a smaller strip so it's easier to manage. You'll lay it on top of your adhesive marks, then use your thumb to really rub it on and have it adhere well. Try to get as much foil on there as you can, then peel off! It won't be a perfect application because the brush strokes are not even, but this allows the foil to look like brushstrokes itself. I love the effect!
Step Six: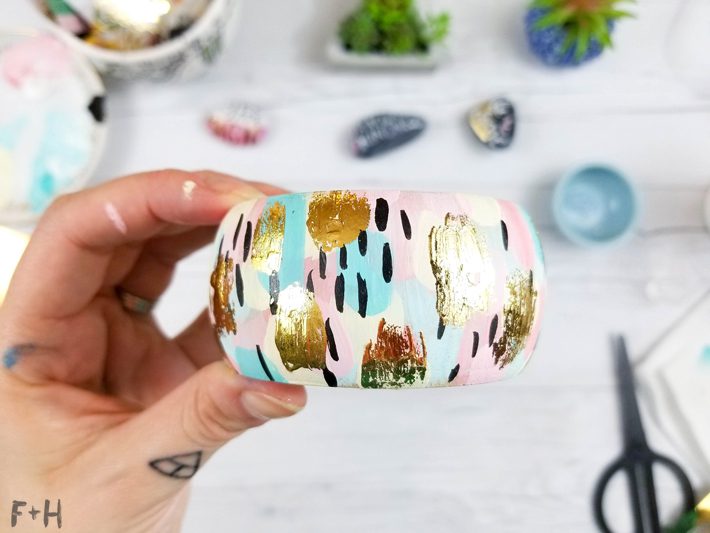 Using a high gloss varnish, paint your entire bracelet with 1-2 coats. This will help protect your bracelet from getting dirty because the paints will have dried fairly matte (because of the gesso.) I don't recommend using matte medium to seal this because it will dull the shine of the foil. Using a high gloss varnish will ensure your bracelet will be shiny and fabulous!
And that's that – you're done! See? So easy and fun to make. I am obsessed over the gold foil on this. Since Easter is around the corner, I think some impromptu painted wooden bangle bracelet Easter gifts might be in order – either for myself or for others, ha!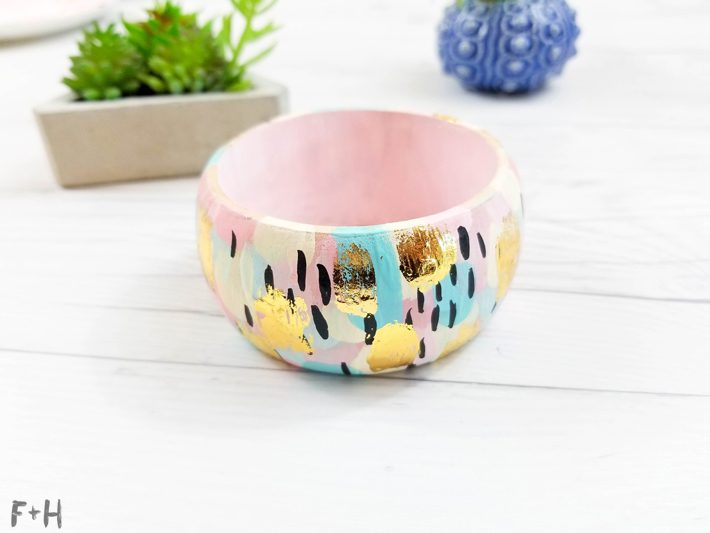 If you want to check out another way to use DecoFoil products (that isn't hand lettering!) then check out my post on how to use foil printing in your art journal!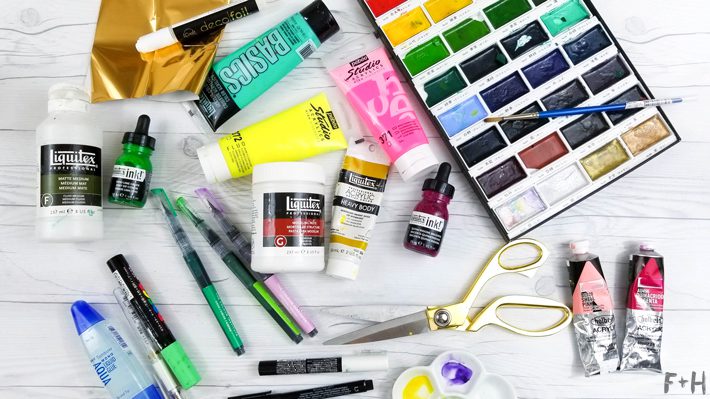 Love this post? Then share the love in one of these ways!