Easy Mixed Media Valentine Day Cards
Some links in this post are affiliate links to products I love!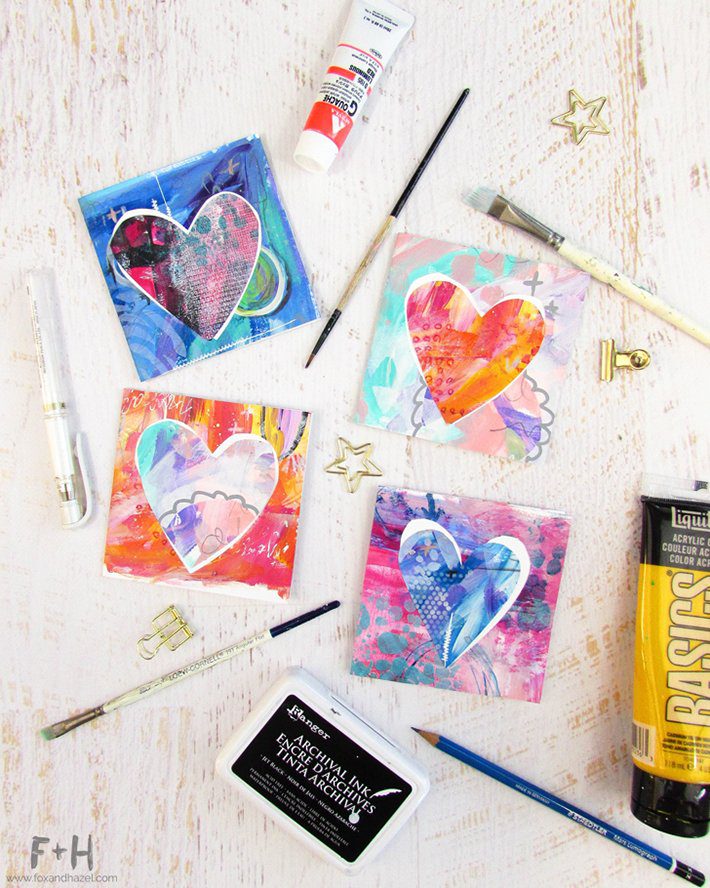 These cards are a fun and creative take on the usual DIY Valentine's cards. I always have a pile of mixed media paintings stacked on my shelves, and one day I thought they would look even better as cards. They're super easy to make and can be made with just about any papers you have laying around. Scrapbook paper, gelli prints, even paper from wiping off your brush would look great! So read on to learn how to make a Valentine card from all your leftover art scraps!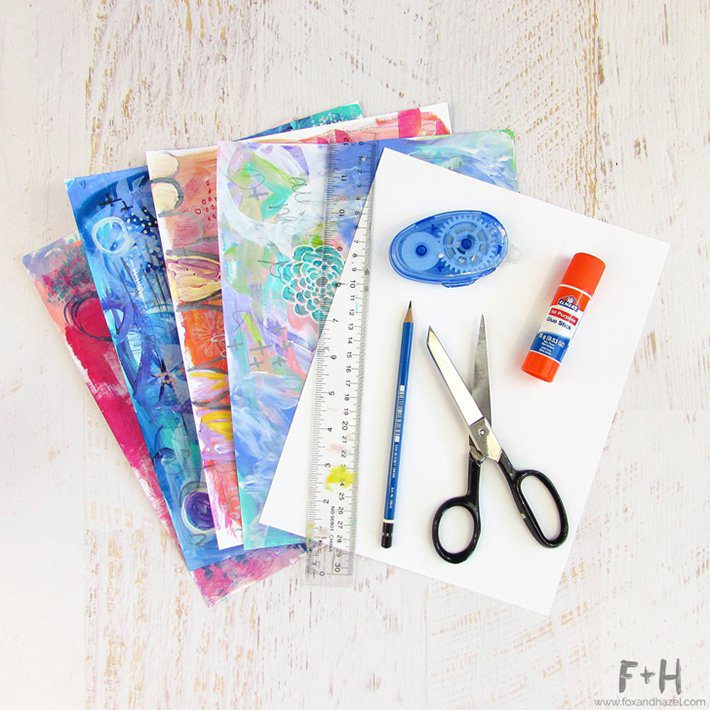 Supplies needed:
2 mixed media paintings on good cardstock
Cardstock
A glue of your choice
ruler
pencil
Exacto knife + cutting surface (not pictured)
Step One: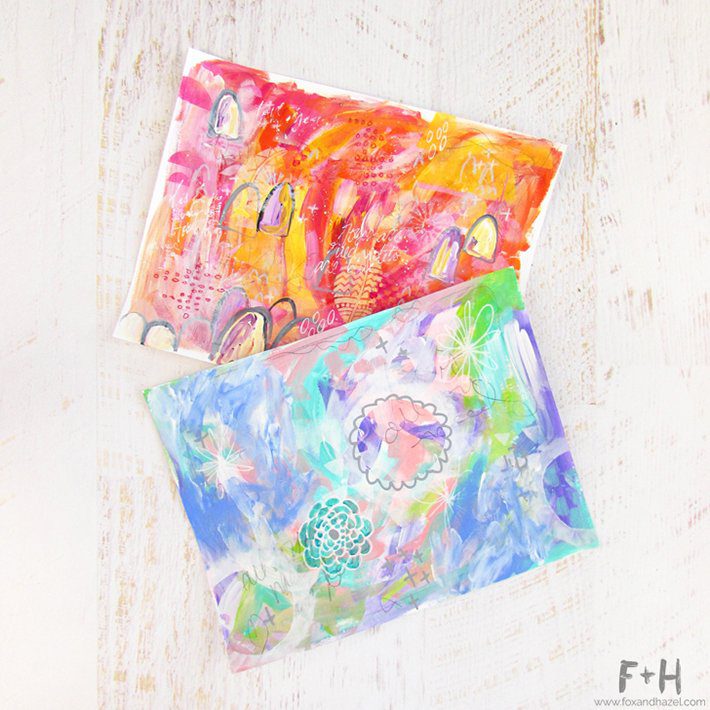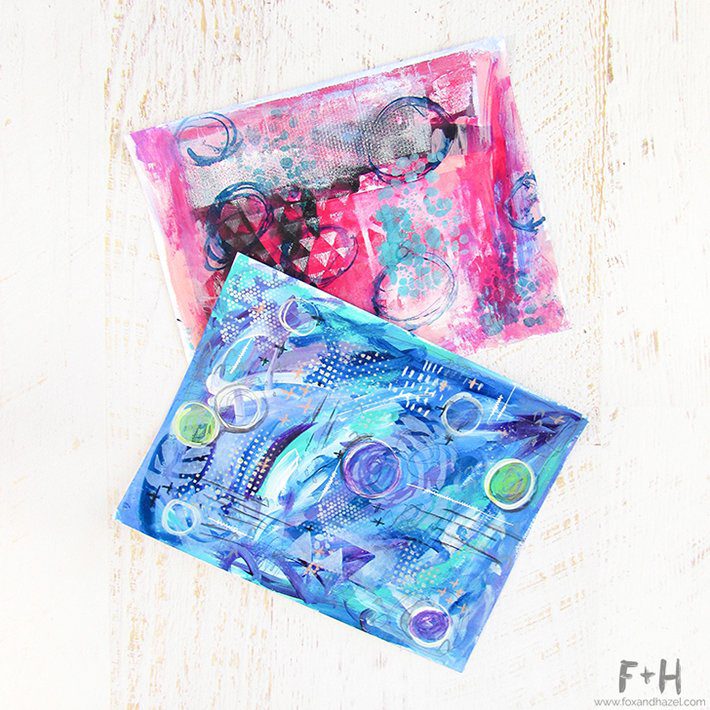 The first thing you'll need to do it make or dig out some mixed media paintings done on good quality card stock. I made these one afternoon while I was trying out some new supplies and techniques. You can make them as complex or as simple as you'd like. If you're familiar with Gelli printing, then gelli prints would also be great for these!
You will need two paintings in contrasting colours. Here I paired up a warm pink/orange painting with a purple/blue/green one. The second set I did were a cool magenta paired with a deeper blue + purple painting. These look best when you choose contrasting paintings, so the colours all really pop in the finished cards.
Creating a mixed media painting like this is really easy, and fun to do. I've shared the list of some of the supplies I used to create these paintings at the bottom of the post.
Step Two: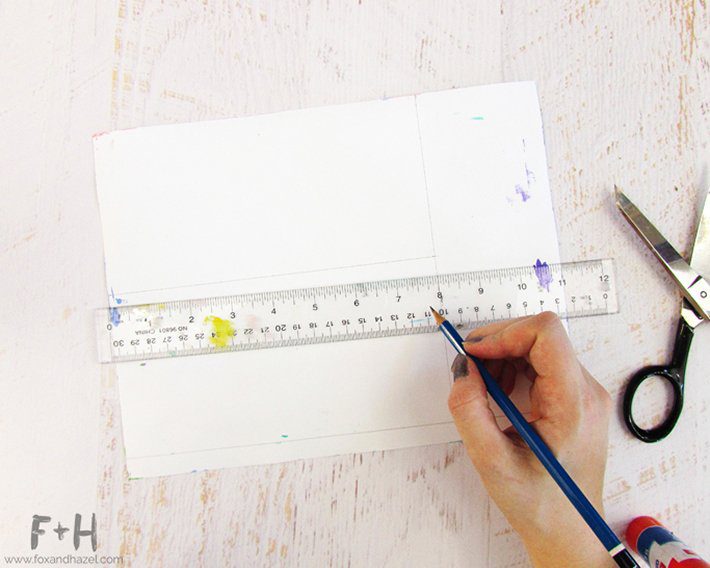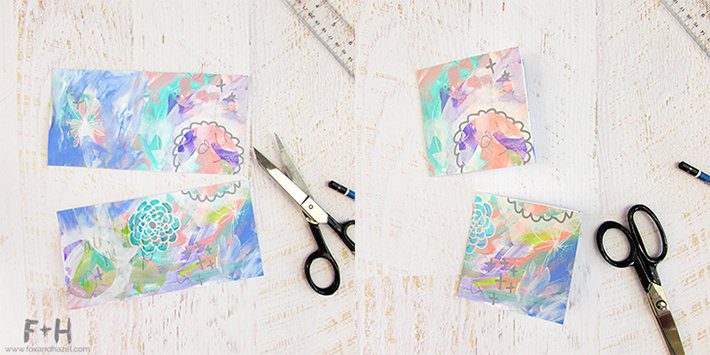 Mark out your cutting lines for the cards. I created my paintings on sheets of 8.5″ x 11″ paper, so I marked and cut out two cards that will be 4″ square when cut + folded. Repeat with the second painting. You should have 4 folded cards total.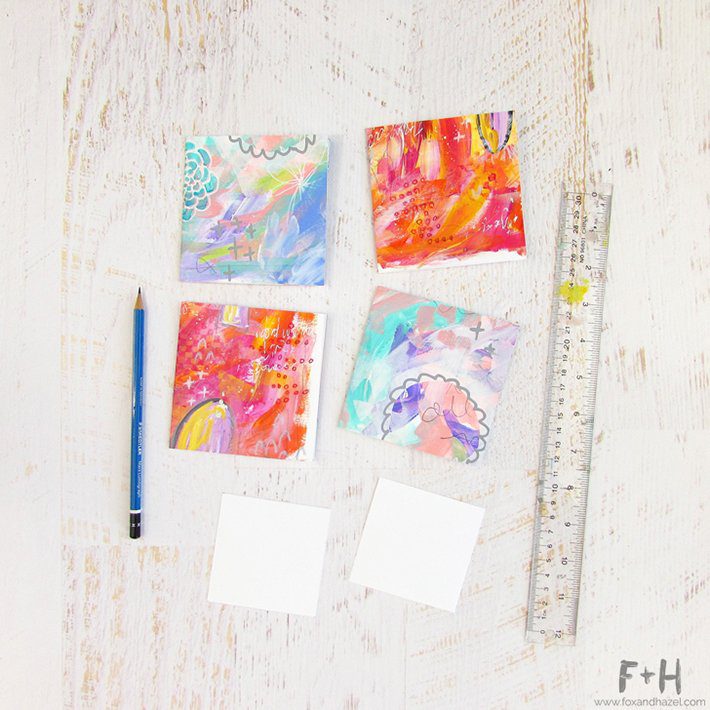 Grab that extra piece of blank card stock, and cut out squares that are 3 3/4″ x 3 3/4″. These will serve as a backing for the inside of the card to glue the cut heart to. It should be slightly smaller than the cards.
Step Three: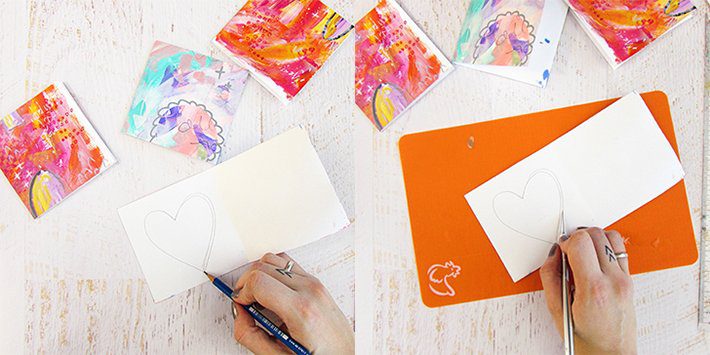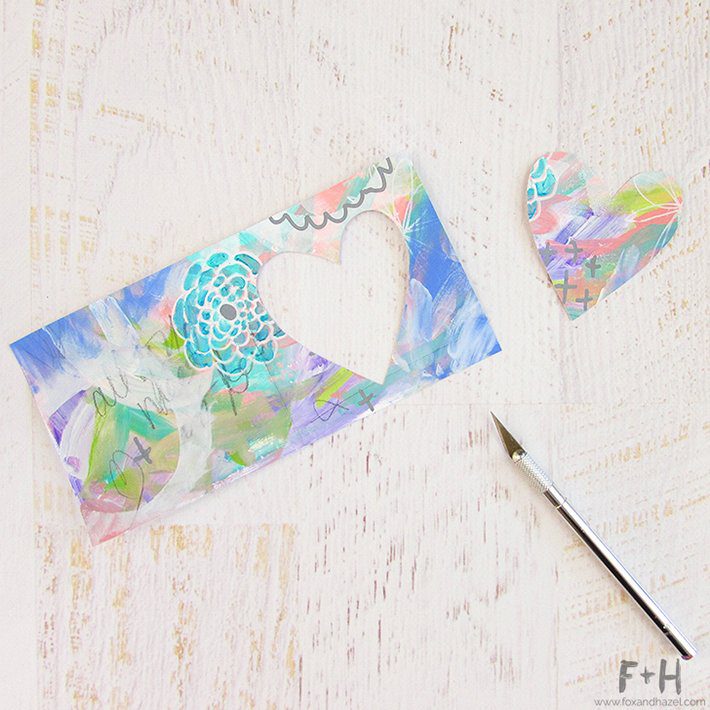 On the inside of the front of the cards, draw a heart shape. This doesn't have to be perfect, and if it takes a couple lines to get the shape you want, that's fine! This will all be covered up in the finished card. As you can see, I had to tweak my outlines a little.
Do this on all the cards, then use the Exacto knife to cut the hearts. You want the hearts intact, so avoid using scissors (unless you have mad scissor skills. Then teach me your ways!)
Step Four: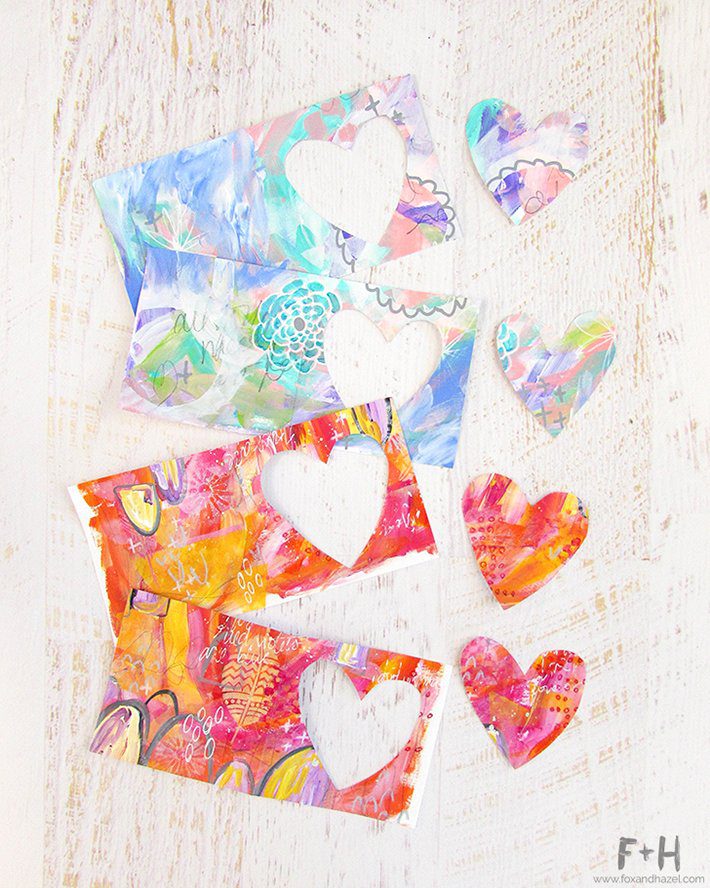 Look at those beautiful hearts!
Next, glue the blank cardstock square to the back of the front of the card so that it fills in the heart-shaped opening. This is important! Otherwise, you won't have a place to glue the heart down.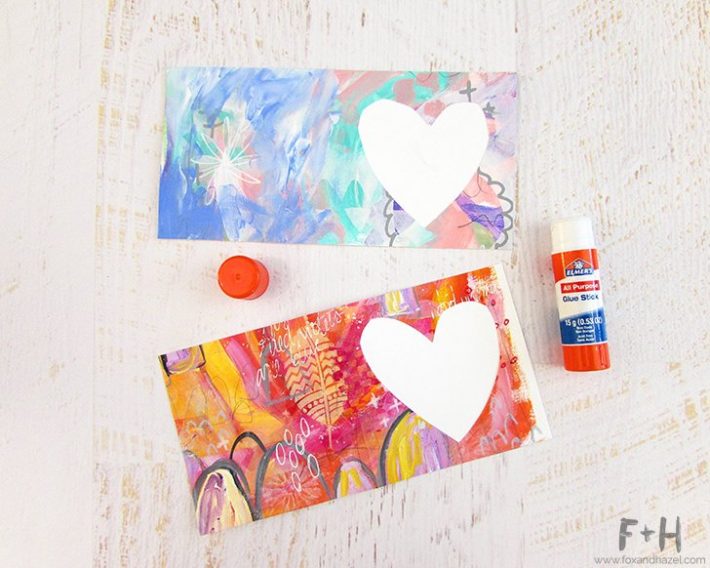 Next, choose a contrasting heart and glue it down inside the heart-shaped opening. It won't fit perfectly, and that's totally okay! It's not supposed to! Trim down the heart as needed to get it to fit/not fit as you like. You want some of the white from behind to show through, and for the heart to overlap the cut out in some places. The more imperfect, the better!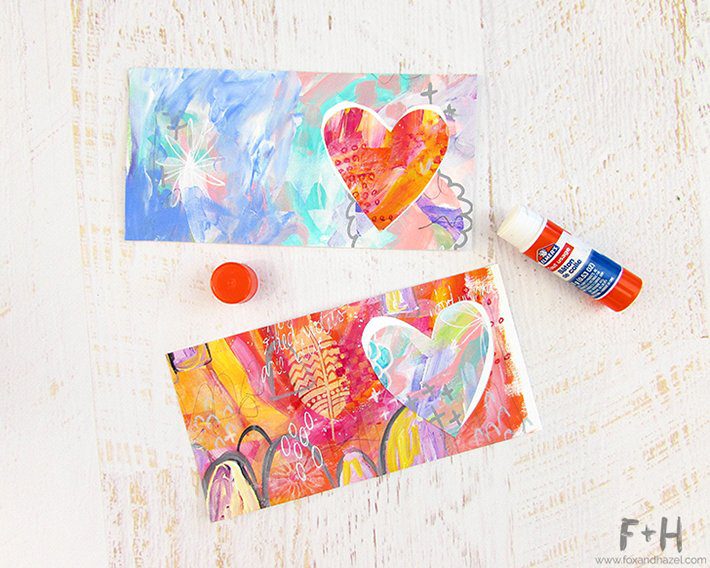 Fold in half, and you're totally done! How cute are these?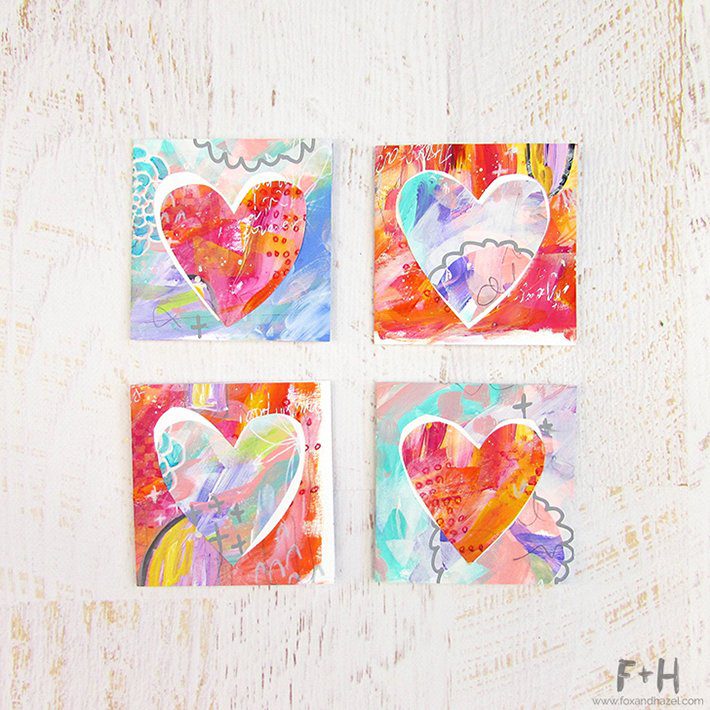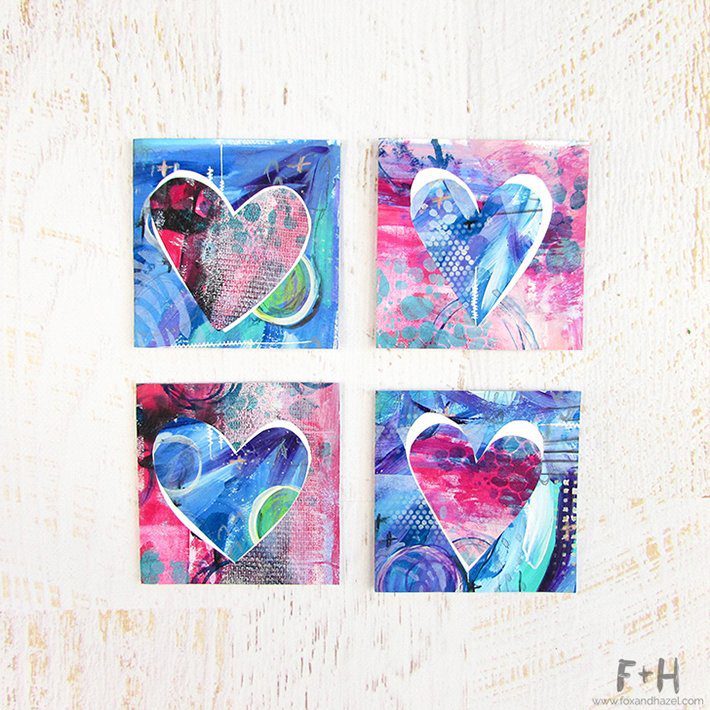 I just love the messy and wild look of these cards! They would make for some really fun office or classroom Valentine's. I made some more and plan to use them for little thank you cards and "just because" cards for the future.
Love this tutorial on how to create a Valentine card? Pin It!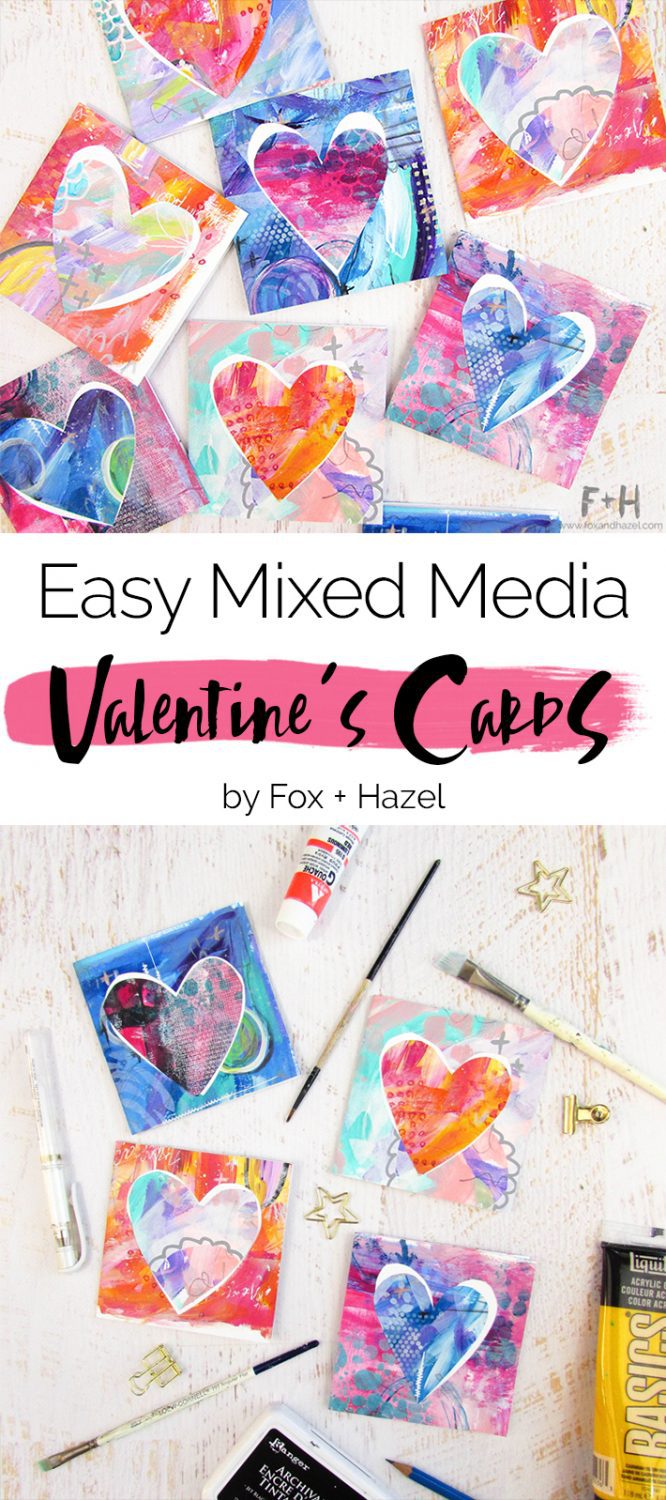 If you'd like to see what I used to create these mixed media paintings, you can find some of the supplies I used (and love!) below.