Mixed Media Envelope Art with Roben-Marie Smith
Some links in this post are affiliate links to products I love!
Today kicks off the Summer Blog Hop with a Twist with the Roben-Marie Smith Design Team. We have the usual art inspiration and giveaways, but the twist is that there is also a SALE!
AND, there is another twist; Roben-Marie will be closing Paperbag Studios and her Art Shop at the end of July. Read more about it in this article here.
It's been a hot minute since I made an envelope art tutorial! I love writing and sending letters, and I love dressing up the envelope for the recipient. It's a fun way to add a little more excitement to someone's mailbox too! My girls now have a pen pal in Australia to who we love to send letters (hi Arty!) and they also love decorating the envelope too.
For the blog hop today, I'm sharing this really easy and colorful envelope art tutorial. I used a few of Roben-Marie's products to make this envelope art really pop & come to life. The Art Pops™ Stickers are an easy way to add some texture to any work. Keep scrolling down to watch the entire mixed media envelope art tutorial!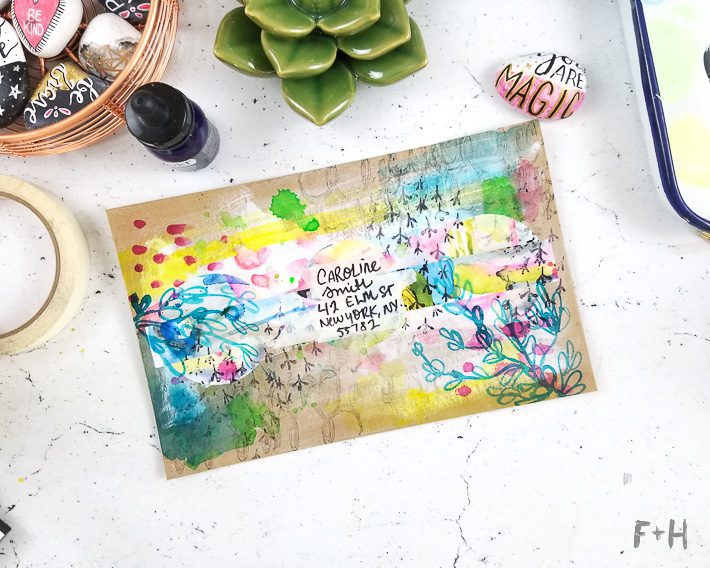 Mixed Media Envelope Art Tutorial
Summer With A Twist GIVEAWAY!
PRIZES
Grand Prize: One winner will receive a spot in Roben-Marie's latest workshop: SALVAGED: a Layered Pieces Journal and a signed and dated original abstract collage by her.
Three Secondary Prizes: gift certificates for an additional 30% off in your choice of the Paperbag Studios or Art Shop.
Be sure to visit the other blogs in the hop and leave a comment to increase your chances of winning the discount!
HOW DO I ENTER?
All you have to do to enter is comment on this blog post and then keep on hopping across to all of the Design Team member's posts, leave a comment on them and be entered with more chances to win. Giveaway closes on Sunday, July 15 @ 9:00PMEST. Prizes will be announced on Monday, July 16.
WHERE DO I GO?
Here are the links to all of the amazing Design Team Projects so be sure to visit all of them, leave a comment and increase your chances of winning!