Create an Accent Wall With a Wallpaper Mural
Some links in this post are affiliate links to products I love!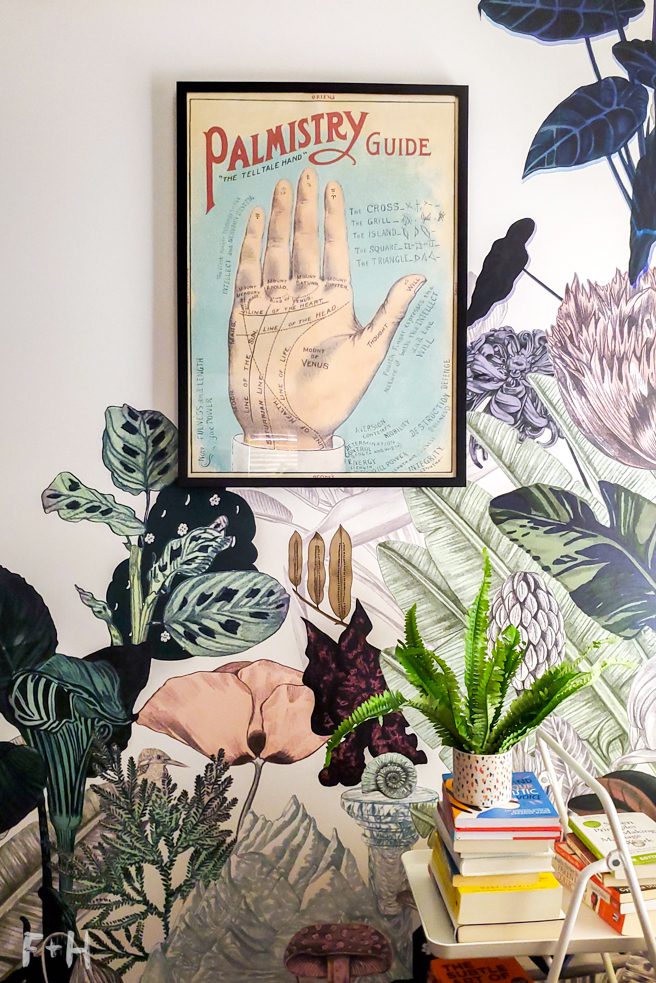 I love a good statement wall. Haven't you heard? I've got one in my dining room, laundry room, basement playroom and am always scheming for another. Sometimes I like to paint these statements walls, but I also love a good wallpaper mural. I was approached again by the lovely people at Photowall to do a wallpaper project, and I immediately jumped at the idea! We have been wanting to start decorating/painting our second floor, especially our bedroom. So I said yes and started choosing a wallpaper mural I thought we'd like. If you want to do a wallpaper project like this, there is a discount code at the end of this post to help you out!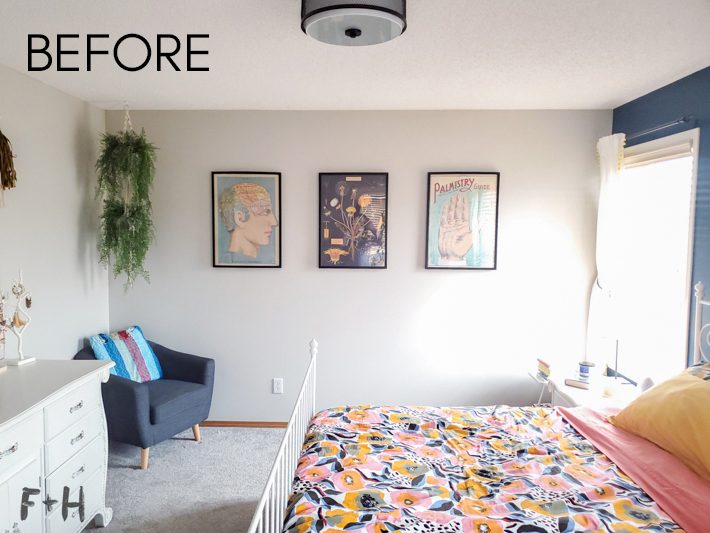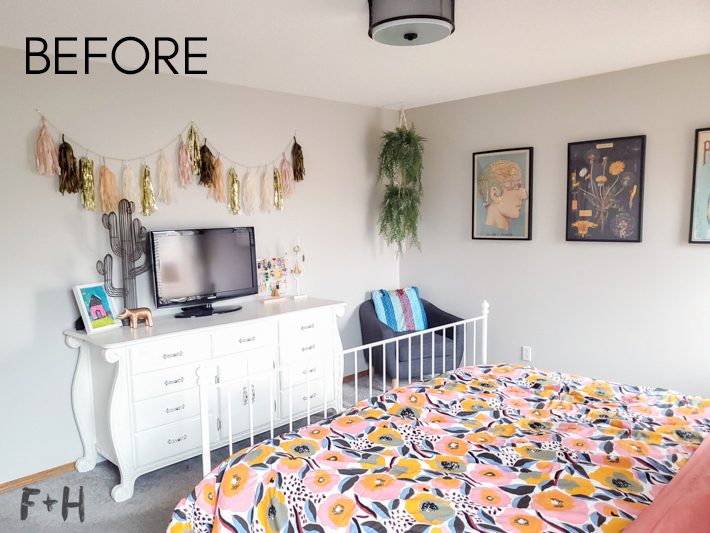 This was our bedroom before. It wasn't terrible, but it felt like it was seriously lacking. We all know I'm obsessed with color, so replacing our bedspread last year was the first step to changing our room. But it just felt like it wasn't enough. We wanted a dark & moody feeling to our bedroom, so we wanted something darker without being too feminine. So we decided to go with this wallpaper mural called Paradise Lost. The wall behind our headboard is painted Moscow Midnight by Sherwin-Williams, and so we decided to paint the opposite wall to match. To sort of focus the room onto the far wall where the wallpaper mural would be. Photowall shipped the mural and it was on our doorstep just a couple of days later.
As usual, I am terrible at taking photos during a home DIY. I missed getting photos of us painting the wall, so you'll have to use your imagination! But once we had that wall painted, we were on to the wallpaper. We taped off the bottom and edges of the wall to stop any wallpaper glue from getting on them. Then we measured out the placement of the wallpaper. My handy husband used a laser level, which I NEEDED to show you.
He and I have used it for literally so many projects over the years that I had to share it with you. It is great for things like painting designs on walls, wallpaper, hanging drywall, framing, etc, etc. In this case, we used the laser level to make sure our first strip of wallpaper was vertically level. You need to do this as most wall corners in houses aren't actually perfectly straight. By marking vertical level on the wall, you ensure the wallpaper is hung perfectly straight all the way across the wall. The placement of the first piece matters the most!
The wallpaper strips are 18″ or 45 cm wide, so we marked our first piece only 16″ out. When ordering wallpaper, you typically add 3-5 inches extra on the width and height. This is to help account for your walls not being square, and so you can hang the wallpaper with a bit of room for extra. We marked the first strip 16″ out from the wall so we would have 2″ of overhang to trim. We pasted the wall, then hung the first strip, also with overhang on the top and bottom of the wall too. Once the first piece was hung & smoothed out, we went back and used a straight edge & utility knife to trim the excess wallpaper.
Again, I forgot to take more photos of us hanging the wallpaper, but it happened! I remembered to take a photo about 3/4 of the way through.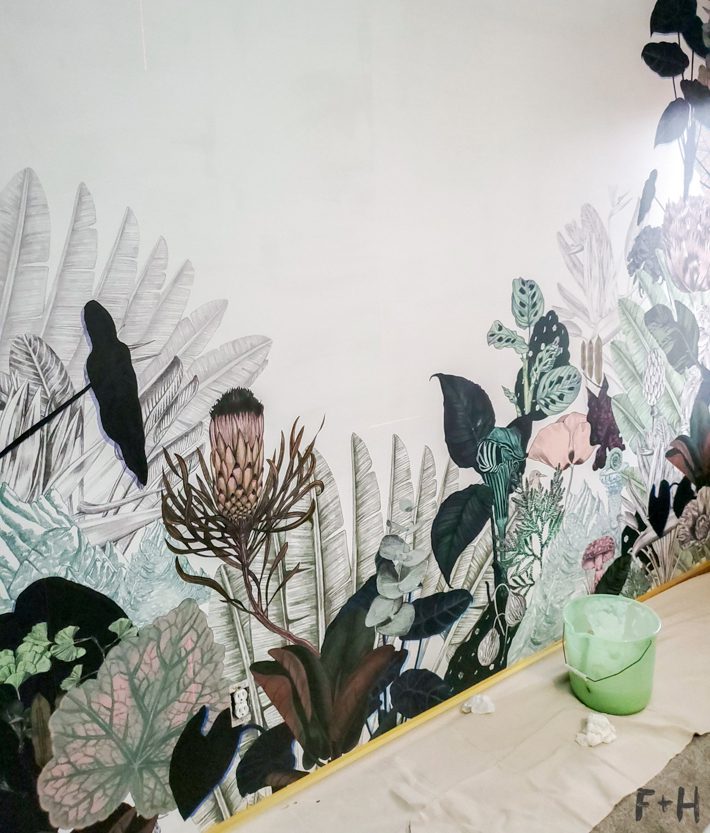 I know hanging wallpaper can seem SUPER SCARY, but it's honestly not that difficult. You just need some patience, willingness to learn and at least 2 people to hang it. It's such an easy project to do once you get the hang of it. We did this over a weekend, but I think the actual wallpaper hanging process took maybe an hour, an hour and a half tops. It really is that fast!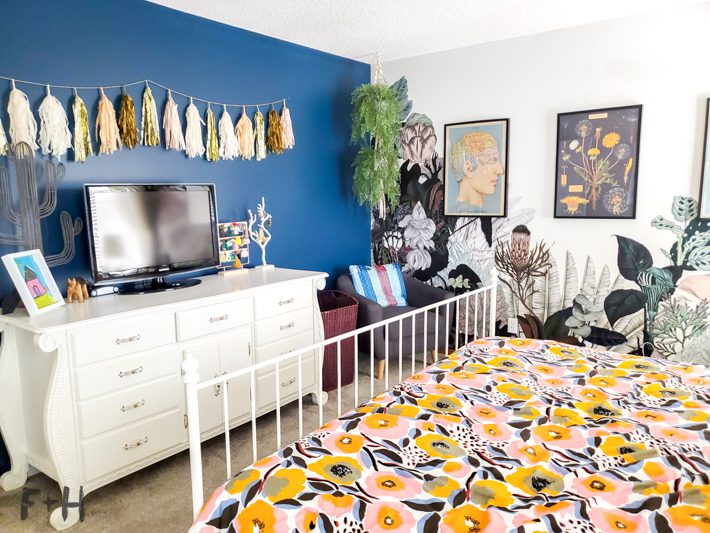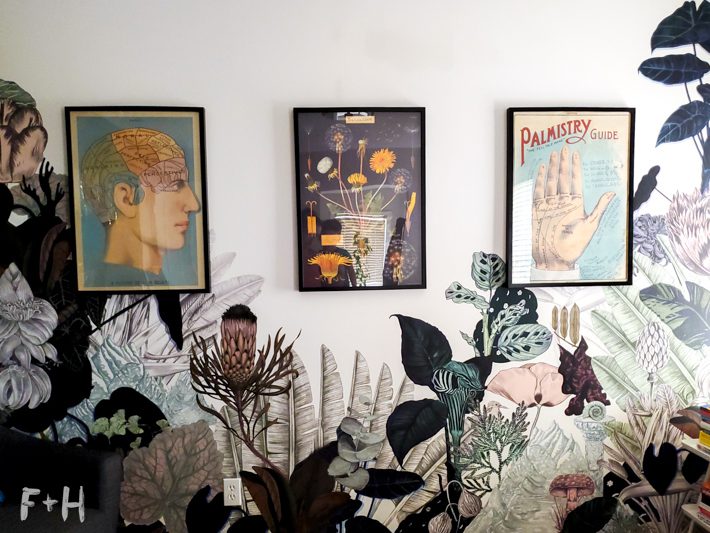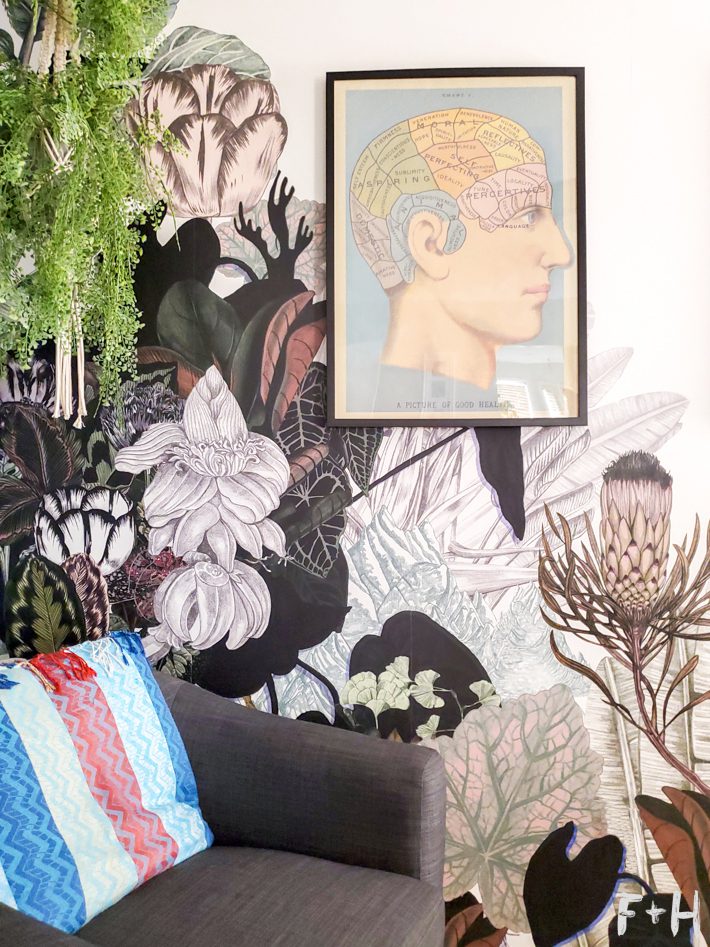 We had our room put back together by supper time and I just LOVE how it turned out!! I am obsessed with it. The jungle vibes are exactly what our room needed. It turned out so much better than I thought it was going to look! I didn't put the posters back on the wall because I worried it would take away from the wallpaper mural. But my husband convinced me to put them back & he was totally on point. I LOVE the look of it all together! If you're wanting the links to these posters – I got you. Here are the links for the phrenology poster, dandelion poster, and palmistry poster.
To help push you towards the wallpaper gang, I have a discount code from Photowall. You can use 'foxhazel25' until July 3 to get 25% off any purchase. They also have posters and canvases, as well as traditional patterned wallpaper and of course, tons of wallpaper murals!
A huge thank you to Photowall for sponsoring this post and making my home just that much more amazing!