Our Dining Room Statement Wall with Photowall!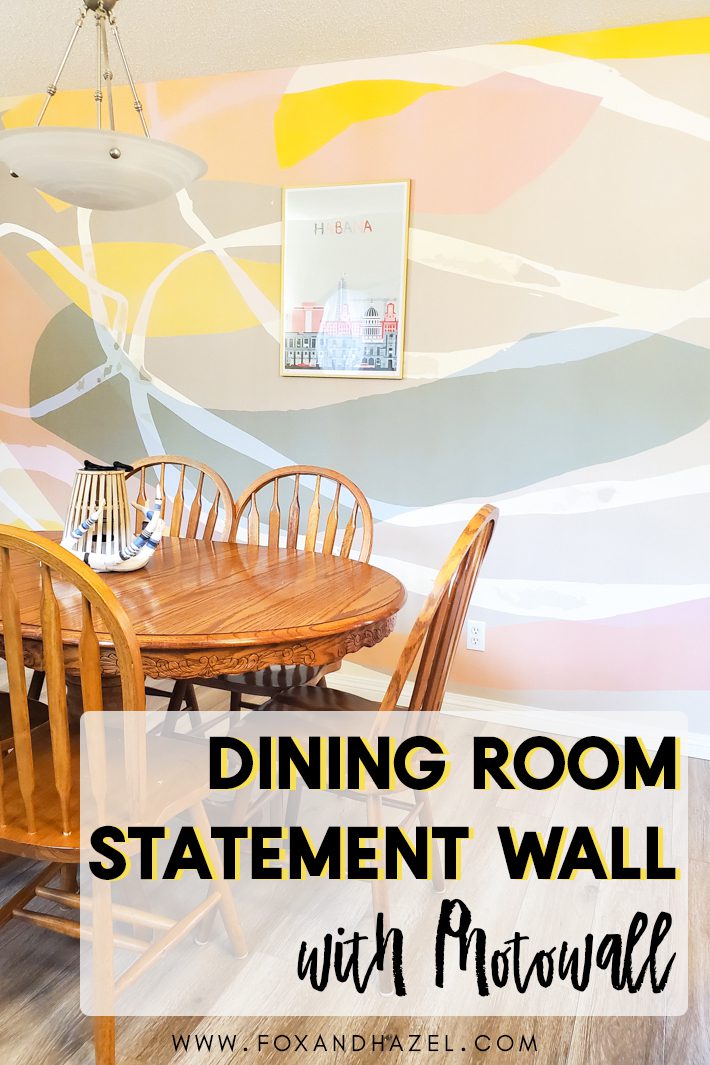 The sun is shining, the birds are singing and I am starting ALL the home DIY projects. Including refreshing our dining room! I was approached by Photowall to try out their products a few weeks ago, and I immediately said YES. They sell wallpaper, canvas prints, framed prints, and posters. I've been wanting to wallpaper a room in our house forever, so this was serendipitous timing! Especially with us being stuck at home right now. My husband and I picked out a wallpaper mural design we both liked and decided to do our dining room. I ordered the wall mural "Hurricane Lucy" as well as the wallpaper tool kit. All of their wallpapers come with wallpaper paste included, but the tools are extra.
(P.S At the end of this post, there is a discount code for you to get your own wallpaper mural! Keep scrolling!)
We are really lucky with our house layout as we have this lovely formal dining room that is open to the front room. As soon as you walk in our front door you can see this wall, and it's framed by an archway. It's the perfect spot for a big bold statement wall! In my typical fashion, I did not get a great before photo of the room. Whoops!
We prepped the wall by washing it first to get any greasy kid fingerprints off. Lots of wallpaper people recommend filling any holes and even putting a layer of primer first. We just had our entire house repainted less than 2 years ago, so we decided to forgo this step. We like to gamble. Here is me, washing a wall.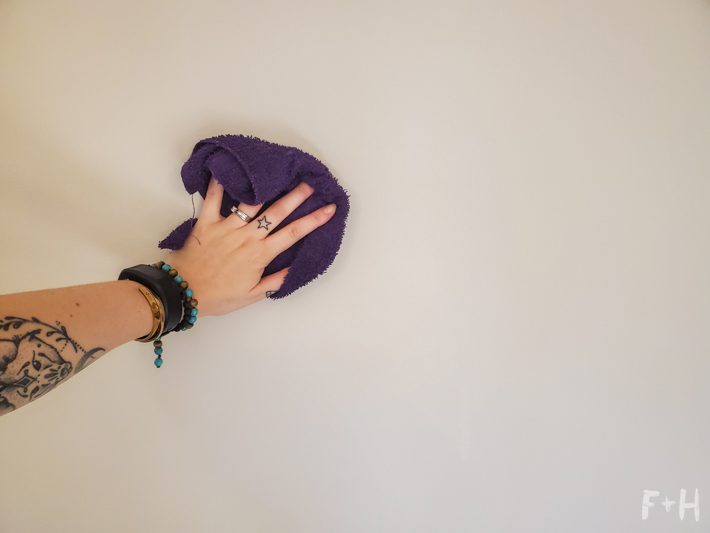 After we washed, we took all the cover plates off any light switches/plugins, etc. And we chose to tape off the baseboard and the sidewall just for any wayward glue. I'm married to a perfectionist engineer and he is all about the prep. Nothing happens until we have properly prepped for the project. This also included taping down a drop sheet on the floor near the wall. Again, for wayward wallpaper paste. These steps are not necessary by any means. We just go full throttle with prep around here.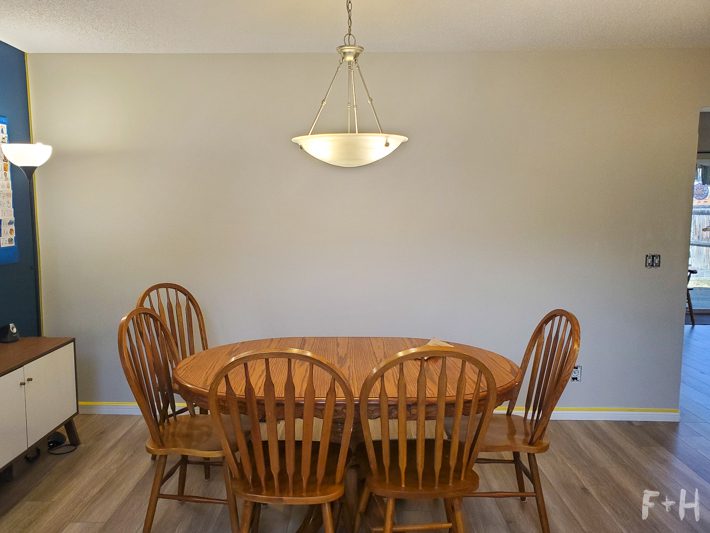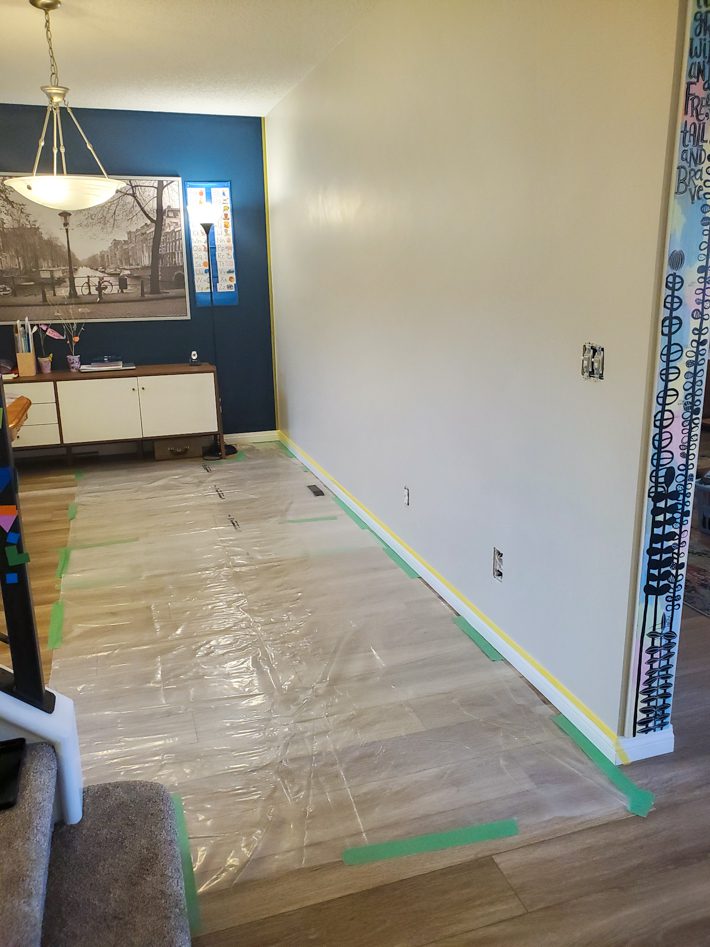 After all the prep work was done, next came the wallpaper mural! The really cool part about the wallpaper murals from Photowall is that when they print it, they label each section in sequence. It all comes on one roll, but each panel was numbered so you knew which piece to put next. It was SO handy, especially for a mural like this. You can see the numbered parts of the panels in the photo below!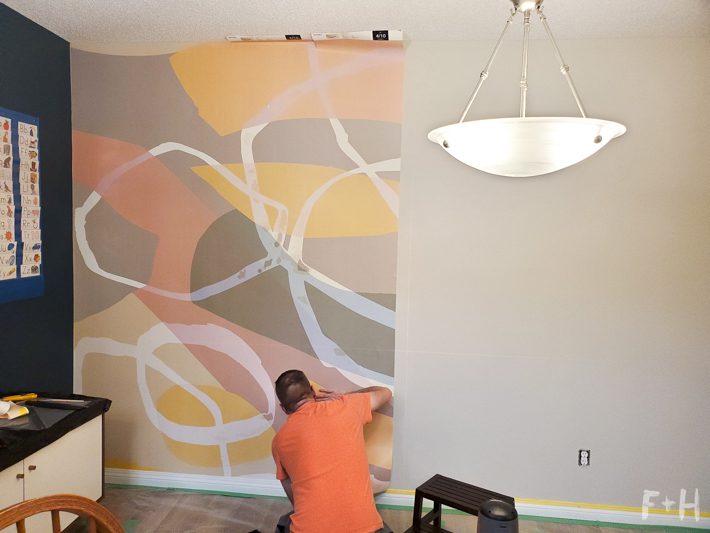 We were able to complete this project in just a few hours one afternoon. All in all, it probably only took us 5 hours from start to finish to do this! And that included an emergency trip to the hardware store. The quality of the wallpaper is top-notch and impressed both my husband and me. The paper is nice and thick, did not crease easily and the printed image is SO crisp. As I mentioned before, my husband is very particular about DIY projects and is a perfectionist. It's caused many disagreements in our marriage because we are opposite that way! Even my perfectionist DIY hubs thinks this wallpaper is great. That's high praise!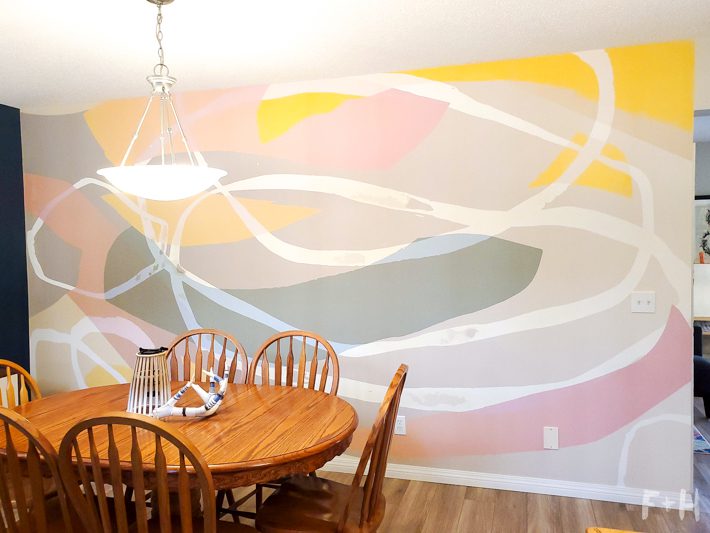 The photos don't do it justice (because I am not a home DIY photographer at all) but I hope you can see how great it turned out! We are beyond happy with how beautiful and bold it is! The lightest background color on the right actually is a near-perfect match to our painted walls! All in all, we are super happy with the end result and cannot say enough good things about Photowall. Now my next project is to DIY a new chandelier to replace our builder grade one here…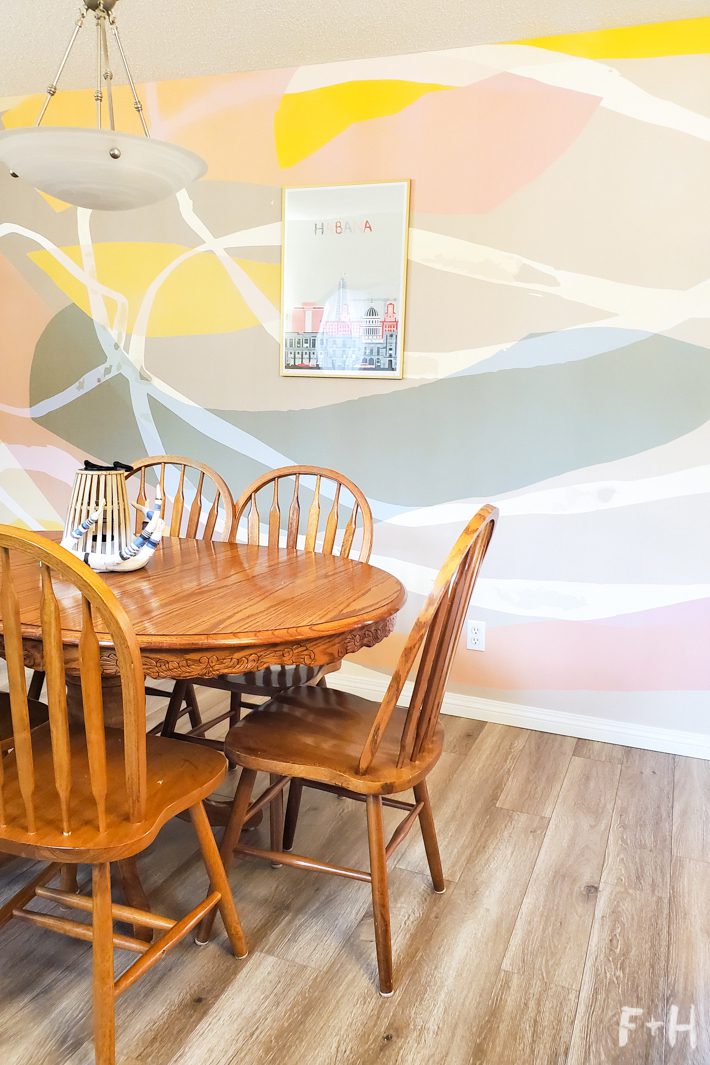 If you want a bold statement wall like this, you can get 25% of your own wallpaper with the code foxandhazel25 at Photowall until June 15th, 2020!
If you love this post, you can say thanks in one of these ways!