My Real Home Art Studio Tour: Part 1
Some links in this post are affiliate links to products I love!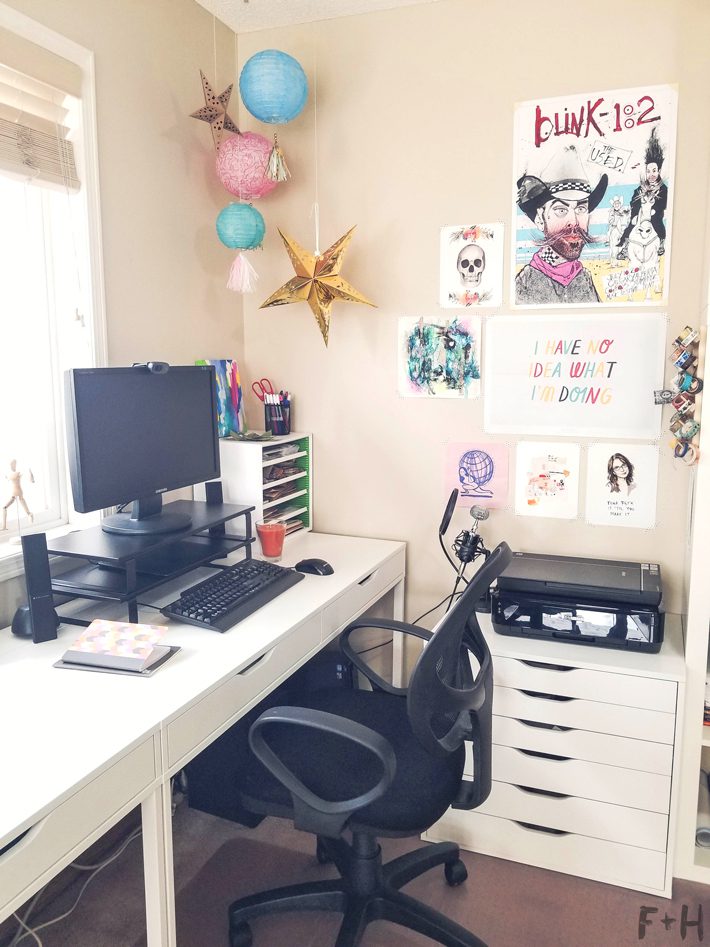 Oh man, get ready for an insane amount of photos. I have been dying to share a home art studio tour with you guys for so long. My studio in our old house was a bit small and really hard to photograph (also insanely cluttered.) When we picked out our current home, the second-floor open loft office was a huge selling point for us. I needed a dedicated office/studio that was not a basement bedroom. So, we moved this past summer and it's taken me about 6 months to figure out the ideal set up. As always, there was some tweaking and adjusting to get my home art studio just the way I like it. At least for now.
So, without any more preamble – let's get into the tour!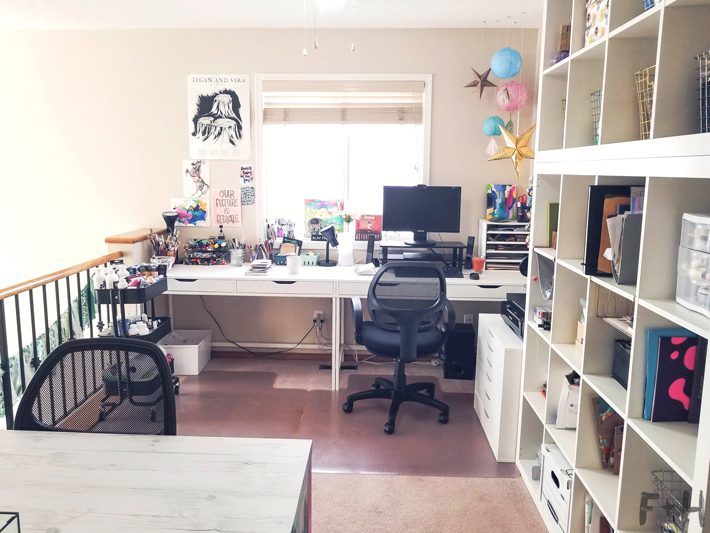 As I mentioned, my studio is an open loft on the second floor, which means it only has two complete walls. That railing leads over into our front living room. This is taken from the "doorway" into the space. I'm also going to preface this entire post by saying that my office is 100% not Pinterest perfect. I have some pretty stuff (mostly the furniture) but everything here has been piecemealed together over the years. There's also dusty pink carpet and utilitarian chair roller mats because I don't have time/money to do flooring in here (someday!) And some things are more about function over form (I'm looking at you office chairs.)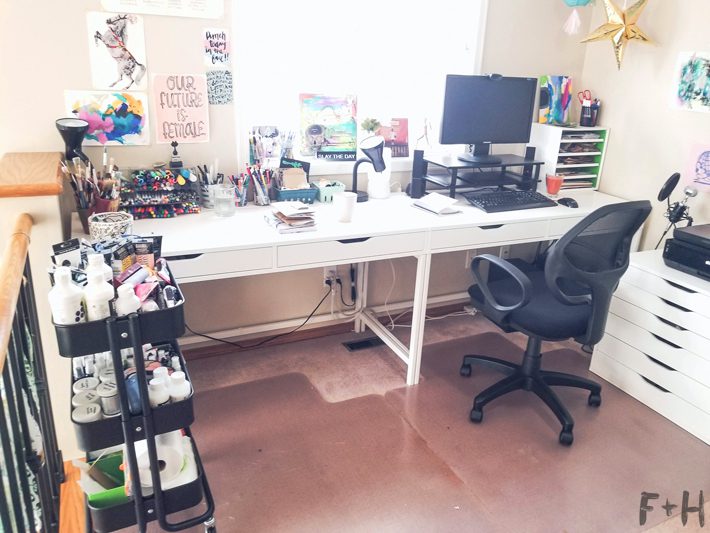 So my main workstation is actually two Alex desks from Ikea put side by side. I love the drawers underneath but also love having a ton of leg room. My old studio desk was a built-in countertop that was a faux granite laminate. I was pretty excited to have some white desks. One side is dedicated to my computer/printer/scanner all things tech related, and the second one is where I art journal, paint, get creative in general. I had this same set up in our old house and really loved it. My creative process includes me bouncing back and forth a lot, so being able to roll across is awesome.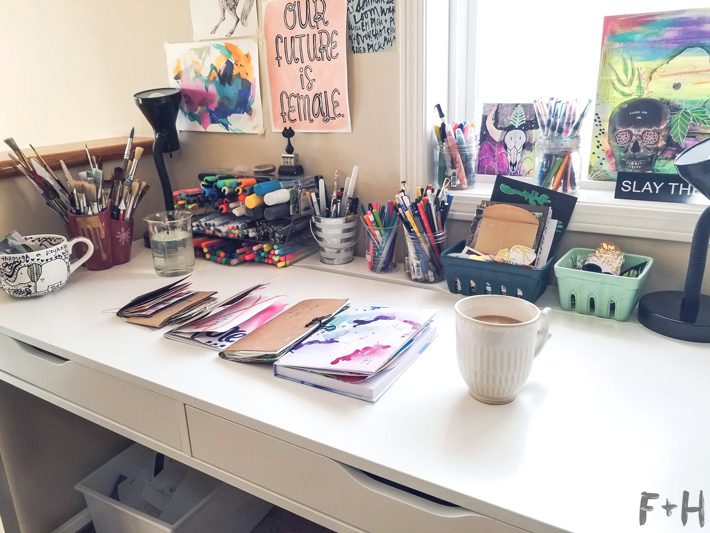 This clear acrylic pen holder I have is probably one of my favourite pieces in my office! It's actually this desktop organizer turned on its side. I got a few years back and LOVE using it to store paint and gel pens in it. You shouldn't store either of them vertically, so this horizontal organizer works great. I also have a collection of other random jars/gelato containers/baskets to collect even more of my supplies. Pens/markers/mark making supplies are some of my favourites, so I have a lot! Which means I'm always trying to manage the storage of them. I also have two upturned lamps here for working at night. It helps to diffuse the light more, so it's not as direct and hard on my workspace.
The drawers in my Ikea desks house different things on each side as well. As you can imagine, the computer side holds more life stuff like bills, USB drives, random bits of nonsense (and maaayyybbe some hidden treats?!). The drawers under my art desk house things like scissors, glues, random bits of paper, erasers, rulers, sticky notes, refills for different craft tools, etc. They are literally never organized and usually a disaster. I'll save you the drama 😉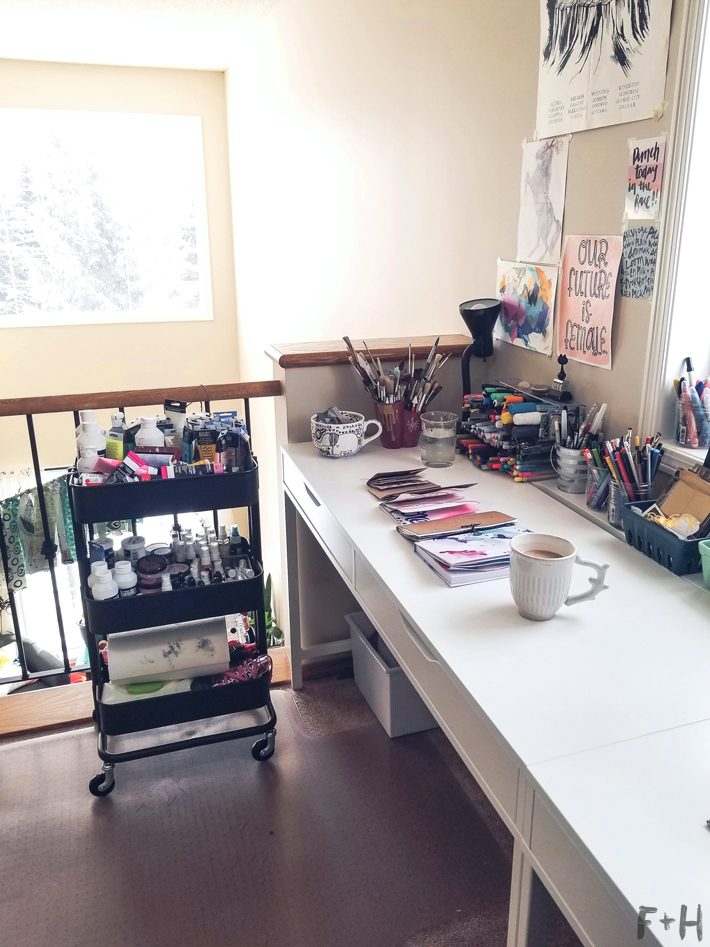 Here you can see how the one side of my office opens up into the living room below with that giant window! The beauty of this loft home art studio is the great light I get during the day. It's so nice! My old office had terrible light, so this was a welcome change! I also have my trusty Ikea Raskog cart because is it even an art studio if you don't have one!?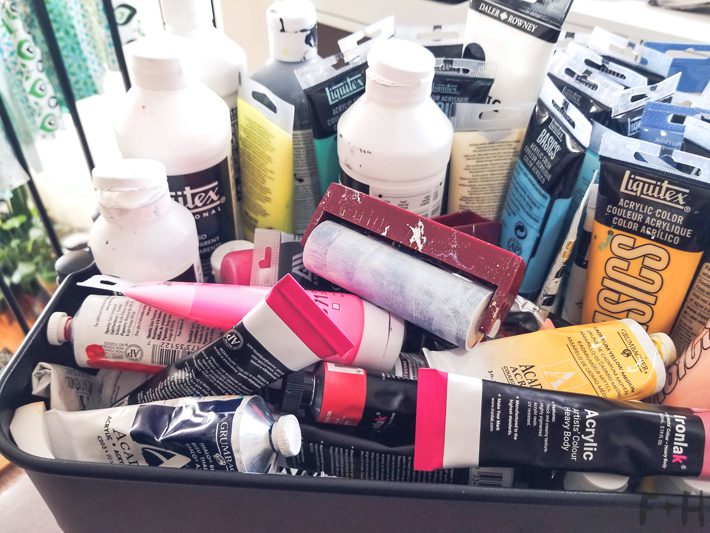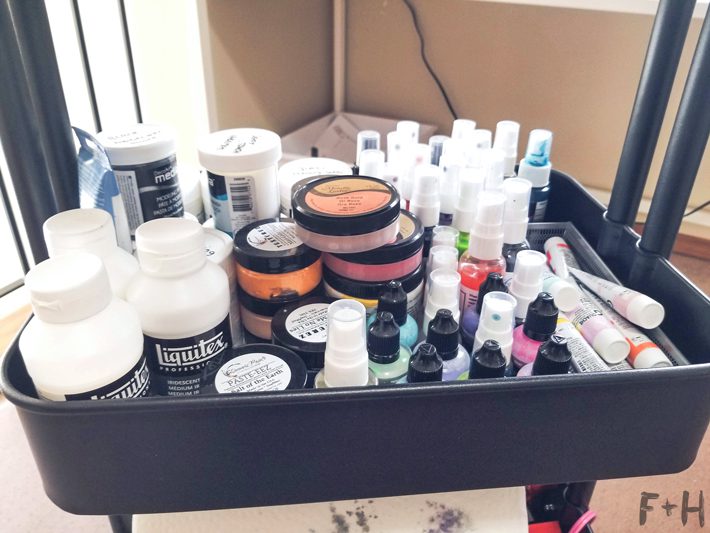 I keep all my acrylic paints in the top basket of the cart in a messy pile. This was after I tidied it up for photos! And the second basket is for all my mediums, pastes, sprays, gouaches and fluid acrylics. The bottom basket is for unexciting supplies like paper towel, baby wipes, paper cutters, heat tools, etc. I love being able to wheel this around my office because I actually have a second workstation (!!) that I can roll this cart over to when I need!
Click "Next Page" below to see more of my home art studio!