My Real Art Studio Tour 2022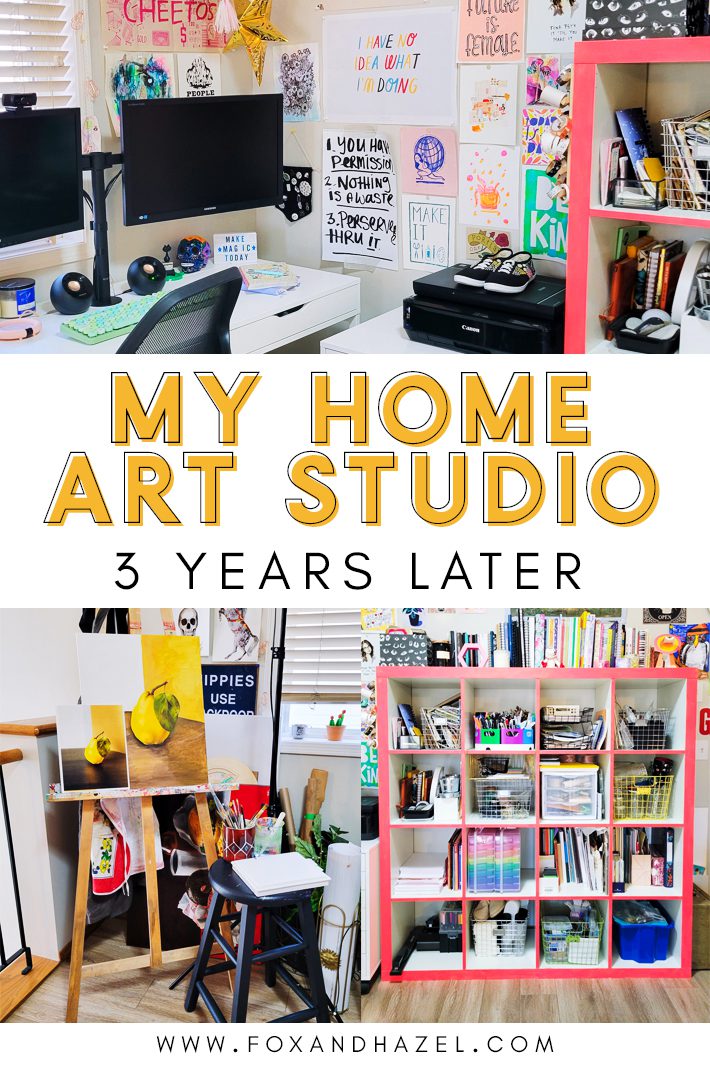 This post has been in the making for a while now, so I'm glad to be writing it! About 3 (almost 4 years ago) I shared my home art studio set up on here. I wanted to share it to give a peek into what my real art studio looked like. Not a Pinterest-perfect one, not an inspo one. My studio isn't clean all the time, with everything perfectly organized and hidden away. It's messy, everything has a place, but nothing is coordinated or meticulously organized. I often felt discouraged looking at artists' studios on Pinterest because all the images that come up are out of reach for most of us. So, I figured, let me share my real space. The one that isn't made for Instagram shots.
As I've worked in my studio, I've changed some things to suit my needs better. The major one being: no room for an easel! When I set my studio up when we moved in, I hadn't painted on a canvas in roughly 7-8 years. So at the time, I didn't feel a need for easel space. That quickly changed once I took the leap from art journal to canvas. I removed a desk and some shelving, got rid of the carpet for laminate floors, and added even more art to the walls and more.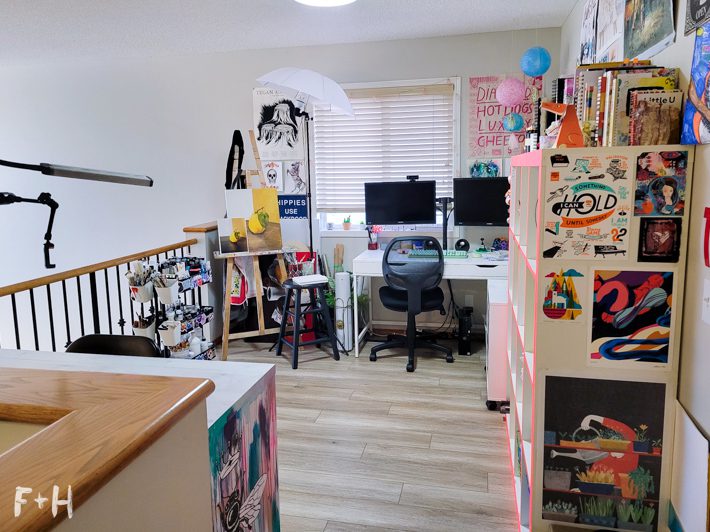 I'm still rocking this 16-year-old Malm desk from Ikea for all my filming/photographing. If you've seen any staged photo on my blog, a photo tutorial, or art journal video, this is where I do it all. I gave her a makeover with contact paper (which is actually a lot dirtier and marked up than the photos reveal) and her very own mural on the side.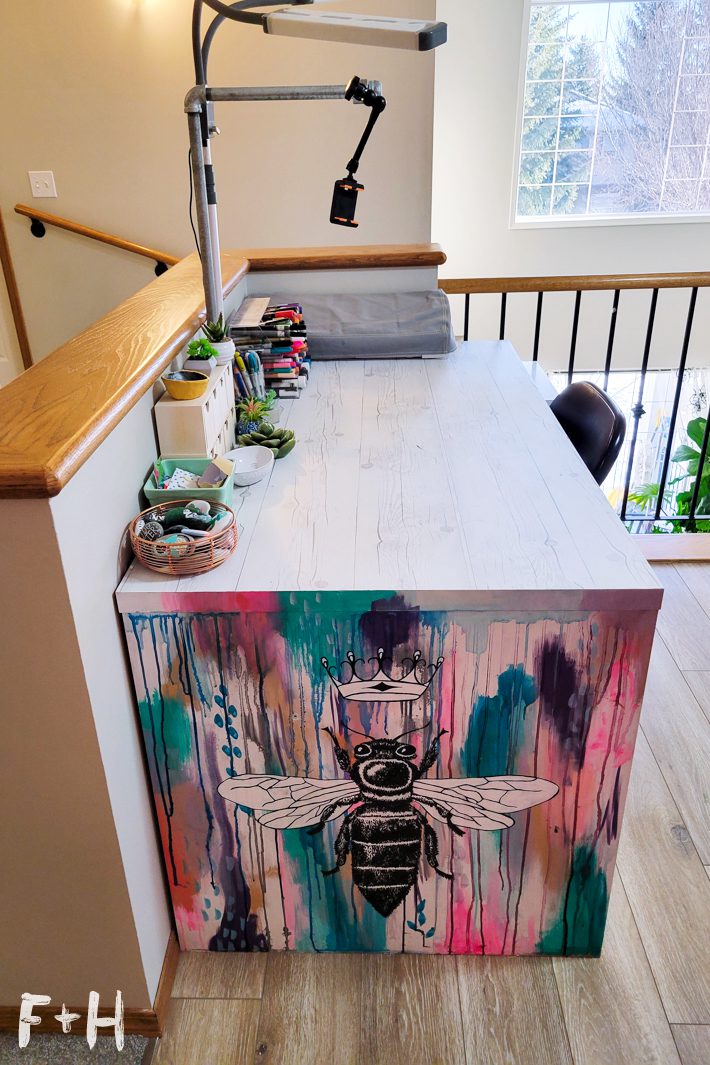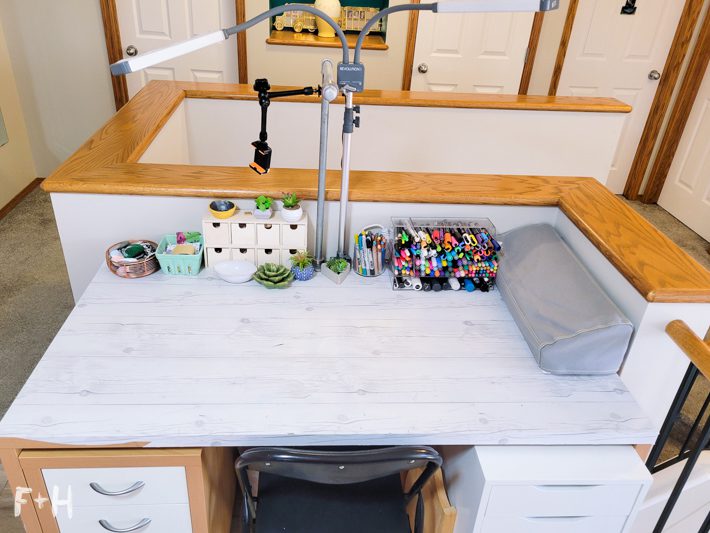 A big change has been my lighting and filming setup on my art desk. My husband dreamt up this filming arm so I didn't need a tripod anymore, and it is a game-changer. I have so much more room on my desk because of it. Up until about 6 months ago I was using studio lighting, which you can see below. I changed it out for this dual LED light that takes up SO much less space. I love this setup because it's much easier and takes up way less space.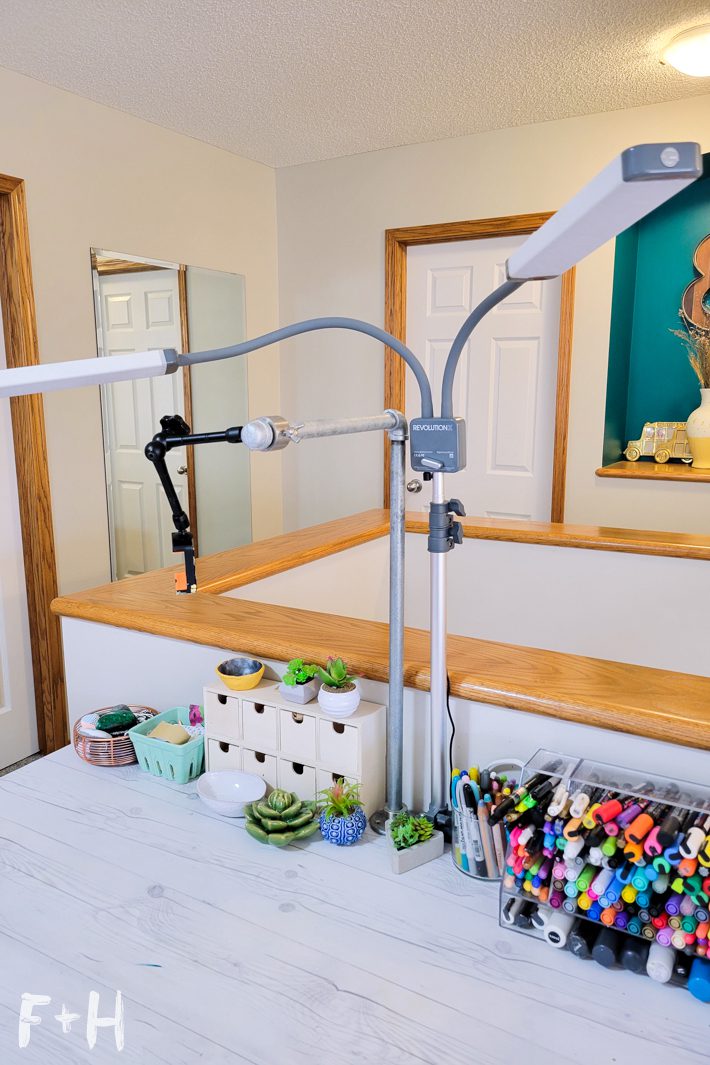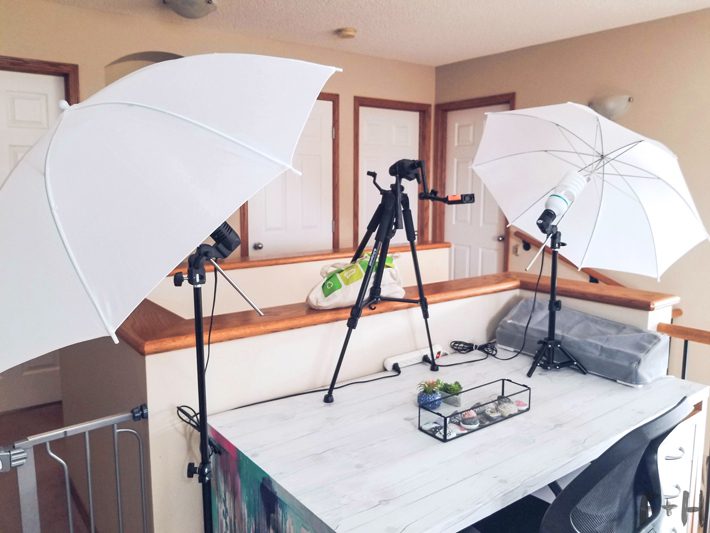 My shelving also changed, as I removed the smaller Expedit shelf stacked on top of this one. I also decided to paint the front of the shelves on a whim one weekend – 10/10 recommend doing this immediately! I purged my studio dramatically at some point because I just had too much stuff. Too many potential projects, hoarded supplies and it was overwhelming. So I got rid of enough to get rid of the top shelves, which gave me a great place to keep books/magazines. Plus more art on the walls!!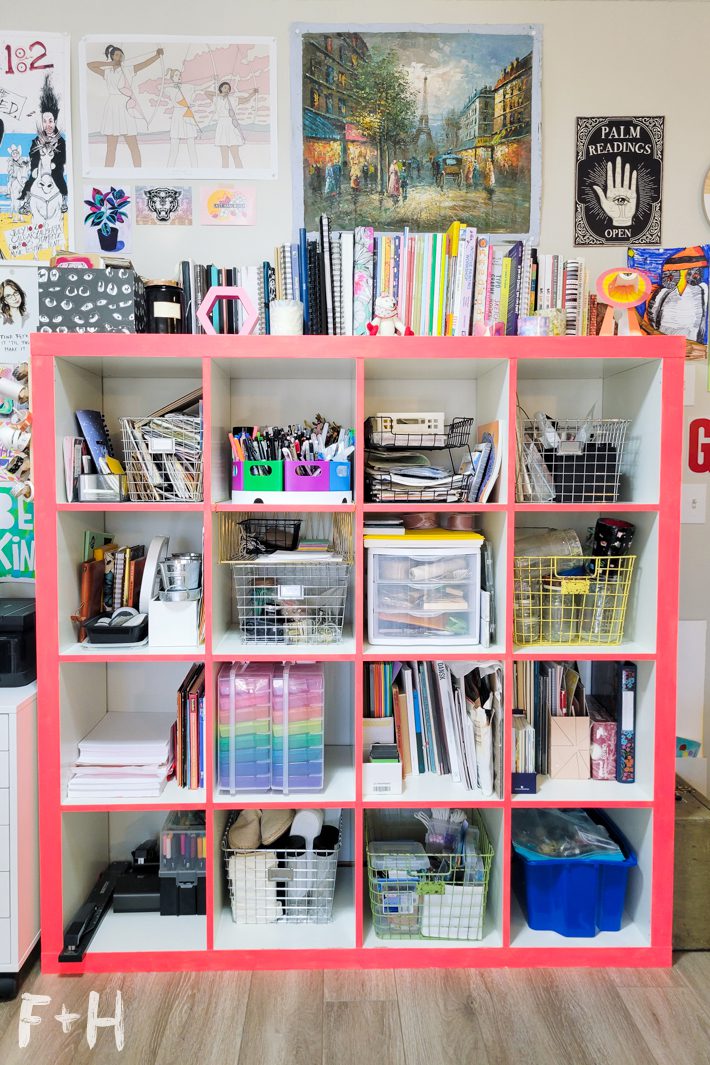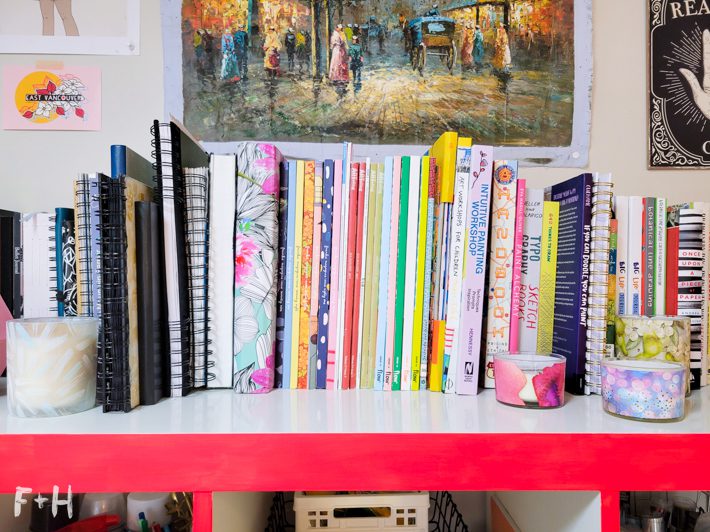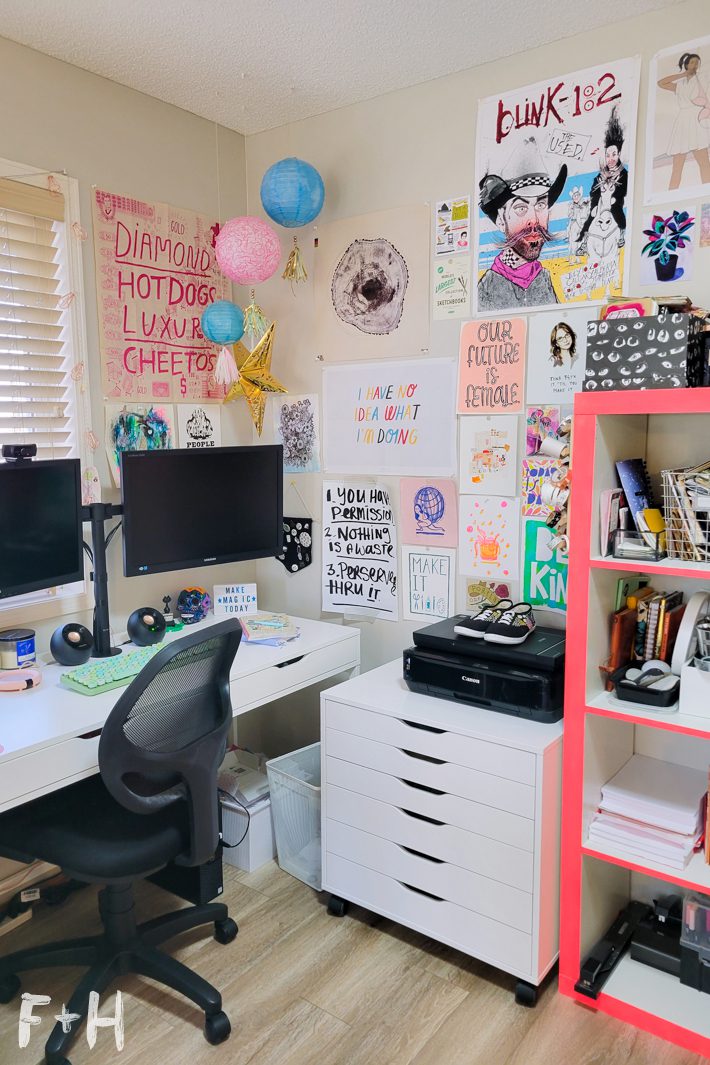 Another change is my computer workstation. I upgraded my computer to handle all the digital work and photo editing I do, which meant more screens. Dual monitors all the way, and I cannot recommend this setup enough. I owe it to my husband for getting this all set up for me – he's the real spatial organization wizard here. And clearing off my desk of any storage makes it a lot easier to work on when I have a bunch of sketchbooks, notepads and whatnot on there.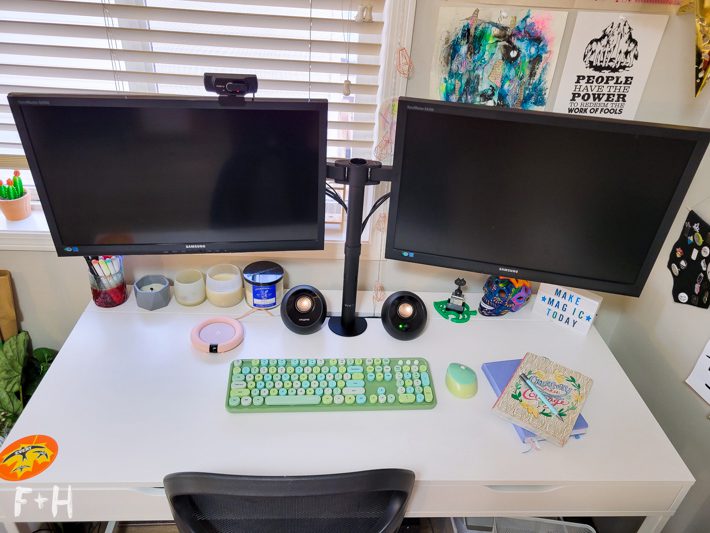 Possibly my favourite part of the studio is this corner where my easel sits! I've had this easel since high school and it's served me well over the years. My very important-looking painting supplies table is an old wooden stool I painted black. I also use this corner to house all my extra canvases, props, photo backdrops, and whatnot.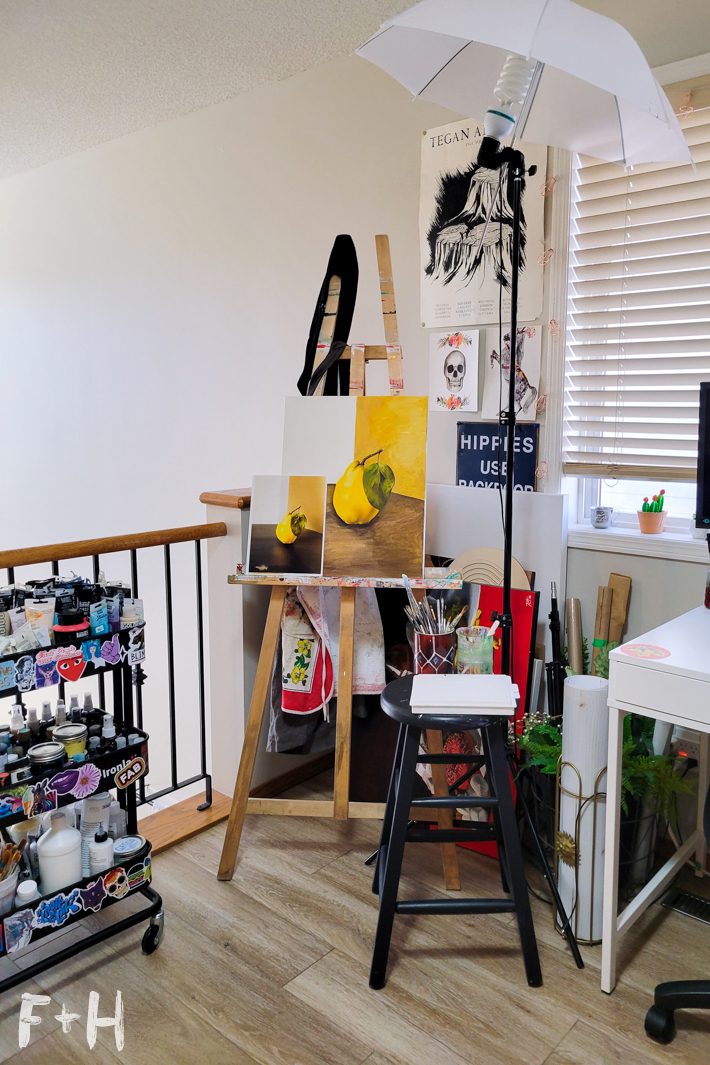 These flat Alex drawers from Ikea are still one of the best purchases I made for my real art studio. It houses so much work and supplies while being my scanning/printing station. I've also added a ton more art to my walls – there's never enough!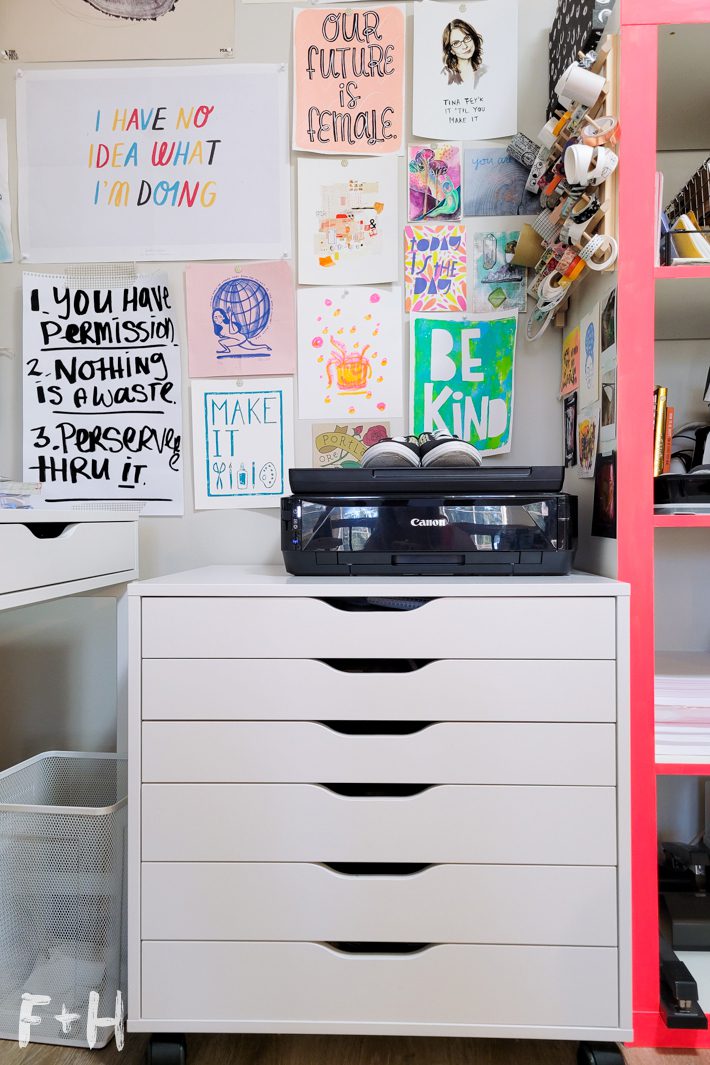 My beloved art cart from Ikea is also still high up on my "best purchases" list. It holds all my paints, mediums, and brushes. I can roll it around my studio to my easel or my art desk. And now she's looking super fly with these stickers I've acquired over the years. My style really is MORE IS MORE. I love maximalism and collections a little too much, maybe? Nah.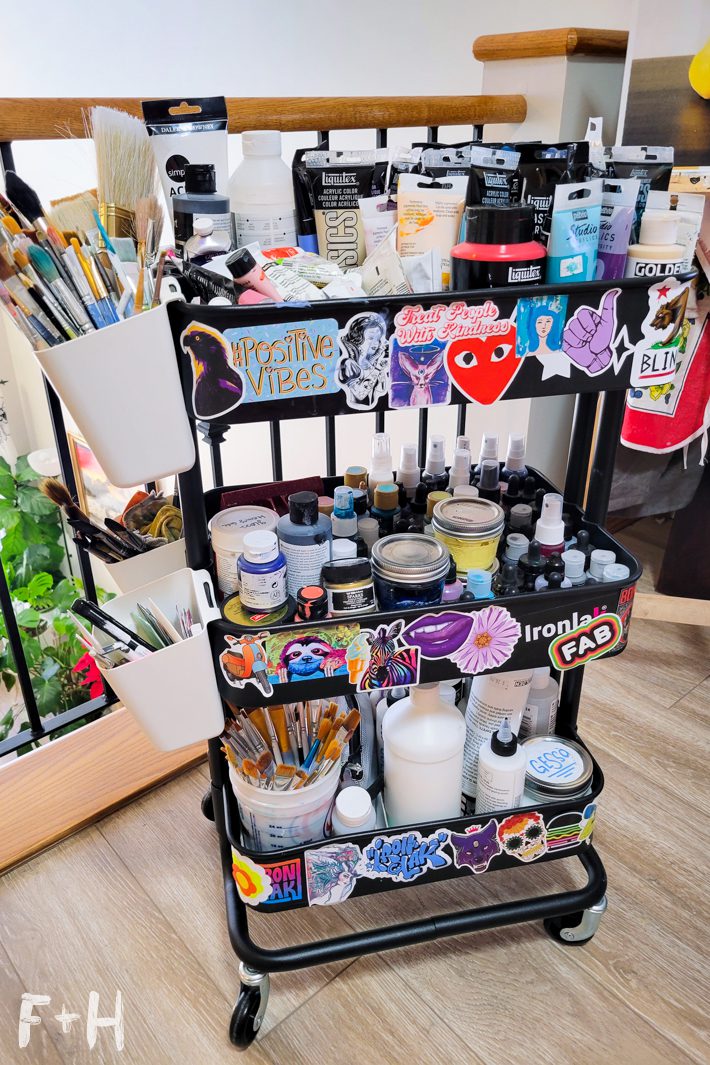 So that's the deets – my real art studio in my house that I work in every day! It's constantly evolving and changing as my needs change, but it's always my favourite room in the house!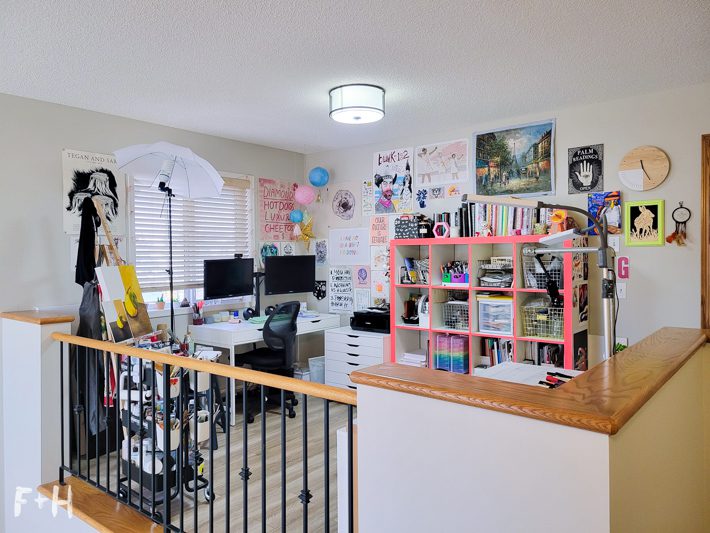 If you have any questions about set up or sources for furniture/supplies, just leave a comment and I will get back to you!
If you love this post, you can share your appreciation in one of these ways!