Easy Step-by-Step Watercolor Mother's Day Card
Some links in this post are affiliate links to products I love!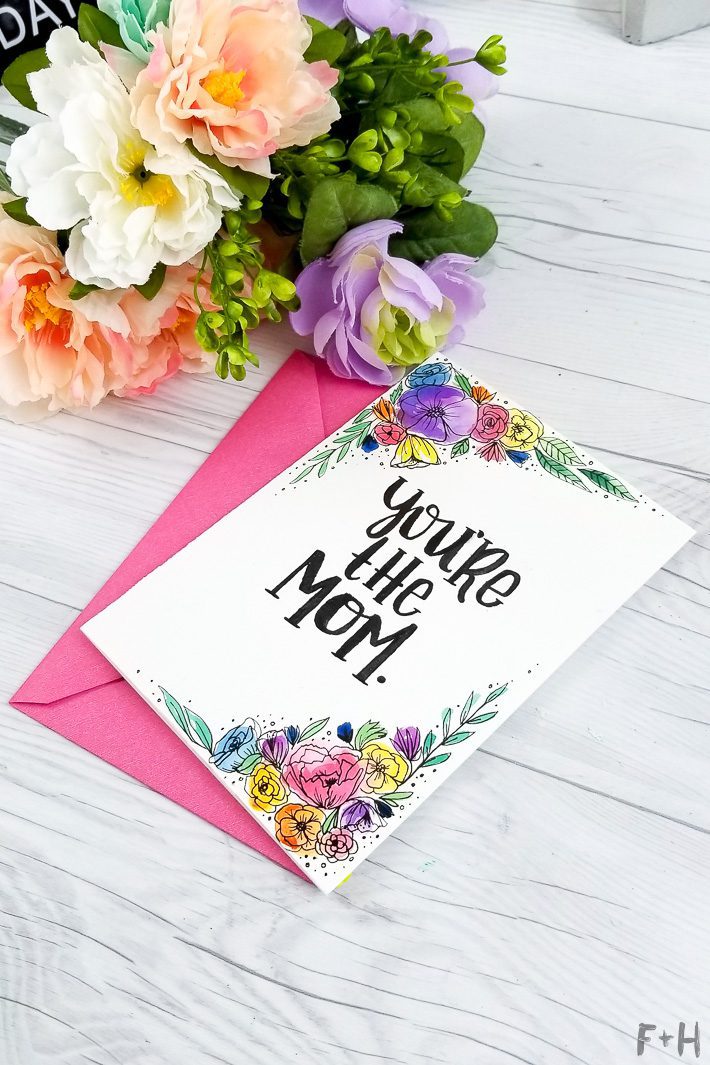 Mother's Day is coming up and I know you're probably wondering if you should make your mom a card. The answer is yes. You can do it! In this step-by-step watercolor tutorial I'm going to show you how easily you can make a really cute Mother's Day card. Plus, how many brownie points are you going to get for making your mom a card? So many. What mom doesn't love a handmade gift from their kids, whether they're 5 or 25? My mom is in her 50's and still likes my handmade gifts, haha. So, trust me when I say this Mother's Day card will definitely be a winner in your mom's eyes!
---
Supplies For Step-by-Step Watercolor Mother's Day Card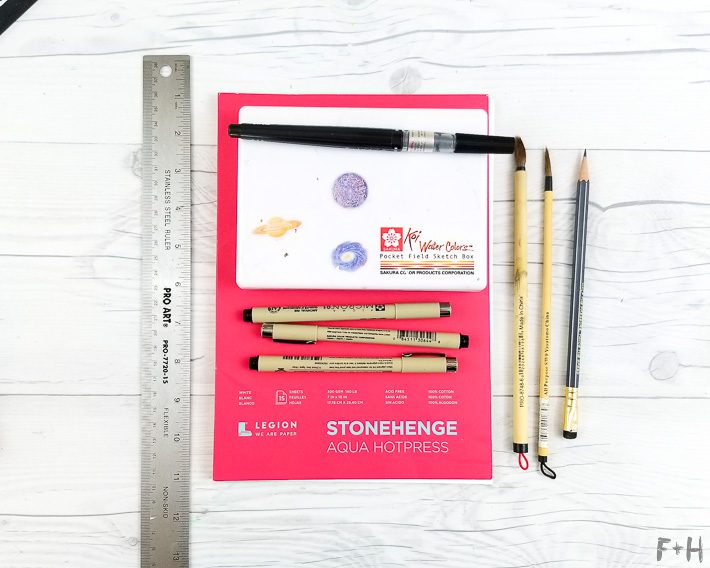 Step One: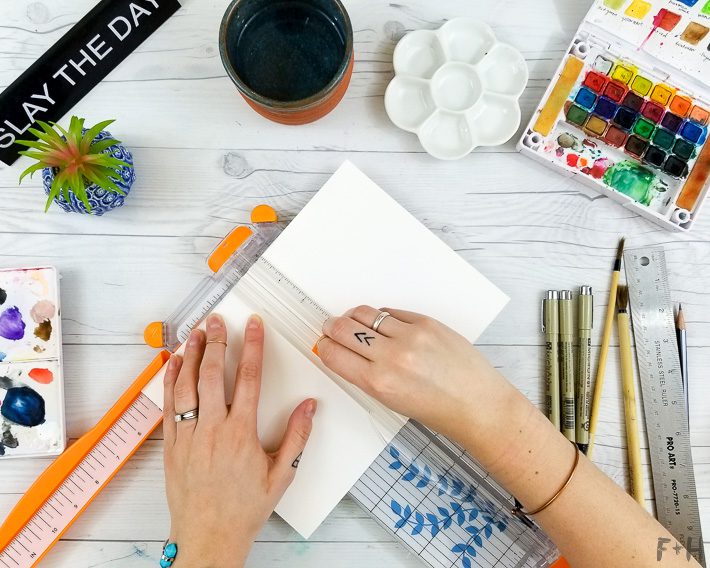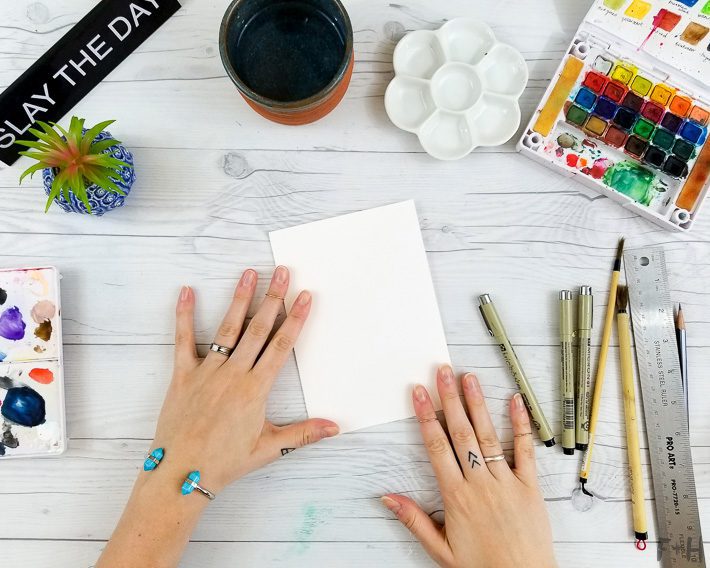 First, you will need to take a sheet of your watercolor paper and create a card from it. My paper is 7″x10″, so I just scored a line down the center and folded in half – bam, instant card! If you use a paper cutter, be sure to cut lightly because you want to just score the watercolor paper so it's easier to fold.
Step Two:
Before we paint, let me put this disclaimer out there: you do not need Chinese calligraphy brushes for this. I just happen to be using them but you can use whatever brushes you have for watercolors!
Now, you're going to get some watercolor paint on your brush in colors you like. Then create two large circular blobs in opposite corners from each other on the front of the card. Keep adding smaller blobs in complimentary colors around the larger blob. You can totally have these touch and have the color bleed a bit too if you like. Try not to use too much water or all the colors will run together, but generally, you can let the blobs touch. Then let these first half a dozen shapes dry, either air drying or use a heat gun to speed things up. Once these watercolor shapes are dry, keep adding more blobs around to fill in the white space and to create a bouquet feel to it.
Step Four:
Next, using just the tip of your brush, create some loose leaf shapes around and in between the watercolor blobs. Moving outwards from the bouquets, add some leaves and shapes to create stems/vines later. These should help create a frame of shapes if you will. Let this dry.
I know at this point you're probably wondering why there are so many photos. I wanted to make sure this step-by-step watercolor tutorial truly is step-by-step. Like literally. So that no one is left wondering what the heck I did from one step to the next.
Step Five:
Now, this is your chance to fill in any empty spots with more watercolor shapes or add another layer of paint to the flower blobs. I wanted to share this step in this step-by-step watercolor tutorial because, I often go back over parts. I go back and keep adding bits and pieces. Even if I think I'm ready for the next step, I'll often go back and tweak something. I encourage you to do the same – no one makes it perfect the first time, and often we need to adjust as we go!
After you're happy with your watercolor blobs, let the paint dry completely before you move on to drawing.
Step Six:
Now, we draw! Using the Micron pens (or your black ink pen of choice) you'll draw over each blob as a flower or leaf. The key to this is to not try and fit the flower to the paint blob. As you can see, there are white spaces in my flowers where the drawings hang over the edges of the paint. That is totally the point! This helps give the illustration a fun & loose feel to it. Keep working your way around the blobs until you have twp gorgeous bouquets!
Also, if you're looking for books to learn how to draw flowers better, then check out my post on 12 books to learn how to draw flowers easily. I personally own, love and highly recommend both Modern Florals by Alli Koch and Botanical Line Drawing by Peggy Dean. They are great for beginners and novices alike.
Step Seven: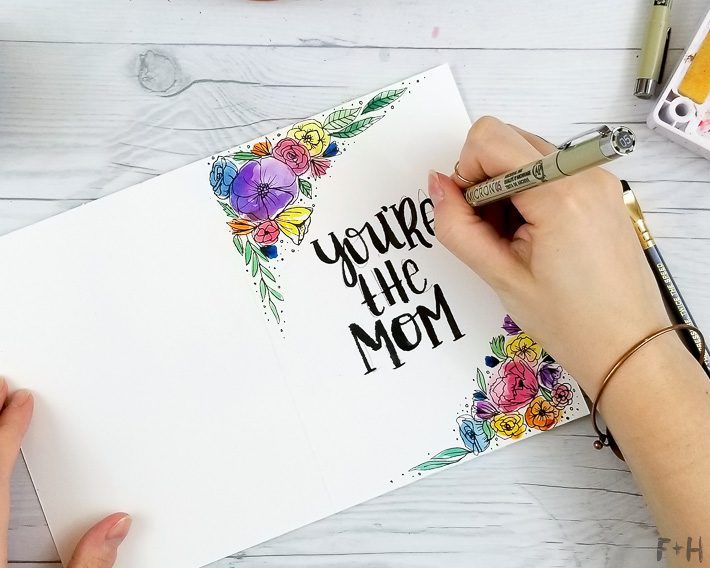 Let's get on to the lettering! Using my favourite pencil, I sketched out my Mother's Day sentiment. I'm a sucker for puns, so this play on "You're The Bomb" (yes, I'm a millenial. Not even sorry.) was the perfect caption! You can letter whatever you like on your Mother's Day card DIY – this is totally up to interpretation! After I lightly sketched it, I went over the lettering with my Pentel Brush Pen to get those awesome thick downstrokes.
I am by no means a hand lettering hero, so write however you feel works best for you too. This is my go-to weird rando typeface I made up. After you write out the letters, if you need to clean up the edges or do any touchups, use the Micron pens to do so. You can use the Color Brush, but since it's a nylon brush tip it's a bit harder to manage for detail cleanup.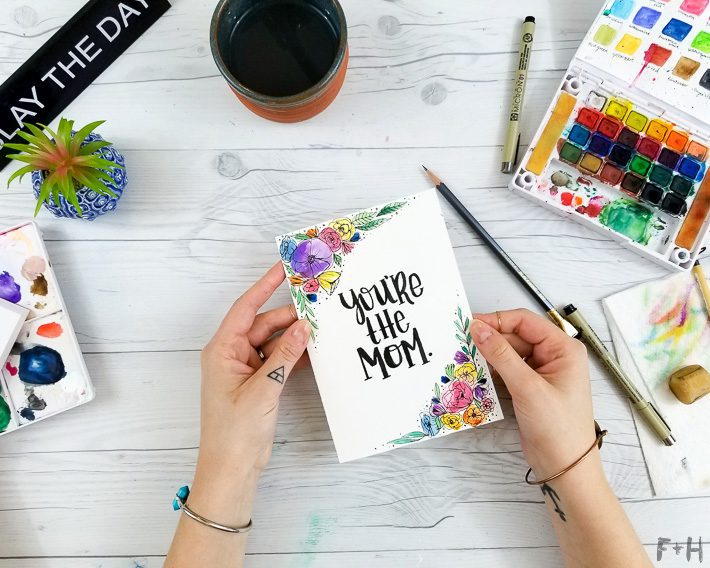 Ya done! You've got yourself one super cute and handmade Mother's Day card. Your mama is gonna looooove it! And see how easy watercolor can be? I plan to share more step-by-step watercolor tutorials for all the beginners out there. You gotta start somewhere and I want to help you out!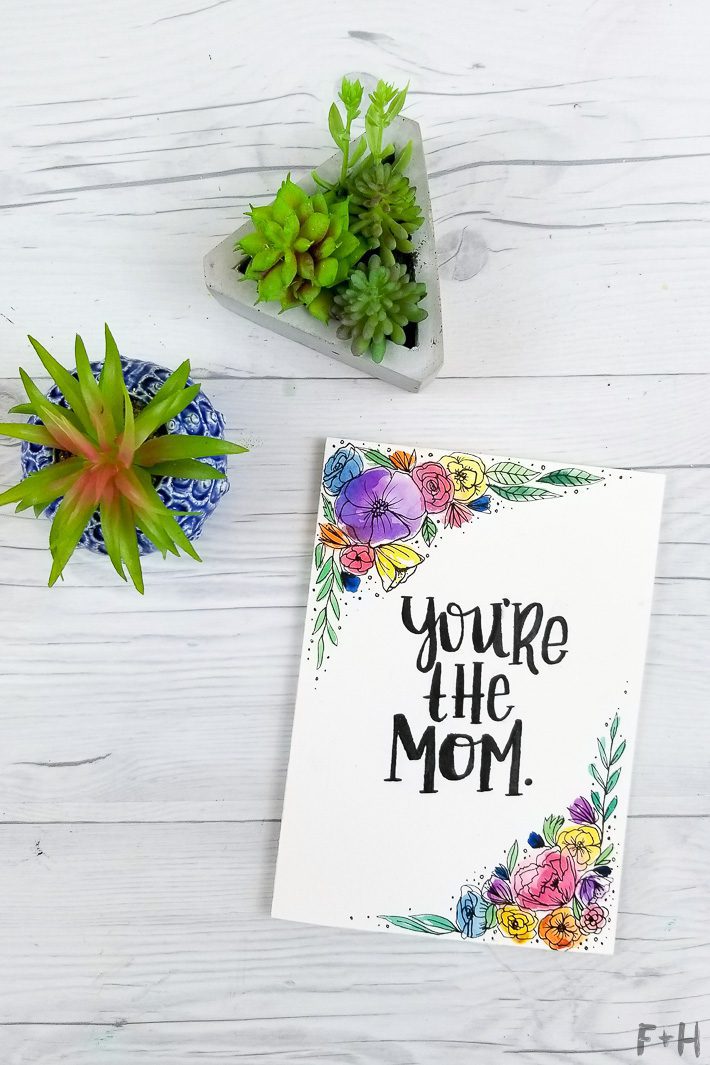 If you loved this project, you can spread the love in one of these ways!
Let me know in the comments what other step-by-step watercolor tutorials you'd like to see.