Top 12 Books for Easy Flower Drawings
Some links in this post are affiliate links to products I love!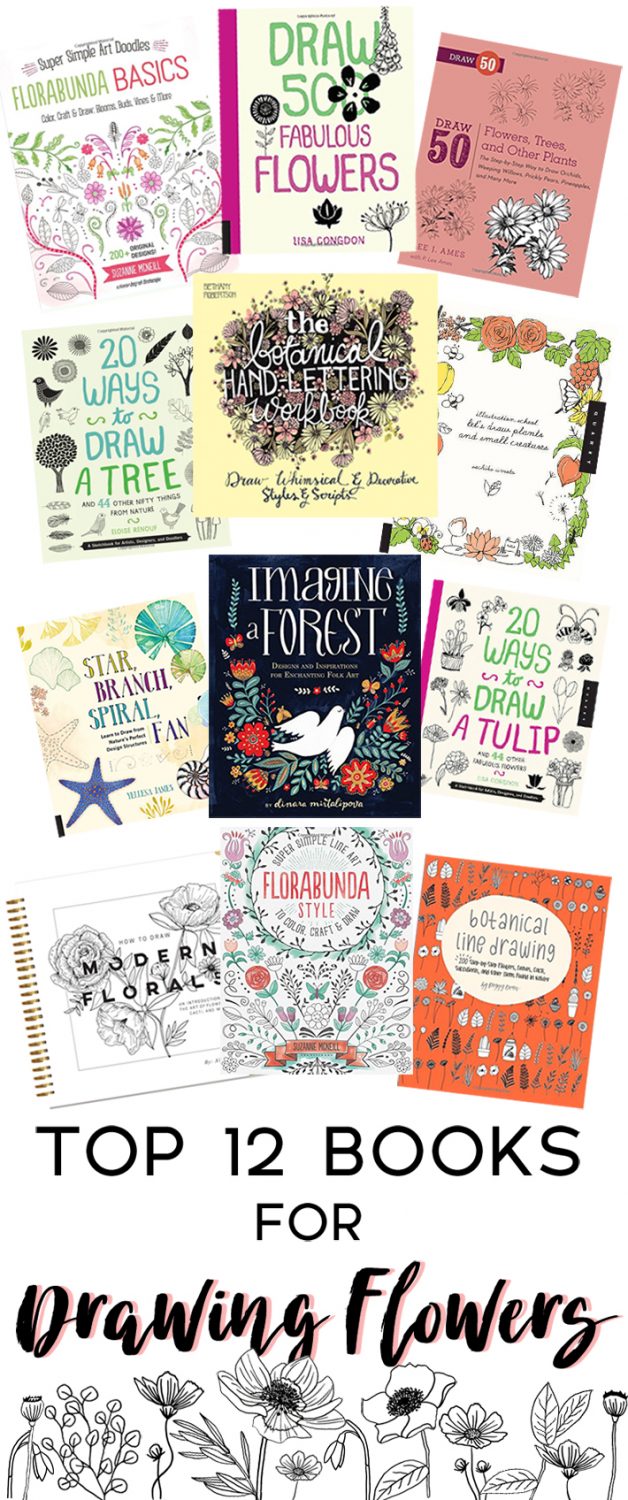 Flowers are timeless when creating in art journals, with hand lettering, in your planner, literally anywhere. There's been a huge shift towards line drawing and specifically line art flowers. This makes for some easy flower drawings, and I love the look so much! So much that I typically include flowers of some fashion in most of my work! You can try out on your own, but having a guide to show you the basics can be incredibly helpful. These are some books that I have come across that show you some easy flower drawings. I personally recommend them if you want to dip your toes in the waters of floral line art!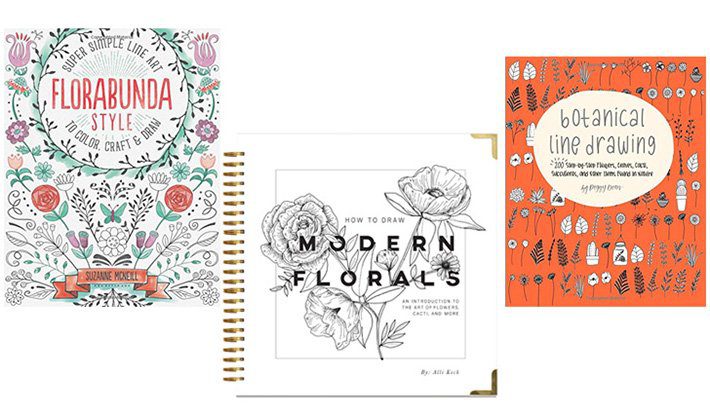 Flordabunda Style: To Color, Craft & Draw – This book is bursting with a million ideas and steps how to create some simple and cute flower designs. It also has some colouring pages and works within the concepts of zentangle (if you're into that!)
Modern Florals – The cover speaks for itself, and I promise the inside of Modern Florals is just as gorgeous. It's a best seller right now and it is easy to see why. The instructions are clear, easy to follow, and result in some seriously beautiful flowers!
Botanical Line Drawing – I recently picked this up and am already head over heels for the simple illustrations and the wide diversity in the book. Each section is divided by type (flowers, leaves, branches, etc) and each step is easy to follow. There's a practice area on each page under the steps so you can practice without needing a sketchbook. If illustrating is intimidating to you, I highly recommend Peggy Dean's book to learn how to create easy flower drawings.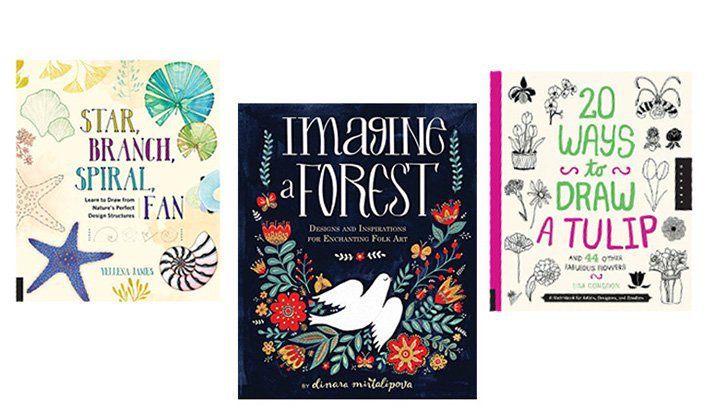 Star, Branch, Spiral, Fan – At first glance, this book looks like it has nothing to do with flowers; however, the concepts inside are around using four basic structures that you can make anything in nature with. This extends to flowers, branches, and allows you to develop your own whimsical style.
Imagine a Forest – The black cover on this already had me swooning before I even opened the cover. Fans of folk art like myself will love the step by step colour pictures! The pages show how to create whimsical floral that has a distinctly Scandinavian design. There are also project and design ideas on how to use your illustrations on everyday items.
20 Ways to Draw a Tulip and 44 Other Fabulous Flowers – I originally picked this book up a couple years ago and haven't put it down since! Lisa Congdon's style is so distinct, and this book has a million ideas on how to draw flowers. They are simple but endearing and can be a great starting point for developing your own style. I personally recommend it as I believe you get plenty of ideas and inspiration for a good price!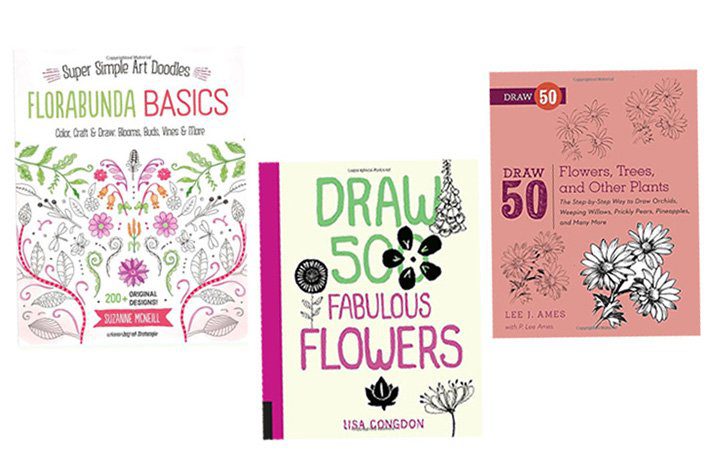 Florabunda Basics– Another fabulous book by Suzanne McNeill that has over 200 designs for you to use as inspiration. Included are chapters on project ideas and the best materials to use for drawing. It is just packed full of enthusiasm from the author! The book totally had my head spinning with ideas after I read it!
Draw 500 Fabulous Flowers – This little chunky travel-friendly book is a great resource for floral inspiration. It has literally hundreds of ideas for easy flower drawings! It doesn't have much room for sketching in it, but it serves as a lovely resource for ideas for lots of drawing styles. It's a great companion to any other drawing books!
Draw 50 Flowers, Trees and Other Plants – If you are looking for a book that has a more detailed and realistic style of drawing florals, I recommend this book. The author covers everything from flowers to pineapples to branches and everything in between. Each sketched step by step page shows you how to achieve a detailed line drawing. It's also a great price at under $10 and would be a great addition to a resource collection.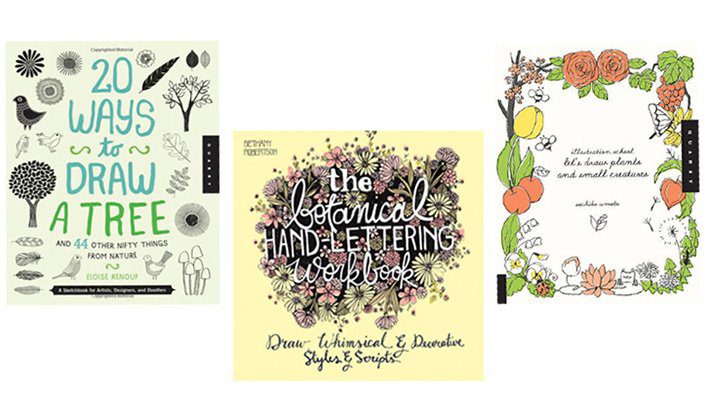 20 Ways to Draw a Tree and 44 Other Nifty Things from Nature – Another book from Quarry, but these books are just so good and full of so many ideas. This one is great if you want more than just flowers. It covers trees, mushrooms, branches, animals, feathers, etc and a whole lot more nature stuff. Every page is full of ideas and has lots of room to sketch in so you can practice.
The Botanical Hand-Lettering Workbook – I also love hand lettering and this book serves double duty as it covers hand lettering and floral drawing in it. It shows many different lettering styles, easy flower drawings and how to combine them into some really stunning pieces of work. The style is much more loose, sketchy and whimsical – which is what I love about it!
Illustration School: Let's Draw Plants and Small Creatures – This book shows you how to create cute flowers and plants, but also some super adorable plant/animal characters. Her instruction style has step-by-step photos, and then a sort of "fill it in" page. These are where you complete her drawing with the steps you just learned. It's really fun to do, and is a great book for beginners!
And there you have it – my top 12 books to learn easy flower drawings! Did I miss one that is a must-have? Please share in the comments – I am always keen to expand my library!