What is the Best Journal for Art Journaling?
Some links in this post are affiliate links to products I love!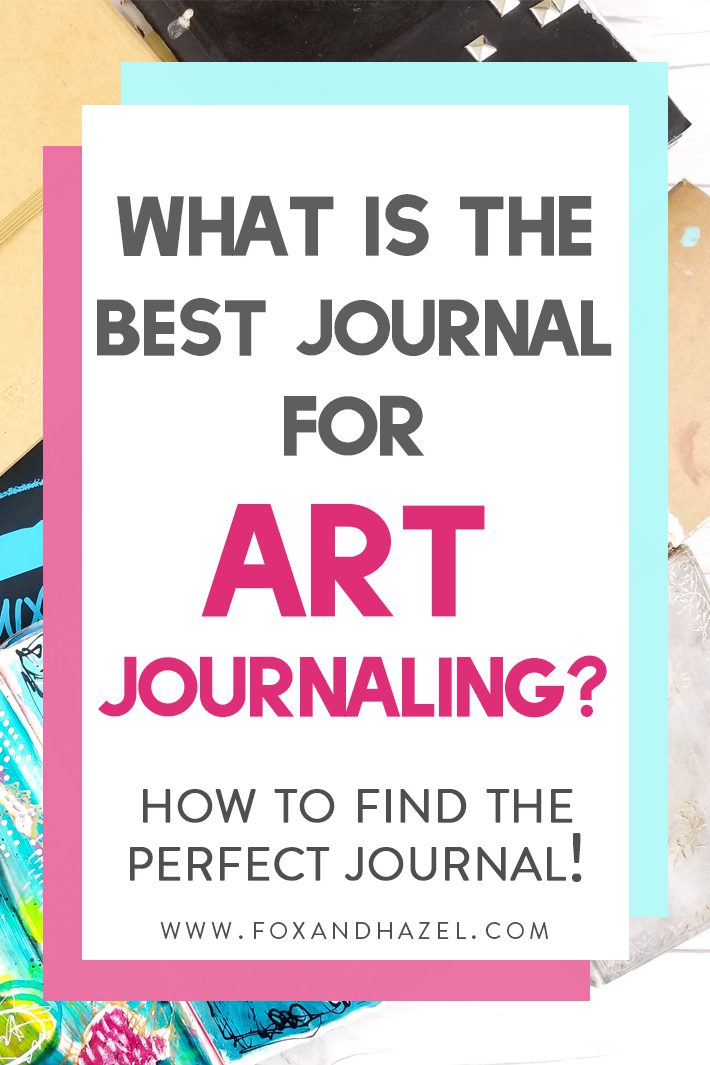 Settle down with a coffee or drink of choice – this post is a long one! I've been art journaling for a number of years and have used a wide range of art journals over that time. One of the questions a lot of new art journalers ask is, "What is the best journal for art journaling?" And in my different art journaling groups the answers will vary wildly. This is because the best art journal for art journaling is the one that suits you, and the type of art journaling you'd like to do.
But if you're fresh and have no idea what journal you want to use, how do you pick? Well, I figured I could share as many different journals/sketchbooks as I could, and help you decide which is the best journal for art journaling.
Here is the plethora of art journals I'm comparing today:
In order of appearance, clockwise:
Vintage altered book
Handmade journal, mainly cardstock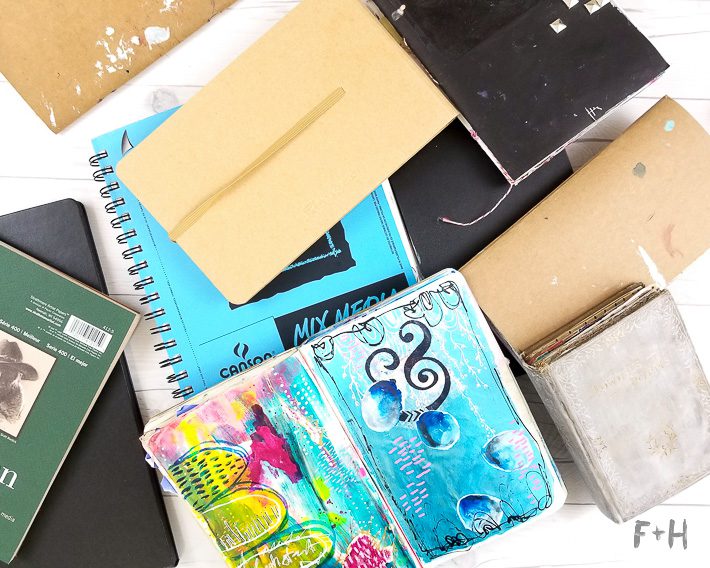 That's 8 journals that I will be comparing in this post! It's a lot, I know, but I really wanted to compare all the variety I have. I own more journals, but the ones I chose seem to be a popular mix of what a lot of art journalers use. Everyone has their own preference as to what they think is the best journal for art journaling. Hopefully these comparisons will help you decide which journal is best for you.
There are few factors that I took into account when testing each journal:
Coil vs stitched/stapled binding
Paper weight (thickness)
Paper strength with different mediums. I'll be testing:

Watercolors
Watercolor ink
Fluid acrylic paint
Acrylic ink + water
Water based markers (like Tombow pens)

Bleed through

Let's Find the Best Journal for Art Journaling!
The Canson Mixed Media Sketchbook is a good option for those starting with art journaling! The paper is 98 lb weight, which means it's thicker than the average sketchbook. It holds up well to wet media with a little bit of buckling from the moisture. Bleeding through the page is pretty minimal, almost non-existent. The only feature that might not be appealing is the coil binding. I find it helpful since it allows the journal to lay flat, but some people don't like the interruption the coil brings. This is personal preference! Otherwise, the Canson Mixed Media Sketchbook is a great journal to use for art journaling!
This is probably not as common of an art journal, but I wanted to test out a kraft paper type art journal. This style of paper can be common in art journaling, since it's a change from the white journals often used. The Toned Tan sketchbook is thinner paper, at 80 lbs which is a heavier sketchbook weight. It holds up fairly well to all wet media, but doesn't allow water-based media like watercolor to flow quite as nicely. It's also a coil bound journal, which has the same drawbacks as the Canson sketchbook. However, this journal would be great for working with drier medias or more drawing/sketching based art journaling.
The Moleskine Cahier journals are a super popular choice by basically anyone who journals. Moleskine is a classic brand and their products are really amazing, albeit a little more expensive. These Cahiers come in different sizes and are really more of a sketchbook/journal than a true art journal. The paper is quite thin at 47 lb, which makes it really susceptible to wrinkling and bleed through. As you can tell in the acrylic + water test, the paper almost immediately absorbed the ink and didn't allow for much play with water. And looking at the backside of the page, there was a lot of bleed through. In my opinion, these Cahiers can be great for strictly drawing or collage work but not wet media. I think there are other journals that would be closer to being the best journal for art journaling.
Okay, Dylusions journals are incredibly popular in the art journaling world. I personally didn't own one until I got this small flip journal just for this post! (I chose the smaller one strictly out of personal preference for size.) The Flip Journal is similar enough to the Dylusion Creative journals that I think it would be fair to use this assessment for most of the Dylusions journals. The paper is quite thick, an almost matte thick cardstock. It holds up incredibly well to wet media, with very little buckling of the paper and no bleed through at all. It's also stitch bound, which lets you create seamless double spreads. Even though I hadn't used this brand of journal before, I definitely will be using it a lot in the future!
Altered Book Journal
Another popular (and really cool) choice of journal for art journaling is a vintage book! Or any book really. These are a fun alternative to blank white pages and can be found for just a couple of dollars at the thrift store. The best bet for these books is hardcovers with stitched binding. As you can see in the photo, I've glued several pages together to enforce the book pages. Since they are old and already very thin the best way to strengthen them is to glue 2-3 together. The paper holds up fairly well to wet media but also doesn't allow for much play with wet media like watercolor. Ultimately your altered book journal will really come down to which book you end up using. However, it is a really fun alternative to play around in!
These traveler's notebook inserts a great small size art journal to get started in. You can get them online or in stores, and I quite like the 120 gsm paper. It's a bit thicker than the Cahier, but still holds up fairly well to wet mediums. There is still some bleed-through if you use a lot of water. These are personally my pick for the best journal for art journaling because of the size and versatility. I use all types of mediums on these and find they work great no matter what I use. The paper does buckle still, but that personally doesn't bother me. These are a great cheap alternative to more expensive art journals.
Another really popular art journal is the Moleskine Watercolor Albums and Art Plus albums. I'm showing the smaller watercolor album here. These journals are really high quality & have very thick paper at 135 lb. This is comparable to most watercolor paper you buy in stores and it's is quite textured as it's cold pressed paper. It holds up beautifully to all mediums, but the texture of paper does show through. This is a personal preference thing, so if you're into the heavy texture then rock it! This journal is a great travel size and I personally love the size. It's a bit pricier, but really is a good candidate for best journal for art journaling!
Handmade Journal
The last journal that I've included here is a handmade journal. Again, much like the vintage book journal, this all really depends on the type of paper you use. I often make my journals out of scrap paper which ends up being mostly cardstock. So for comparison purposes, I'm testing all the mediums on a piece of 60 lb cardstock. The journal shown is made up completely of cardstock, but it was full so I couldn't test anywhere inside it! Using cardstock is a bit of a gamble for art journaling because it's quite thin compared to other papers and also absorbs liquids hella fast. You can see in the acrylic ink + water test that the ink was almost instantly absorbed. It also has a decent amount of bleed-through happening and the paper will buckle.
However, if you seal the card stock with a coat of gesso first you can prevent bleed-through and reduce buckling. A handmade journal is really an open-ended journal – you can make it with whatever paper you like, any size you like, etc. The customization is endless!
So, after all that: What is the best journal for art journaling?
Ultimately the best journal for art journaling is the one that suits your type of art. Here are my recommendations based on the journals in this post:
Like wet media, like watercolors, inks and such? Get a Moleskine Watercolor/Art Plus, or a Dylusions journal, or Canson Mixed Media.
Like dry media like drawing and collage? Get a Moleskine Cahier, a handmade journal, or traveler's notebook insert.
Like trying something different? Try an altered book journal or handmade journal!
Tell me – what is your favourite journal for art journaling?