Easy Neon Rock Painting Idea
Some links in this post are affiliate links to products I love!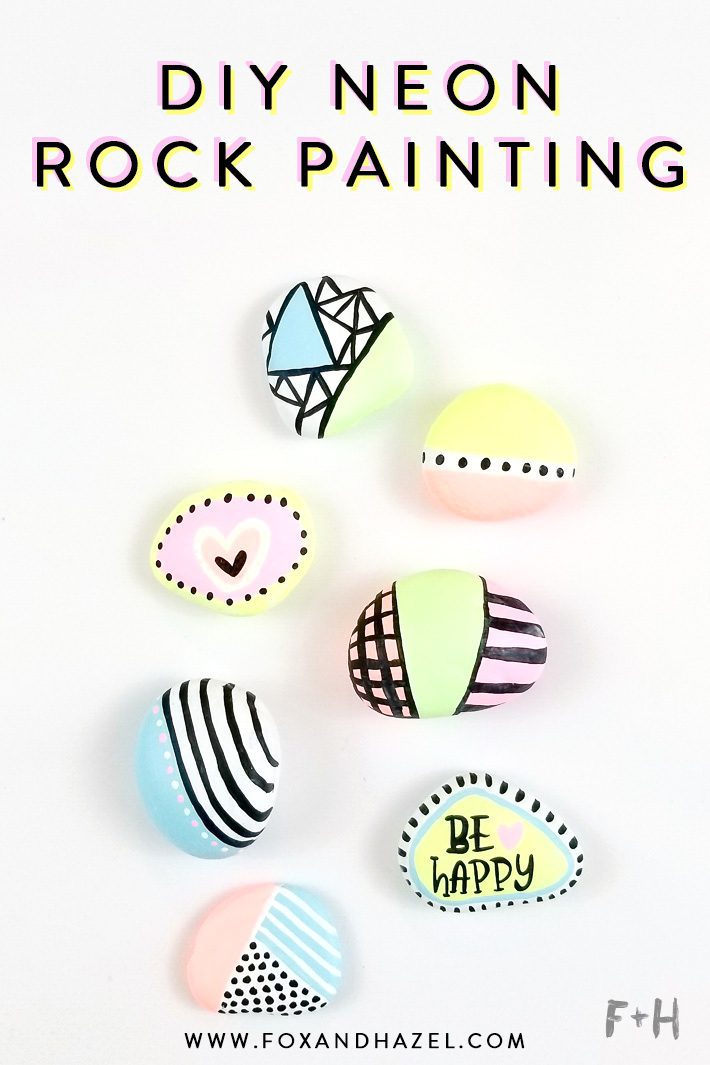 Rock painting is such a fun & easy craft to do. I've been painting on rocks that I find for years now. Back when I started Fox + Hazel, I was selling art prints and hand-lettered painted rocks at local markets. You probably see them show up in photos here on the blog – painted rocks make a great photo prop! They're also a ton of fun to make whether it's adults or children involved. My kindergartener and pre-schooler both love making painted rocks with me.
Through making so many painted rocks for different reasons, I've found what I think is the best paint for painting rocks. Out of all the brands I've tried, I find DecoArt paints to really work great with painted rocks.
Why is DecoArt the best paint for painting rocks?
I love the creamy and matte consistency of DecoArt paints, especially their craft paint line Americana Acrylics. It's always smooth and vibrant, and it dries quickly – which is another bonus. Some paints can take a million coats to get an opaque finish, but the Americana Acrylics take just two thin coats to get the coverage in the photos. Awesome, right? You can get DecoArt Americana Acrylics literally anywhere that sells craft paint, and they're so affordable that you can get the whole rainbow. I also used some of the Americana Premium paints too for the detail work. Their premium is a higher quality paint for artists and paints so smoothly as well.
Now that you know what I think is the best paint for painting rocks, let's get into painting these neon painted rocks!
DIY Neon Painted Rocks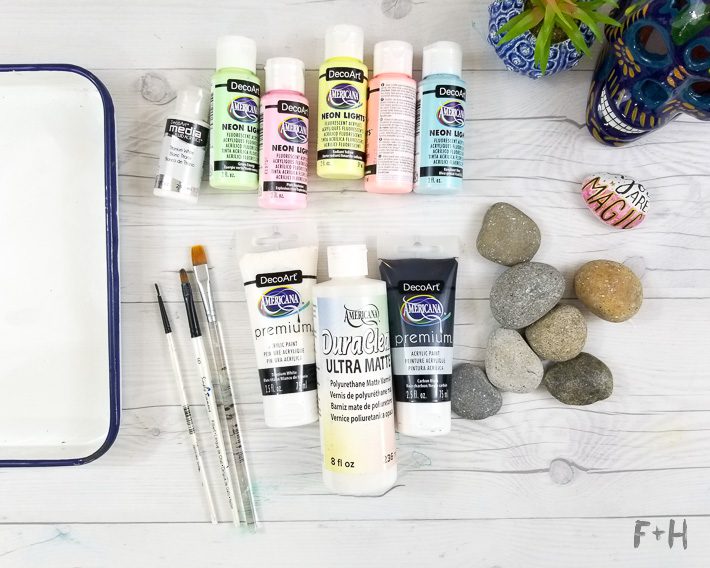 Supplies Needed for DIY Neon Painted Rocks:
Flat, smooth rocks (I literally got these from under my back deck! Don't buy rocks – just hunt around your house or neighbourhood for some!)
DecoArt Americana Premium Acrylic Paint in Titanium White and Carbon Black
DecoArt Americana Acrylics Neon Lights in Pink Explosion, Peachy Punch, Knock Out Blue, Green Energy, and Radiant Yellow
Step One:
The very first thing you need to do is WASH YOUR ROCKS. I apologize for the caps, but I want to stress this as much as I can! You should wash your rocks before you start to help get rid of any dirt or dust on them. If they have either, it will make your paint come out gritty and also make it harder for the paint to stick to the rock. So, wash your rocks first and let them dry.
Then you can prime your rocks with two coats of Titanium White paint. This will make the neon paint colors pop so much better and contrast the colors nicely. Let each coat of paint dry completely before applying the next. (Tip: you can totally use a heat gun to speed up the drying process! I'm obsessed with mine.)
Step Two:
I found the best way to paint many rocks at once was to put down a base coat of whatever I wanted first, then go back and do details. So go crazy and add different shapes and combinations of colors! I applied two coats of paint to each area to make sure it was really opaque.
Step Three:
Using the DecoArt Americana Premium Acrylics and a fine paintbrush, you can add in the details! I used a combo of white and black to add a bit of detail to everything. There's really no wrong way to do this! It's totally up to you what to add and what vibe you're going for. Tip: If you're unsure what to paint, just keep it simple with patterns like I did! It's clean, modern and easy to do! Let the paint dry completely before sealing with varnish.
Step Four:
Lastly, once your painted designs are dry you can seal your rocks with a varnish. I recommend doing this, even if it seems unnecessary. As I mentioned before, I've painted a LOT of rocks over the years and the ones with the varnish always hold up best. Even the best acrylic paint will chip and wear off eventually. Sealing the rocks with a varnish is just another layer of protection on your awesome designs! I'm using the DecoArt DuraClear UltraMatter Varnish here and it works so good. It doesn't leave any brush marks and it's a matte finish, which I like. You can also get it in a gloss finish too!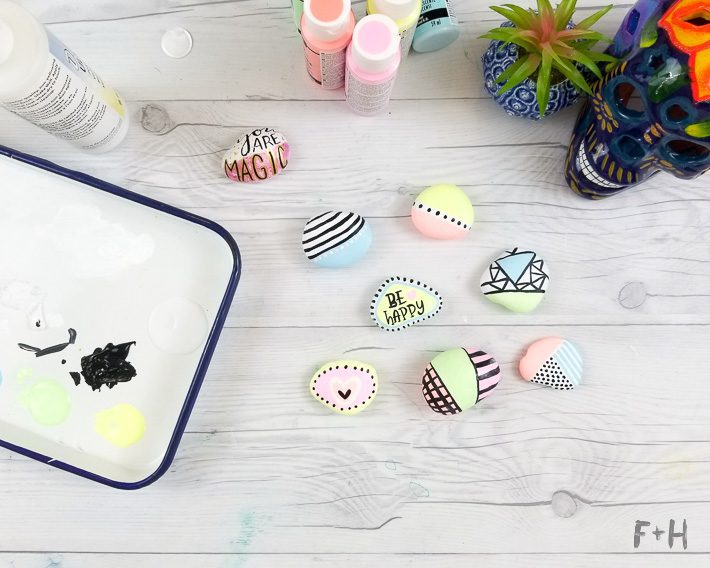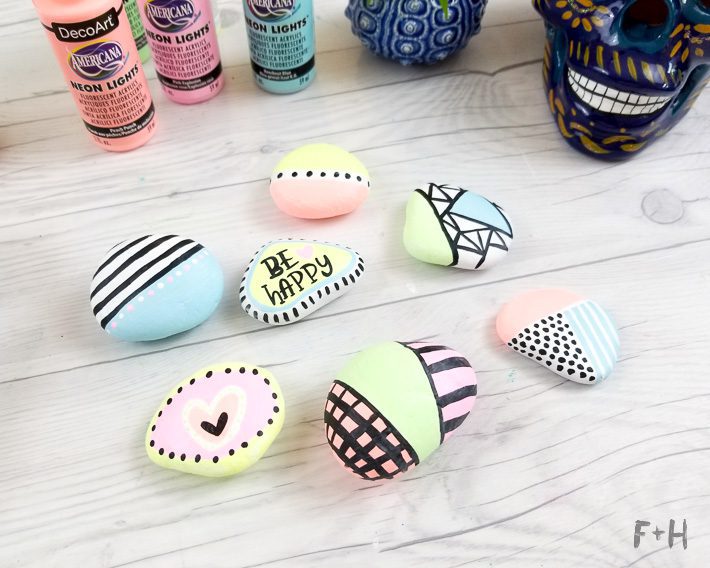 And that's it – you're done! These painted rocks are so fun to make, and they are a fantastic summertime craft to do! And when you're using the best paint for painting rocks, it's even easier and more enjoyable.
Looking for more fun summertime crafts? Check out these DIY Painted Canvas Sneakers, Black & White Embroidered Photo Art, and this fun Geometric Memphis Design Canvas Pouch!
If you love this project, you can spread the love in one of these ways!