Affordable Fine Art Printables with ART GODA
This is a sponsored post written by me on behalf of ART GODA. All opinions are 100% mine & I promise to only share products I believe in.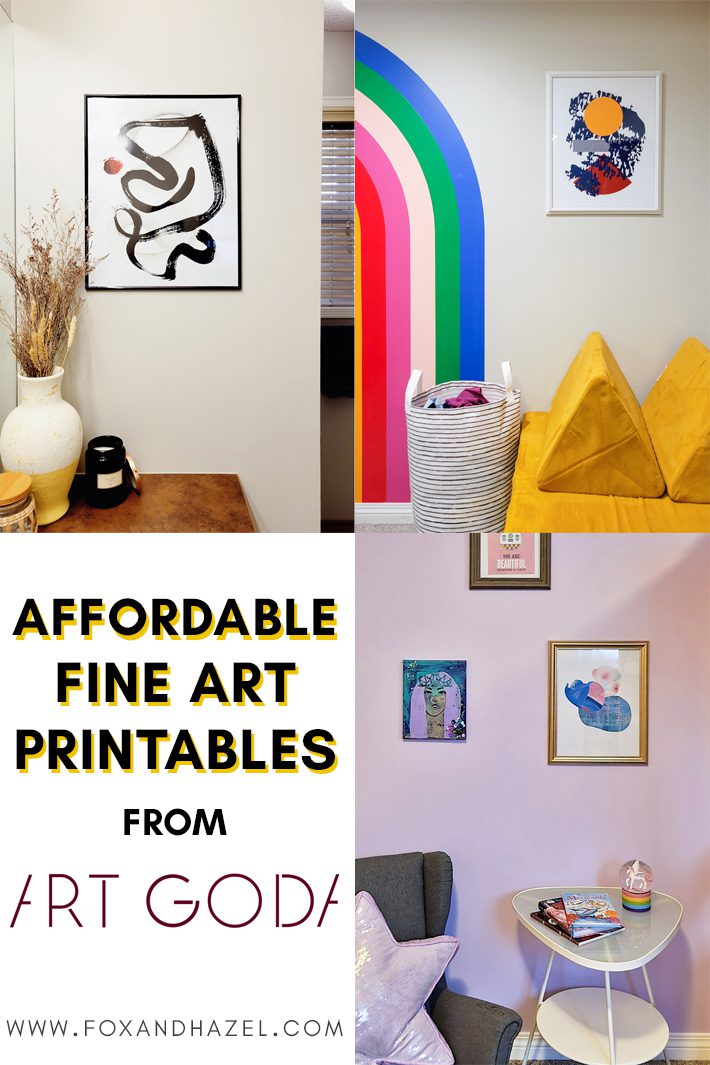 If you've been hanging around on Fox + Hazel for a while, you'll know how I am about art printables. They are probably my favourite way to affordably add art to my home. I've drawn them, rounded them up, and even painted them. Art printables are just my jam, y'know?
So I was super pleased to partner with Art Goda to share these affordable fine art printables. I'm not new to Art Goda actually, as I've included some free art printables from them in 36 Totally Free Black & White Art Printables. But they offer so much more than just the free prints on there. As an online art gallery, they sell original works from working artists. The site has everything from original paintings, to sculptures, to art prints. And last but not least, they offer fine art printables that you can print right at home! Keep reading to get a discount code on all printables on Art Goda too.
I found 3 different fine art printables that I thought would suit different rooms in my house. A few thrifted frames later, I had added some new decor to my walls! Check out what I hung up!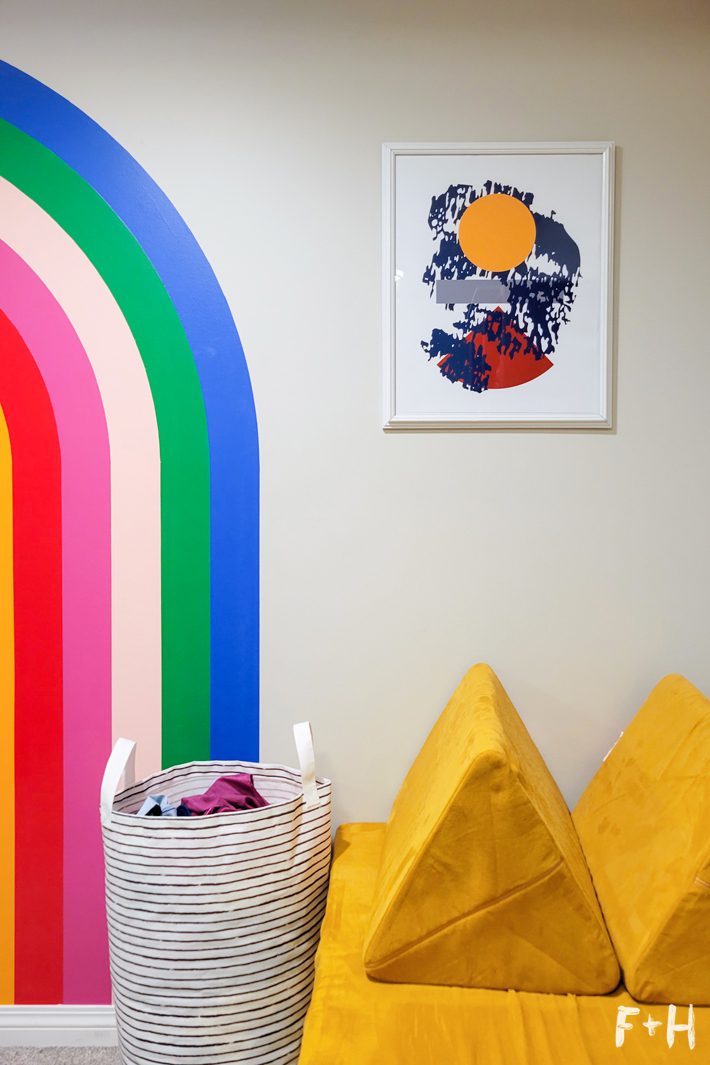 In my kids' basement playroom, I wanted to add something colorful & fun! We have this cool stripe mural I did last summer, and our much-loved Nugget couch in this corner. After browsing all the designs, Flying Shapes 1 looked like it would be the perfect addition to this space! I had all the art printed at Staples as photo enlargements, so this is 16″ x 20″ and fits just right! I love the primary colors with all the other fun colors in here.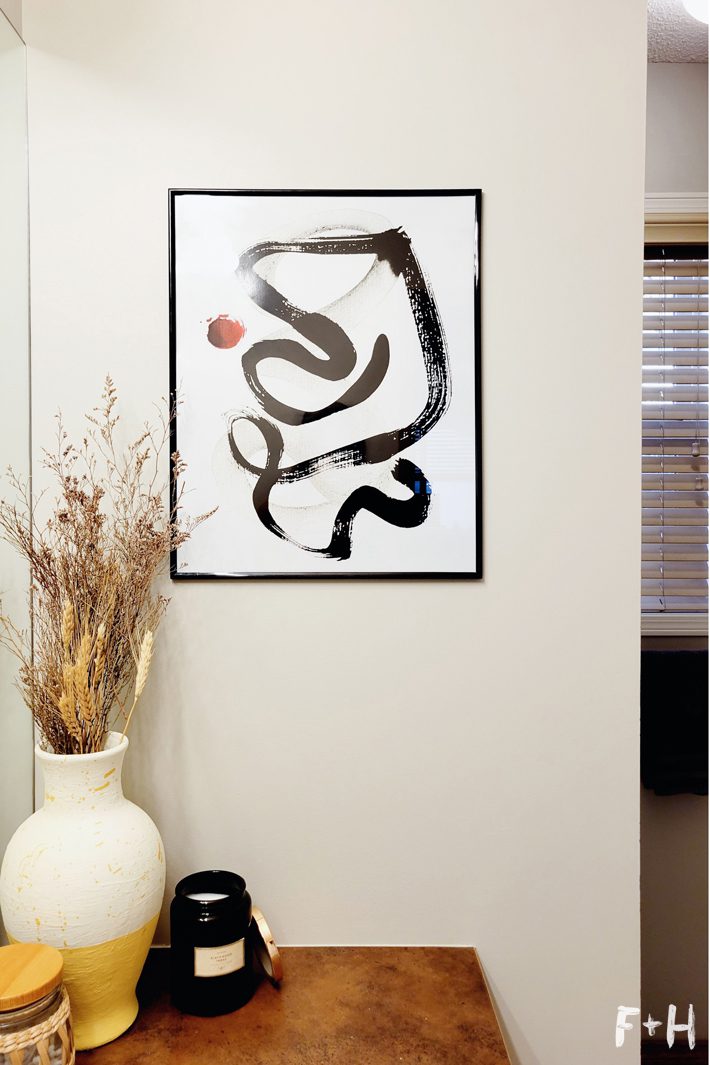 Next up was my upstairs bathroom! This is my son's bathroom, but also our guest bathroom too. It is original to the house, so the counters are a rusty brown/red laminate. I've struggled to find stuff that goes with this color, but the fine art printable Sign 23 was the perfect fit! The black and tiny pop of red goes great against this brown countertop. I think it adds a nice visual interest to this odd blank wall. It divides the toilet from the vanity, so it's a weird spot to decorate.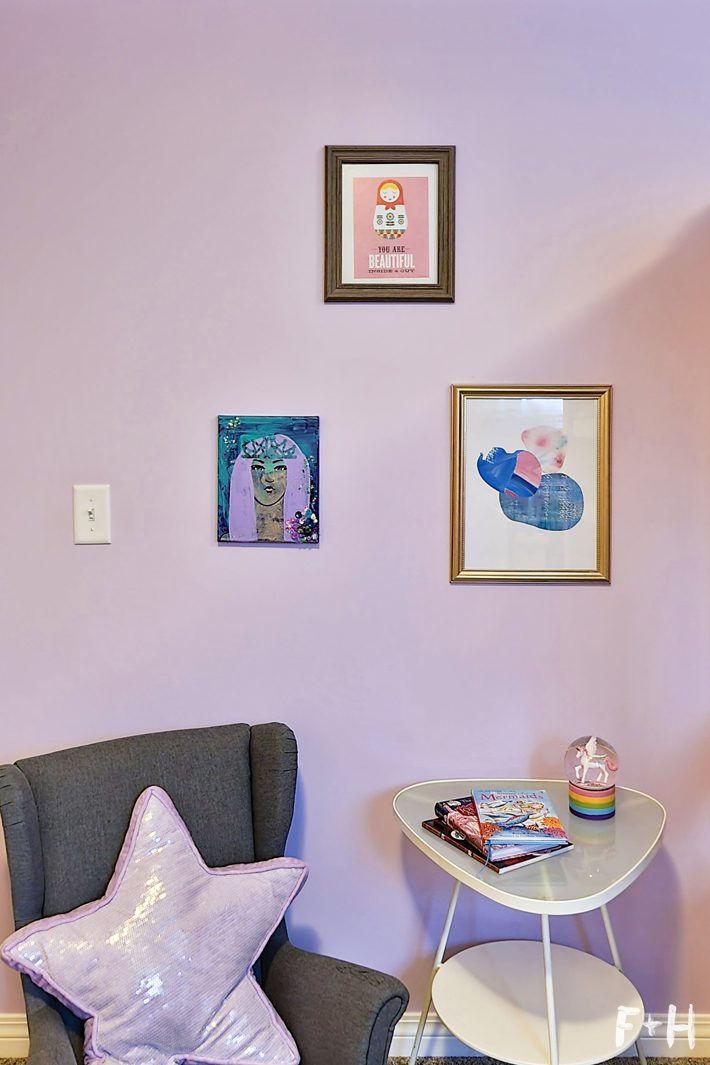 And lastly, I wanted something for my second daughter's room. We have been slowly working away at decorating her mermaid-themed room. But I wanted some other artwork to mix it up a bit, but also go with the color scheme she has. Collage 1 fits the bill! It's a fun abstract collage piece with blues, pinks, and lots of texture. I think it looks great in a gold frame, and helps tie some of the other artwork together.
The best part of these fine art printables? They are all only 5 euros, or just under $6 USD for each one! That is a pretty great price for fine art that you can print in any size you like at home.
Goda has kindly given me a discount code that gets you 20% off all printables on Art Goda. Use the code: FOX and that brings each print down to around $4.50 USD a print! That is hard to beat. Be sure to check out all the other fine art offerings on Art Goda too – there are lots to discover!
Loved this post? You can say thanks in one of these ways!