Free Retro Wall Art Printable + Fun Wall Mural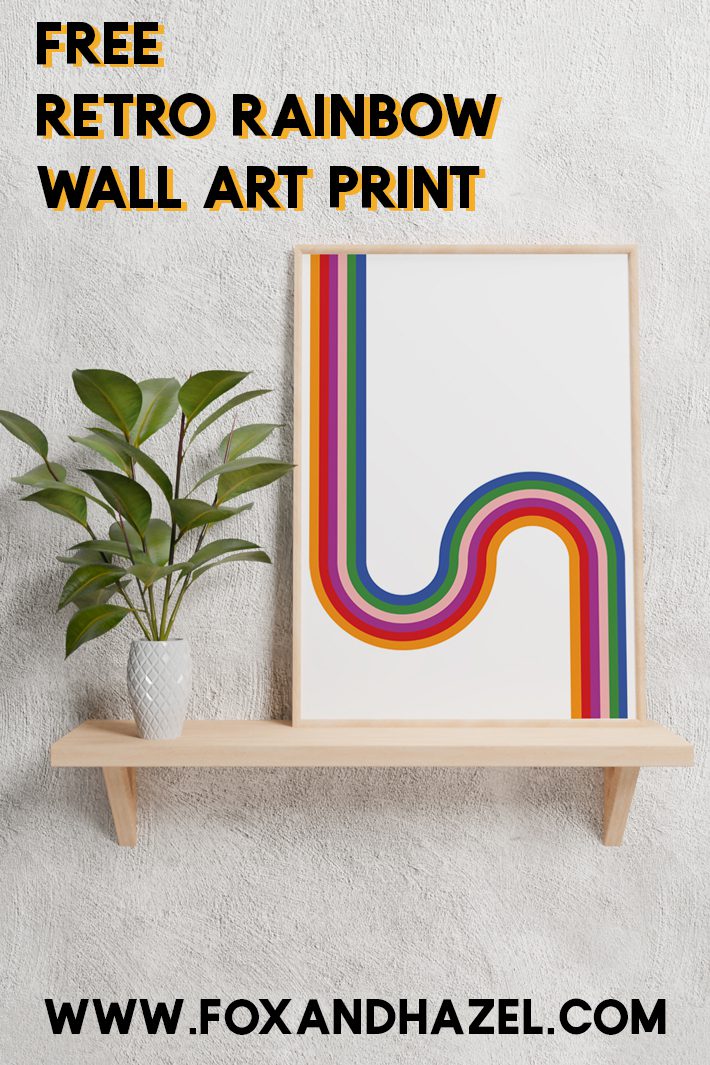 This post is a two-for-one! I wanted to put that out there right before we started. I'm excited to share this retro wall art printable with you and also share the inspiration behind it!
I am a long-time fan of Rachael from Banyan Bridges and all her amazing wall murals. Her work has had me itching to add more color to the walls in our house. I was inspired to create this stripe-y retro wall mural in my kid's playroom/library area in the basement. Since we had our house renovated 2 years ago, I haven't done anything down here. It's been an empty void that we didn't use much. So I figured this was the time to add some color!
The process was both tricky and simple – laying out the design first was trickier than the actual painting. My engineer husband drew up the design for me (after I created a wonky, non-perfect version) in AutoCAD and helped me transfer it to the wall. We used a laser level, pencil on a string, and math to create this beauty! After we had it drawn on, all it took was some tedious taping and painting! We used the drawings to find our anchor points and then drew the semi-circle shapes using a string, tack, and a pencil.
The whole process took us maybe 1 whole day to finish. And because each stripe is fairly skinny, I was able to use the $5 sample pots from Home Depot for the paint. My kids were at their grandparents' for the weekend so it was a fun surprise for them when they got home! The colors I used were from Behr and they are (in order): Blazing Bonfire, 100 MPH, Beauty Queen, Sherbet Fruit, Paradise of Greenery, and Electric Blue.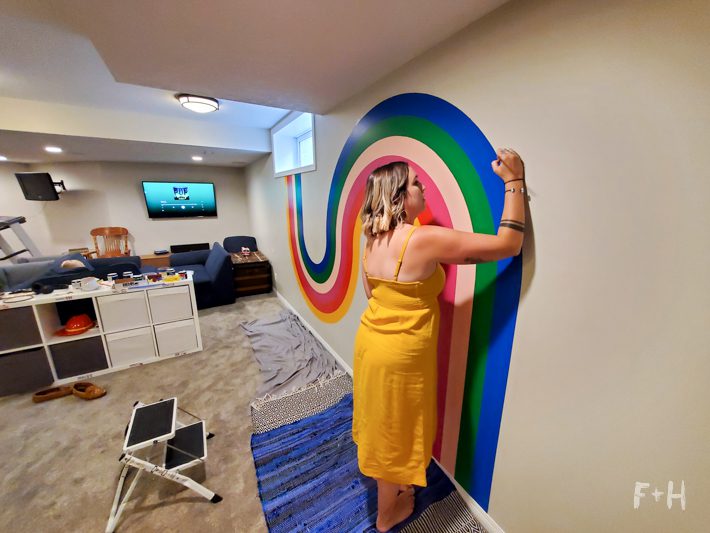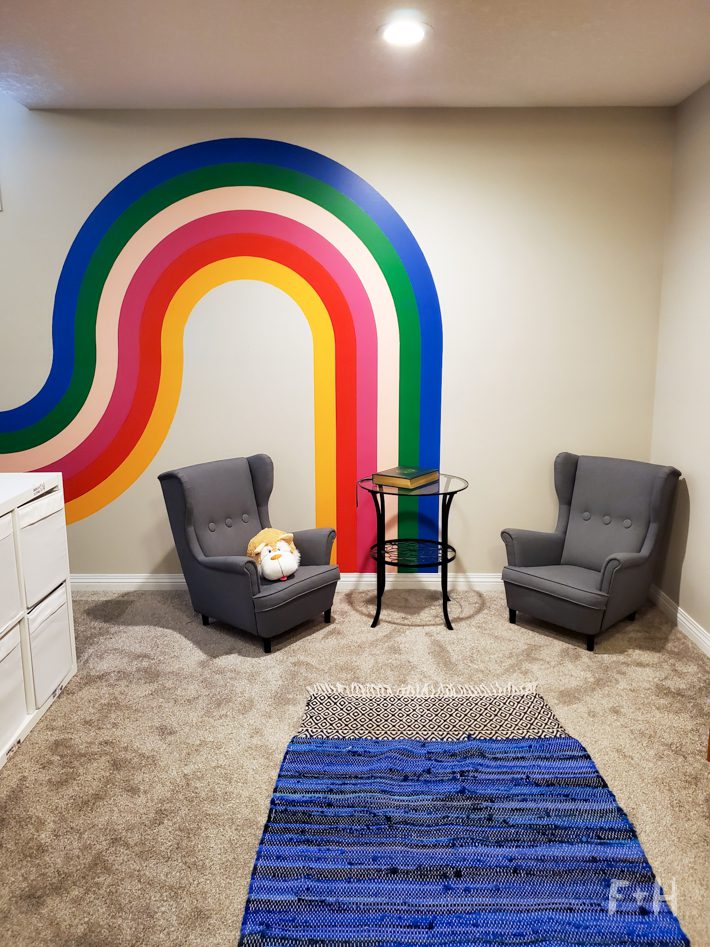 Slowly but surely I'm turning our house into a colorful magical funhouse. But the best part of this is that I have plans to share with you for this mural! You can download the drawings to create your own retro wall mural HERE. It's a drawing that lays out all the dimensions you need to re-create this design.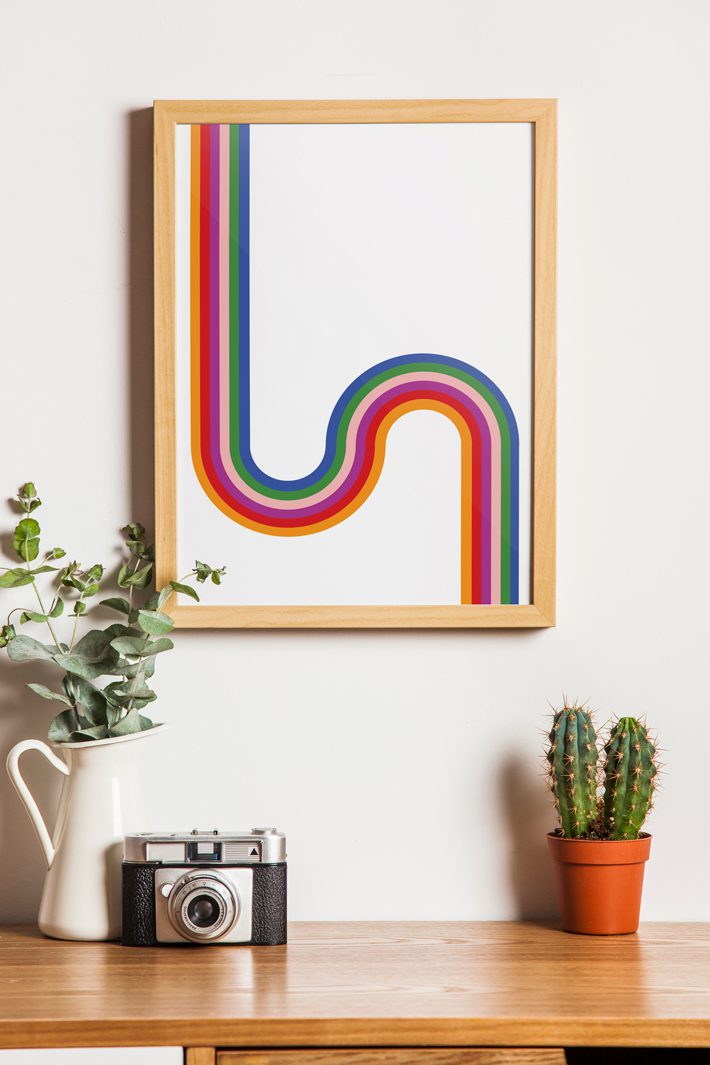 Now if you're not into painting a whole wall, then this free retro wall art printable is for YOU. I loved the design so much that I created a printable variation for you! You can grab the wall print in either an 8″x10″ or 18″x4″ size. The bigger the better, I always say!
These free retro wall art printable are for Personal Use Only. Do not re-distribute or sell.
If you love this freebie, you can say thanks in one of these ways!