Free Honey Bee Valentine Card

Okay, I know Valentine's is a month away, but I could not resist sharing this! This bee Valentine card came to me as I was researching reference photos for an upcoming tattoo. I have been obsessing over these vintage bee illustrations everywhere and was contemplating putting one on my skin. I ended up deciding against it, considering I actually don't really like real bees! The flat, drawn ones are more my type. But, I still couldn't shake my love for these vintage bees, so I had to draw it out. And as you've seen on the blog, the floral illustration bug has bitten me too (ha!) So pairing them together was a no-brainer. I also love the juxtaposition of the hexagons with the more organic flower lines. It's just lovely and I might be obsessing over my own work a bit – oops! But it was one of those designs that came out SO much better than I expected. We've all been there – you know that feeling!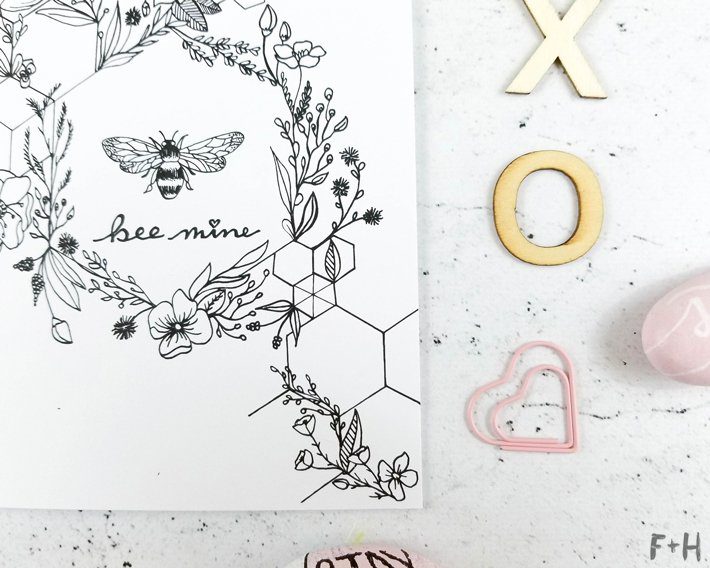 This bee Valentine card can be printed as is, with the contrast of the black and white. Or you could totally color it in and add some extra flair to it! It's a nice 5″x7″ size that is great for gift giving! All you have to do is print it on some good quality cardstock, trim, fold and write some sweet sentiments inside. I've said it before on the blog, but I don't really go crazy for holidays except for Christmas. However, Valentine's Day is the one exception! I don't decorate for it, but I love love love making cards and art and crafts that are all Valentine's Day themed! This means this drawing was destined to become a bee Valentine card.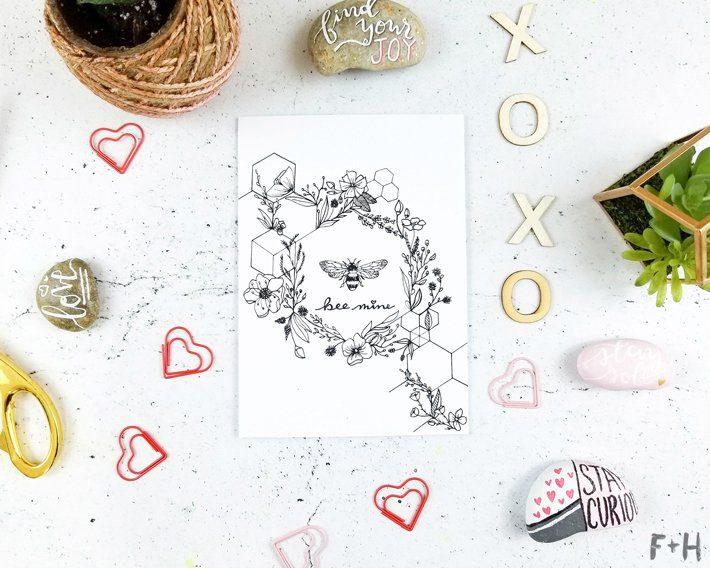 These files are for Personal Use Only. Please do not re-distribute. If you'd like to share them, please link back to this post!
If you use these in one of your projects, you can say thanks in one of these ways!