Free Blush & Navy Watercolor Floral Prints
It has been almost a whole year since I shared my Free Blush & Navy Watercolor Flower Graphics with you, and to celebrate I've made this free watercolor floral print! The print is made using all the graphics found in my free pack. I wanted to show you how diverse it is and how you can make whatever your heart desires! Since releasing the graphics, I have been lucky enough to see so many amazing designs created using my work. Guys, it is the absolute best feeling in the world! My passion and joy is sharing my art with the world, and seeing others creating even more beautiful creations with it is too much. Ask my husband. I think it's once a week I'm telling him about another person emailing me to share their creation.
It's been a hot minute since I played with the graphics myself, cause life is busy and all! So I made this watercolor floral print to goof around with my graphics again! I created a version with this lovely quote from Henry Matisse and a blank version so you can add your own quote! I've seen so many people use the graphics for weddings, bridal showers, baby showers, and so much more. This hopefully will make it a bit easier to use for those events! Just open it up in a photo editing program like Photoshop or Canva, and add your own words.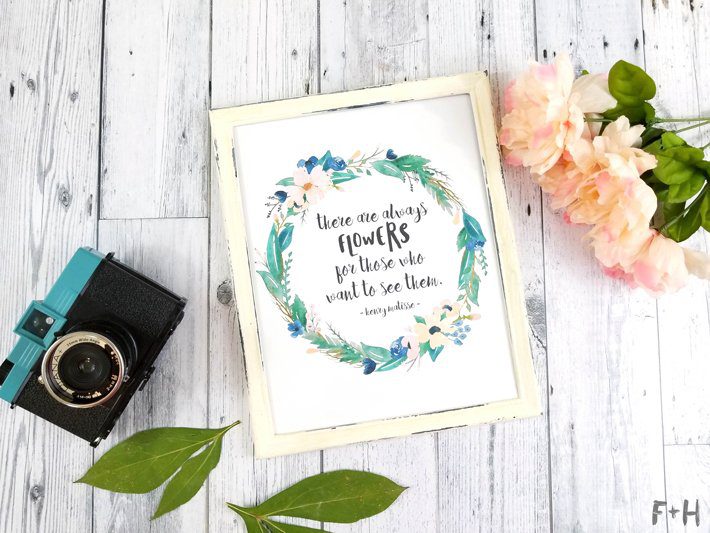 There have been a lot of plans made and ideas sketched out for Fox + Hazel in 2018. I have about a thousand ideas, and one of them is finally releasing my graphics for you to buy and use for your own small biz ventures. I have been wanting to open shop on Creative Market for ages, but you know. Having a new baby and two more kids and a full life just makes those goals harder to get to! I'm excited to share that in 2018 I will be launching my design shop where you can grab graphics like these blush & navy florals to use for more than just personal projects.
Can I get a HELL YA!? I'll keep you posted on when the shop is live (no promises on a date, because you know, life) AND I plan to release a new free set of graphics in the new year too. To celebrate these beauts and to share the love with you even more. Now that you've listened to my rambling, scroll down to get your free watercolor floral print!